06/02/13 The Sun is Shining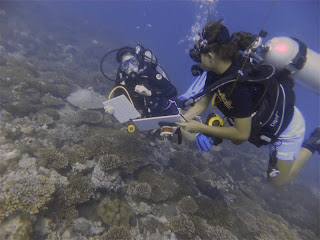 We are now four weeks into our Seychelles Marine Conservation Expedition. Everything is going swimmingly (or should that be divingly?) – the fish geeks, coral captains and invertebrate nerds are busy learning to identify their chosen species in readiness for surveying in the coming weeks. We've spotted some great things under the water: white-tipped reef sharks, Hawksbill and Green Turtles, some beautiful Eagle Rays and a brace of huge (and awesome) Humphead Wrasse fish. We love those guys.
Last week's rain (the tail end of a cyclone further south) has mercifully ended revealing the sunshine: lobster-red volunteers abound. A couple of us took a trip around the island to visit the majestic picture postcard beaches of the south. We met a local dude there and he asked us where we came from. We said "the UK and Switzerland". "That's nice," he said, "I live in Paradise". He wasn't lying.