05/08/2013 - Some Curieuse Senses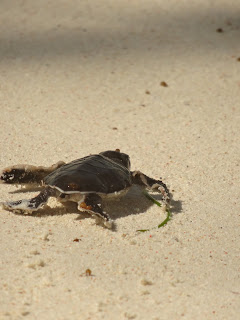 Out here on Curieuse your senses are constantly bombarded- even when you're sleeping, or trying to.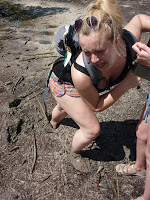 SIGHT – white sands and turquoise waters….. blah blah. When I told everyone I was coming to the Seychelles for a month I know the scene that everyone would have pictured. Well, the water is a little choppier but it is just as turquoise and the sand is just as white as I had imagined it would be. Not a bad location to spend a few weeks I assure you. The ramshackle remains of a Victorian leper colony provide us all with ample accommodation and previous volunteers have lovingly developed a camp with as many of the luxuries of home as you would expect on an uninhabited island – although there is at least 1 group member ready to book themselves into a luxury resort on Praslin for the weekend after just one week!! Other memorable sights would have to include: Hannah (who quickly established herself as a disaster zone before GVI even picked us up on Day 1!) stuck in the mud down in the Mangroves; most of us completely stacking it and falling on our bums on our first Coco de Mer trek this morning; Sarah getting caught aeroplane running on the beach by Digby and Reggie; the five surviving turtle hatchlings rescued from their abandoned nest this week

 

by our group and Hawksbill turtles swimming away after we spotted them on our latest Snurtle.
SOUNDS – this is the sense that gets no rest. During the day the constant sea waves rolling up against our camp wash away many other sounds and these waves lull you to sleep at night – unless you are abruptly woken by a falling fruit or leaf smashing onto the roof of your shack. I'm also lucky enough to be sharing with 2 snorers…
J
The residents of Shark Shack's ears have been given little rest thanks to Aly-

 

with his boundless enthusiasm, endless questions and scientific factoids (and his cuddly turtle Freddie or William), he has kept us all laughing – with him, not at him- and his shack-mates have been deprived of quite a lot of sleep. Other common things to be heard are Ana talking about her hunger – 'I'm so hungry', 'I'm still hungry' or 'Are you going to eat that?!' or Hannah telling us all about her bites, 'I've got, like, bites on top of my bites' or 'Do you think it gets to the point where you have so many bites that you have too much poison in your blood?' We've learnt a massive lot this week – well, we'll be tested soon, so I'm not sure how much will have stuck – but Noel's constant enthusiasm and excitement about turtles and tortoises and trees and mangroves, which are all awesome and wonderful, is enough to rub off on all of us!
TOUCH – We've already sweat A LOT and what with the humidity here, things seem to stay endlessly damp – with the exception of the amazing travel towel. On day 3 my bite-free legs left me feeling smug and relieved – why did I bother bringing 2 bottles of mozzie repellent?! Now, 3 days later, I am regretting not bringing 10 bottles as well as 20 tubes of bite relief cream! Current count is 22 bites.. The ridiculously soft white sand underfoot and hot sun on a sunbathing-break down the beach makes up for the pesky bloodsuckers.
SMELL- The smell of delicious granola cooking in the oven is a good one to wake up to in the morning. The smell of reef sandals once they've been trodden through the sulphury black goop around the mangroves then through the sea then on a Coco de Mer trek is not so good. The smell of clean hair has already become a novelty and the chocolate brownies that Aly and I made the other day smelt pretty awesome too, which leads me nicely to…
TASTE – One of our biggest fears when we all arrived was keeping up with the high standards of food that came out of the most basic of kitchens! Each of us on base duty has now tried our hands at making fresh bread (turned into yummy pizzas, flatbreads, springy perfect loafs and rolls). There were a few concerned faces around the camp knowing Clement and Aly were to be let loose in the kitchen at some point – fortunately, under a watchful female eye there has been no poisoning… yet. Aly has decided he likes the taste of burnt things as well as Coconut – on everything – and just overheard whilst typing this, 'Do you think a snake would taste good?' There were a sketchy couple of days without salt which left both Hannah and myself concerned but thankfully that's all fixed now. And, of course, we have the luxurious taste of Seybrew at the end of a hard day- they taste even better if won in a bet against Sarah!