03/10/2013 - Stop Think and Act, pirate preparation and turtles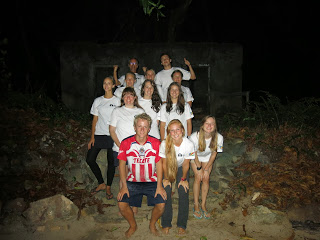 It is the middle of our second week and we are now feeling like official volunteers with our glamorous GVI t-shirts to prove it. We are wearing them around camp with pride. Obviously this has nothing to do with the fact that they are the only clean clothes that we have left!
The week began with a slightly disturbed nights sleep in Leper Lodge following

 

visits from some of Curieuse's creatures however, we were treated to a five star breakfast complete with table decorations to kick start out Monday morning.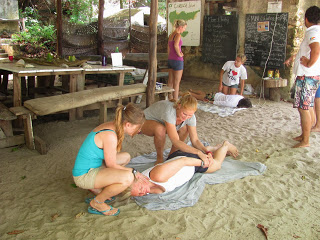 We spent the day training to be Emergency First Responders; we had lots of fun bandaging, splinting and treating each other for shock. Ann is now alive and well after some great CPR. We all passed and will always remember to Stop, Think and Act, although we were rather sandy by the end after one too many log rolls and recovery positions in the sand.
As we enter into the month of October turtle activity has begun on our beaches. Four Hawksbill turtle tracks and two possible nests were discovered on Grand Anse during an early morning Long tweet (long bird survey to all you non island folk). Meanwhile in a valley near by a group of volunteers conquered 74 Coco De Mer palms in record time. Quite a productive morning! Earlier in the week an epic climb of Mt Curieuse in search of further Coco De Mer palms and hunt for the Giant Gecko returned volunteers in an exhausted, scraped state and their muscles still haven't quite recovered. We have also filled our time with some DIY putting a fresh lick of paint on the new science room. (Unfortunately these skills are only valid in the Seychelles and can't be transferred when we return home).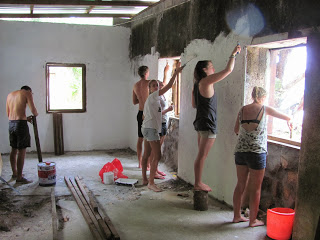 Finally only days away from our challenge: Dig for Digby's Doubloons. The three teams are putting the finishing touches to their pirate costumes, an array of pirate accessories have been created but I don't feel any will compare to the much awaited unveiling of Vald's wooden leg. (Photos to follow . . .)

 

Watch this space to discover true Curieuse Island champions and the final resting place of Digby's famous treasure.
Love from Curieuse Island,