Program Details
Code: INKR0503F
South Indian Teen Volunteer Immersion Program
Help renovate schools or contribute to sustainable construction projects in Kerala, India
Our Impact
Location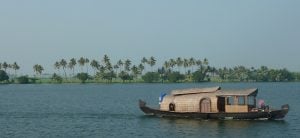 Volunteer in Kerala
The area of Kerala is one of the highlights of India and a must-see destination. Project work takes place around the city of Kochi (Cochin), a port town since the early centuries offering fascinating snippets of history and culture that including the oldest European Church in India, an enchanting spice market and the famous 15th Century Chinese fishing nets, a truly stunning location to volunteer in.
Program Information
Immerse yourself in the rich culture of India when you travel to Kerala and volunteer on construction projects in local slums. Assist on projects addressing basic needs such as clean drinking water and sanitary facilities. Help construct libraries, playgrounds or community centres and renovate schools to make them suitable conducive learning environments.
Overview
Discover the fascinating continent of Asia while you get involved in construction projects in local villages in Kerala, India. The southern state of Kerala is famed for its tropical greenery, beautiful backwaters and rich culture. On arrival, volunteers will be given an orientation around the beautiful city of Kochi. Your living arrangements will be in a shared house in the heart of the local community of Fort Kochi, where you can experience the rich culture of India.
Depending on the needs on the ground at any given time, you will work alongside community members to help deliver basic needs such as clean drinking water and sanitary facilities or safe and conducive learning environments. Help improve schoolgrounds or create libraries. Work on creating community centres or vocational rooms that will provide livelihoods for people with special needs.
School renovation
Schools in Kerala are often extremely basic, and you will help make them more comfortable and conducive to a positive learning environment. Volunteers may help brighten up classrooms with new coats of paint or lend an extra hand in helping to reconstruct, build or rebuild a school's facilities.
Specifically designed for volunteers between the ages of 15 -17, this project aims to give young do-gooders an impactful insight into global volunteering, immersing them into the local community's culture and enriching their knowledge of the world around them.  Throughout this project, our younger volunteers will be under supervision, with training by world-class leaders in their field, chosen for their mix of relevant experience and ability to mentor and inspire young people.
Highlights Include
Immersing yourself a different culture and way of life; making a genuine contribution towards the development of a local community; living and working with volunteers from all over the world; support our local henna artist and immerse yourself in the Indian culture; discovering India's ornate temples, breathtaking landscapes and vibrant cities during your time off.
Program Details
Project Life
Depending on your start date and duration, you will get involved in a variety of different activities on this program. Upon arrival, you will receive a welcome orientation covering health and safety and cultural awareness. Throughout your stay you will have plenty of opportunity to enjoy the local culture through language lessons, dance classes and an Indian cooking class!

Your time will be spent assisting in either surrounding village/slums or in local schools. Depending on the project you are involved in you will be involved in the construction of homes and eco gardens; renovations at resident's homes; repairing or refurbishing care centres; improving and painting educational facilities at a local school or basic landscaping and repairs. The weekends will be spent as a group enjoying the local sites and learning about the southern Indian culture.

Adventure Week:

The adventure week will take you into the Western Ghats, the great escarpment of India. A vast mountain range fed by the South West monsoon into a complex riverine draining 40% of all water in India. The Ghats are sparsely inhabited and new animal species are discovered every year. At least 10% of the world's population of tigers, 20% of the population of Lion-tailed macaques, over 10,000 Asian Elephants and at least 325 other globally threatened species depend on the vast ecosystem.

An adventure trip into the Indian jungle will be a once-in-a-lifetime chance to immerse yourself in the real-life Jungle Book while enjoying activities such as visits to traditional mountain villages, guided treks and overnight camping, riverside barbeques and guided tours of tea-plantations.
Project Details
The support you will provide goes a long way to improving the health and education of local people. Through developing hygienic sanitation systems, improving access to clean water and helping renovate educational facilities, you can make a real contribution to this project.
How this project makes a difference:
Whichever construction project you are involved in, you will be making a significant contribution to the development of underprivileged communities. Working in schools, you will be helping to create an environment suitable for learning that the children deserve. On the eco toilet project, you will be helping ensure local people achieve the basic human right to adequate housing.
India's short, mid, and long-term objectives


All of our programs have short, mid and long-term objectives that fit with the United Nations Sustainable Development Goals. This enables us to report on our collaborative impact across the world in a streamlined manner, measuring which UN SDGs we are making a substantial contribution to. Furthermore, this will help our local partners and communities measure and visualize their contribution to the UN SDGs.

Upon arrival to base, you will be educated about the history of the UN SDGs. You will learn about the specific goals of your location, the long-, mid- and short-term objectives, and also clarification of how your personal, shorter-term involvement contributes to these goals on a global level.

Our aim is to educate you on local and global issues, so that you continue to act as active global citizens after your program, helping to fulfil our mission of building a global network of people united by their passion to make a difference.


Learn about the long-term objectives you will be contributing to in India:



Increase women's opportunities in Kerala




Ensure healthy lives, well-being and promote opportunities and equality for those with special needs in Kerala




Enable the absolute development of children and young adults in Kerala by providing support and training in LSBE (life skills base education)



Your Impact
All of our programs have short, mid and long-term objectives that fit with the United Nations Sustainable Development Goals or UN SDGs. This enables us to report on our collaborative impact across the world in a streamlined manner, measuring which UN SDGs we are making a substantial contribution to. Furthermore, this will help our local partners and communities measure and visualise their contribution to the UN SDGs.
Upon arrival to base, you will be educated about the history of the UN SDGs. You will learn about the specific goals of your location, the long-, mid- and short-term objectives, and also clarification of how your personal, shorter-term involvement contributes to these goals on a global level.
Our aim is to educate you on local and global issues, so that you continue to act as active global citizens after your program, helping to fulfil our mission of building a global network of people united by their passion to make a difference.
What's It like?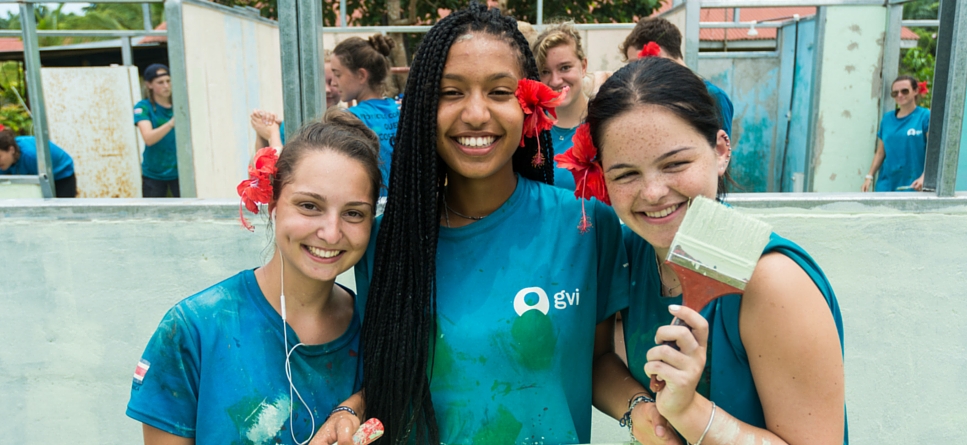 If you'd like to find out what the experience of joining a GVI project is really like, simply contact us and we'll put you in touch with one of our many Alumni.
We'll try to match you to an Alum based on your location, nationality, age, stage of academic career, gender, and program interests. This allows you to gain insights into the experience that is most relevant to you.
Depending on your location you might be able to speak to an Alum over the phone or online, or meet up with them face-to-face at a coffee shop nearby. We also run a series of small events around the world where you can speak to GVI Alumni, Ambassadors and staff members.
Our Ethics
Below is a list of core ethics and best practices we believe are essential to the operation of high quality, ethical volunteer and sustainable development programs. We believe that all responsible volunteer and sustainable development operations should focus upon these principles. If you are considering volunteering, these are some of the key considerations you should question, to ensure that your time and money contributes towards positive change.
Our 10 Ethical Commitments
Locally Driven, Collaborative Projects
We aim to design all our projects in collaboration with local organizations and communities and ensure that they are locally driven.
Clear Objectives & Sustainable Outcomes
We aim to clearly define short-, mid-, and long-term objectives with sustainable outcomes for all our projects.
Impact Reporting
We aim to track, record, and publish the impact of each of our projects.
Working Against Dependency
We aim to build in-country capacity by assisting local organizations in becoming self-sustaining.
Responsible Exit Strategies
For each local organization we work with, we aim to have a plan in place for withdrawing support responsibly.
Clear Roles & Specialized Training
We aim to ensure that ever participant is assigned a clear role and that they are fully trained and supported to carry out their work by specialized staff.
Respect for all
In all our actions we aim to respect the skills and efforts of all and seek to protect the rights, culture and dignity of everyone who engages with GVI.
Local Ownership
We work to ensure that credit for the results of any project, along with any data collected, research conduct, or Intellectual Property developed, remains the property of local organizations.
Transitioning from the Orphanage Model
We do not condone and aim to withdraw support of orphanages and residential care centers.
Child and Vulnerable adult policies
We will live by our Child Protection and Vulnerable Adult policies.
Continual Development
As an organization, GVI is committed to striving toward best practice, and to educating both our potential participants, our partners, and the world at large about them. Both the volunteering and sustainable development sectors are increasingly, and rightly, under scrutiny. Many recent local and global articles highlight poor practices and questionable ethics GVI is widely recognized for striving to apply global best practice in the volunteering, education and sustainable development sectors throughout our operations by reputable organizations such as ChildSafe.
However, global best practice is always evolving and we dedicate both time and resources to engage with internationally respected experts and learn from the latest research to ensure our programs both fulfil their potential to create maximum positive impact, and minimise their potential to create unintentional negative impact. Along with and as part of the sustainable development and volunteering community, we are constantly learning and applying this learning to practice. We do not always get everything right, but we seek feedback from our community members, partners, participants and our staff, and react accordingly. We know are already doing a great job, and feedback we have received confirms this, but we aim to do even better and are continuously refining our operations to improve upon our already excellent reputation.
What's Included
24-hour emergency phone

24-hour in-country support

Access to Alumni Services and Discounts

Airport pick-up (unless otherwise stated)

All necessary project equipment and materials

All necessary project training by experienced staff

Location orientation

Long term experienced staff

Meals while on project (except on work placements for long term internships)

Safe and basic accommodations (usually shared)

Welcome meeting
What's Not Included
Additional drinks and gratuities

Extra local excursions

Flights

International and domestic airport taxes

Medical and travel insurance

Personal items and toiletries

Police or background check

Visa costs (where necessary)
Support & Safety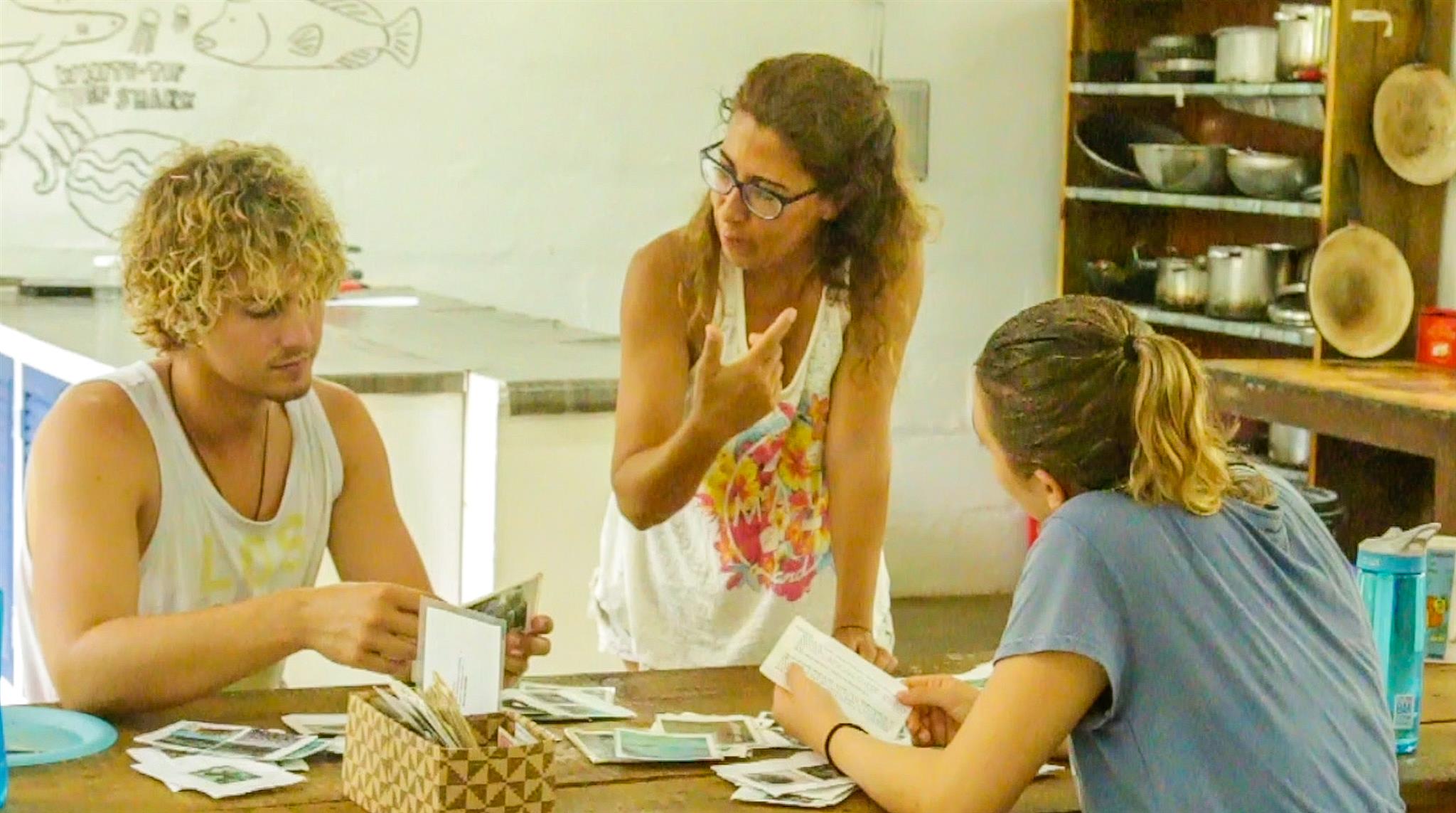 We won't sugarcoat it — Traveling abroad is usually a complex process that carries an element of risk. But this is exactly why we're passionate about providing extensive support throughout the process as well as the highest safety standards during the in-country phase. We believe that volunteering abroad should not only be impactful, but an enjoyable experience that carries as little risk as possible. This is exactly how we've been able to maintain our reputation as the most highly respected volunteering organisations in the sector over the past two decades.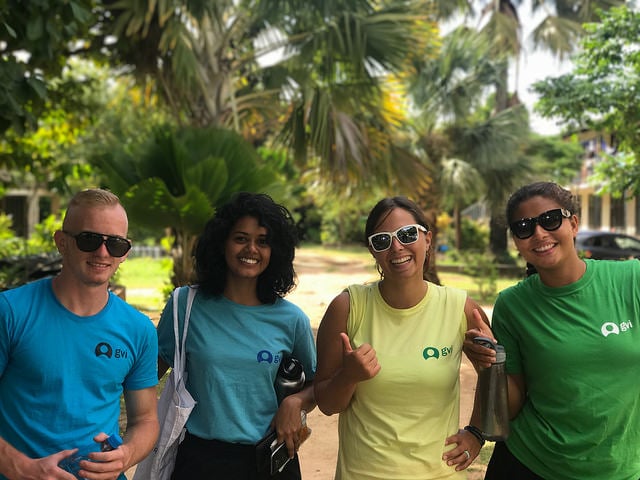 Support
Once a participant books, they will be assigned a personal support coordinator who will oversee their pre-departure journey. The support coordinator helps to bridge the gap between program enrolment and arrival at one of our field bases. Your personal support coordinator will ensure that you are provided with all the necessary information required to apply for visas, background checks, and any other documentation.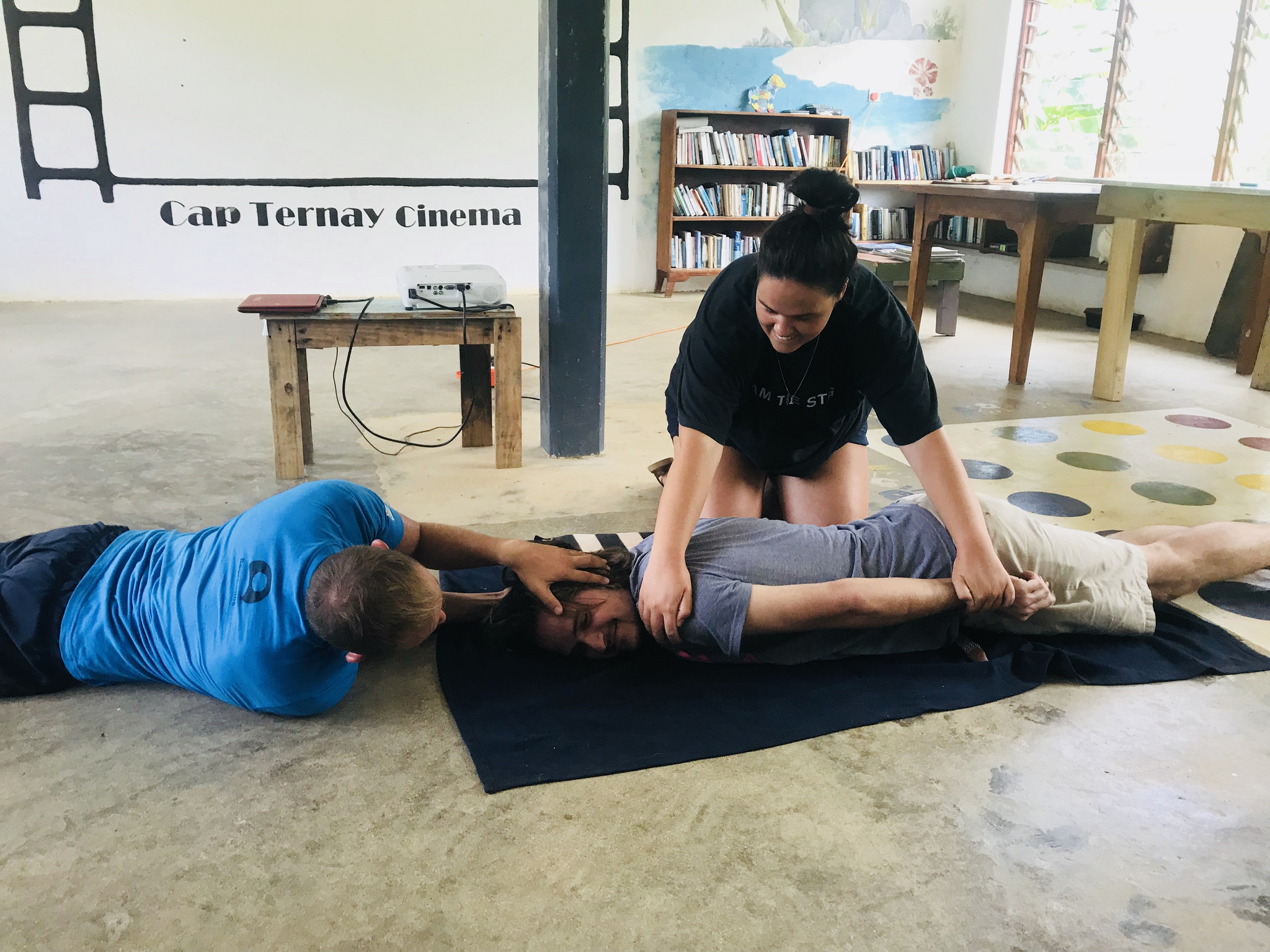 Safety
Upon arrival at the airport participants will be greeted by a GVI staff member. All GVI staff are our own and all our programs around the world are run by our staff. All GVI field staff are background checked, Emergency First Response and safety trained. Our minimum staff to participant ratio is one to six, although on several bases we have a ratio of one to three. When finishing the experience, participants will provide feedback on all aspects of their program.
Health & Safety Case Studies
The Team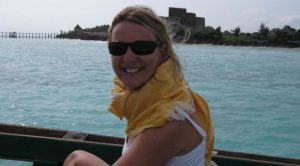 Shayle Havemann
Director of Programs
Meet Shayle, our innovative and driven director for all our projects around the world. She has two honours degrees, one in Industrial and Organisational Psycology, and another in Developmental and Education Psycology. Shayle also has over 10 years experience in setting up, managing and evaluating environmental and community programs across Africa, Asia, Europe and Latin America.

She is well-practiced in facilitating meaningful and effective intercultural engagement and this makes her the perfect person for overseeing our operations in the multicultural country of South Africa.

When not attending meetings or planning her next endeavour, Shayle can be found spending time with her family or taking part in some or other exciting outdoors activity!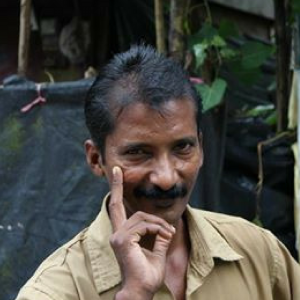 Jutten George
Transport Coordinator and Translator
Meet Jutten, our local Transport Coordinator and Translator here at our hub in India. Being a native of the country, he was asked to drive the tuk-tuk and coordinate the other tuk-tuks for the volunteers in Kerala. Later he was offered to be a official staff member and was thrilled to take the job.

He has worked with all of the projects here in Kerala. "I like to work with both the sports and health projects, because I enjoy seeing the beneficiaries happy and satisfied."

Before working with GVI he was a package tour driver as an English/Hindi/Tamil speaking tour guide. Since joining us he has taken great pride in his work and is enjoying meeting all the volunteers. "I like to see people happy. All the people that I meet through working here are treating me as their own."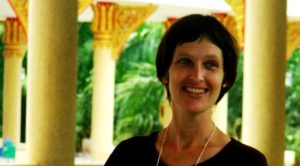 Jill Walker
Assistant Director of Programs
Meet Jill, our Assistant Director of Programs and line manager for Thailand, Laos, India, Nepal, Australia and Kenya programs. 'Manow' (lime), as she's locally known in Thailand where she's based, taught English, environmental education and art in the USA and Thailand before joining us to set up a TEFL and Community Development Expedition. "I haven't looked back since!"


When Jill isn't working, she likes reading or doing just about anything energetic. "I devour books, love cooking and enjoy finding some time to get some exercise – yoga, dancing and aerobics are some of my faves."


What does Jill like most about her job? "It's great to see volunteers rising above the cultural and language barriers between themselves and the communities. That, and every day is completely different, which is the way I like it- it keeps me from getting bored." Being 'allergic' to being bored has led to Manow doing some pretty amazing things. "I once ended up spending a week living in a cave with some Buddhist monks while I helped them build a small adobe monk hut."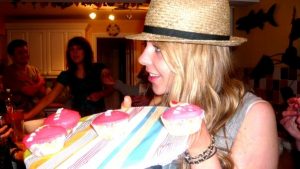 Lucy Grehan
Base Manager
Meet Lucy, our Base Manager here in Kerala. As wildlife conservation student, she initially joined GVI as a wildlife conservation intern to gain practical experience before staying on as a part of the team. Lucy has worked on our former Shimoni hub as long-term staff member before moving to India.

What does Lucy think volunteers bring to the projects? " Without a doubt, the programs would not be able to run without the volunteers. The sheer amount of data volunteers help us to collect is immense, and so vitally important."

Lucy's highlights since working for GVI? "Setting up a new partner project in Kenya's Western province, where I worked with a grassroots community group in Kenya's last rainforest was amazing."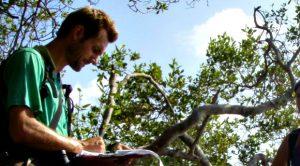 Zeno Wijtten
Country Director
Meet Zeno, our Country Director in India. He used to work on Crocodile Morphology and Ecology and has even trekked the Sierra Madre mountain range in the North of the Philippines in search of one of the last members of a critically endangered freshwater crocodile population. Zeno used to be our Country Director in Kenya a few years ago before moving to India.

His most memorable moments since he started working with GVI? Was discovering a population of 'hidden' African Skimmer Birds at Lake Turkana, which turned to represent almost 40 percent of the world population. "That, and when my cat left a snake at my bed as a 'present', which turned out to be a new species for Kenya!"

His favourite aspect of his job? "Seeing people being in awe of everything new around them, realising and completely accepting how different their world of experiences suddenly has become."
Cultural Immersion
Engaging intimately with a new context teaches not only global awareness but adaptability and critical thinking, skills highly valued in the modern marketplace. Local and cultural immersion is encouraged on all our programs around the world, and is also one of the most enjoyable aspects of the GVI experience. Luckily, there are many activities you can get involved with in your free time, or before and after your GVI program. On our community programs the focus is on cultural topics, while on marine or wildlife programs the emphasis is more on the environmental element. Use your evenings and weekends to explore diverse and eclectic topics like Theravada Buddhism in Laos or how plastic pollution and climate change affects Indian Ocean coral.
Publications
The best decisions in international development and conservation cannot be made without accurate and up-to-date data or informed research. Our many field teams around the world collaborate with local and international partners to analyse data and draw conclusions. In addition, many of our participants have used research they have collected on their various GVI projects to complete their Masters, Doctorate, or postdoctoral studies. We also run a fellowship program which connects postdoctoral researchers at globally-respected universities with our many sustainable development programs around the world to support their research and ensure continuous improvement of our best practices on base.
Newspaper Article
'A feast for the senses.'
The Hindu Times Newspaper
Hemjit Bharathan
Newspaper Article
Faces of hope through Shawnees art
2013
Malayala Manorama Newspaper
Editorial
Parent Info
'If only every student could do this. It changes your life in all the right ways,' says Chris Heritage, parent of Luke Herritage, one of our teen volunteers who has participated on two GVI programs, one in Costa Rica and another in South Africa.
We are a parent-run organisation that is incredibly serious about health and safety, and increasing the impact, as well as the long-term career benefits of our programs. Our programs help young people develop the skills to select a career path that is personally fulfilling, and live a life aligned to the well-being of our planet and the global community.
Ken and Linda Jeffrey, whose son Sam volunteered with GVI in Thailand, talk about how the experience affected Sam. He also went on to volunteer with GVI again in South Africa. 'I know it sounds like a cliche but in a sense, he did go away as a boy and he came back as a young man. Both of us could recommend GVI without any hesitation to any other parent thinking about exploring an opportunity for their children to explore the world and to see different parts of it.'
Parent Info Pack
Download the Parent Pack and learn more about:
Our staff: All our projects are run by staff, selected, vetted, trained, and managed by our central office.
Health and safety: Our safety practices include a child and vulnerable adult protection policy.
Staying in touch: See what's happening on base, by following a hub's dedicated Facebook page.
Free parent consultations: We would love to talk to you about exciting opportunities available for your child.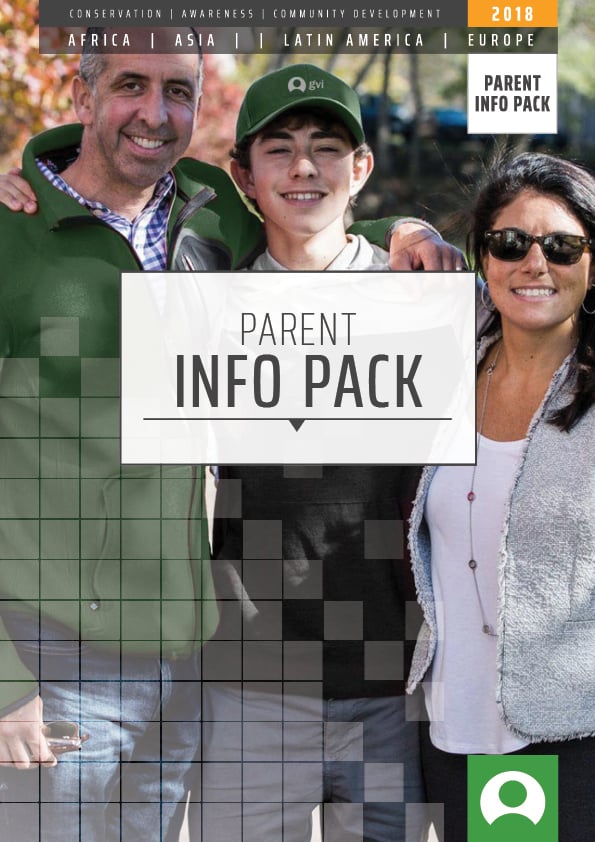 Volunteers who went on this program also considered these
Get introduced to the world of volunteering abroad in this dedicated under 18s project[...]
Travel to the "Land of Smiles" and assist on valuable community based construction[...]
Help renovate schools or contribute to sustainable construction projects in Kerala,[...]
Contact Us
Global Vision International
1 Emperor Way, Exeter Business Park Exeter, Devon, EX1 3QS, UK
Learning Provider Number (LPN): 10002692
Centre Number: 17067

Download a Brochure