Program Details
Code: LALP0531F
Under 18's Volunteer and Adventure Experience in Laos
Volunteer on education projects and embark on a cultural adventure trip on this under 18 project in Laos.
Program Information
Join a team of international under 18 volunteers in Laos' ancient city of Luang Prabang where you will work towards increasing the educational opportunities of students in Luang Prabang, while fostering a cross-cultural exchange through the mediums of language and sport. Immerse yourself in the fascinating Lao culture, learn more about Buddhist Novice Monks, visit local sites such as Kuang Si Waterfalls and learn the basics of the Lao language.
United Nations Sustainable Development Goals
Overview
This project has been specially designed for those looking to volunteer, but are aged between 15 and 17 years old. Throughout this project, our younger volunteers will have greater supervision, training, and world-class leaders in the field who have been chosen for their mix of relevant experience and ability to mentor and inspire young people.
The project
The beautiful ancient city of Luang Prabang, a UNESCO World Heritage Site, is situated in northern central Laos. Project work is in this idyllic setting, at the meeting of the Nam Khan and Mekong rivers, famous for its Buddhist temples and monasteries. As with many of our education projects, what you will work on is determined by the needs and requirements of our local partner communities, but will involve a combination of the following projects:


Contributing to the Library Summer Kids Program (may include English classes, dancing, singing, arts and crafts)


GVI Laos GOALS (Giving Opportunities to All Laos Students) Sports Program


Language and Culture Exchange Program


Through your contribution and our relationships with local communities, you can be sure that your efforts are being channelled in ethical and sustainable ways to meet overall aims and goals. Please note that this program offers durations of 2 to 4 weeks. Please speak to your Country Expert for further information.
Highlights include 
Being immersed in the Lao culture; learning about the fascinating language, history, food, religion and traditions; having the rare opportunity to come in contact with Novice Monks; visiting local sights or being able to enjoy a weekend break on the banks of the Mekong River.
Testimonial
It was an amazing experience. To be able to interact with young novice Buddhist monks and know that you are actually making a positive impact on them seems almost a little surreal at first but then becomes so common place that it takes a moment when one grasps you on the arm and says "You are a very good teacher" to bring home exactly what you are doing. But that is only a small part of it. The people that I met are what really made the Laos project something that will have a special place in my heart forever.
Program Details
GVI Live
18 Sep
https://t.co/Hyi97KjBqD
20 Sep
"You're never too old,...
"You're never too old, too wacky, too wild, to pick up a book and read to a child." - Dr Seuss Learn a little about the [...]
Posts from the Field
My advice to anybody who is thinking about having a new adventure and experiencing different cultures, is to look into GVI [...]
GVI Blog
Learning a new language is a process, but that doesn't mean it can't still be fun. Follow these ten steps to immerse yourself [...]
Travelling to Luang Prabang, a UNESCO World Heritage Site, will give you all that and more! We count down our favourite things [...]
Project Life
Volunteering

Your cultural adventure in Laos begins when you are picked up from the airport and taken to your accommodation at  a local guesthouse. You will attend a cultural orientation, health and safety briefing and then be given a guided tour and orientation around the community. Following this you will experience chanting at one of the many temples in Luang Prabang, followed by dinner. The next morning you will attend a presentation introducing you to GVI's work in Laos and around the rest of the world. Our local staff will present a cultural talk and you will learn more about the local area and community where you will be volunteering. This also includes a Lao language lesson. After lunch, you will visit Kuang Si Waterfalls;, learning more about the local culture and beautiful scenery in Luang Prabang.

The Work Begins

Your project kicks off the next day when you arrive at the project sites for an overview of the project work and an orientation of the locations, where you will work for the duration of your program as well as meeting our local partners. Volunteers will then be organised into teams or pairs and given instructions and guidance on expectations and roles when working with the Lao students.

Cultural Weekend and Adventure Side Trip

Throughout your time on project, you will also have the opportunity to appreciate the rich cultural history and diversity the region has to offer. Over the course of our cultural weekend as well as organised additional side trips, you will take part in an array of activities, ranging from visiting beautiful temples and villages, hiking up to the view point in Nong Khiaw, going on a river cruise, trekking and visiting caves. Other activities might include kayaking, mountain biking, and learning more about the local communities and the rice farming industry.

On your last day in Laos, we will sit down and reflect on the trip, the contribution you have made and review your experiences as you prepare to say your final goodbyes. After some last minute shopping and a departure dinner, you will be dropped off at the airport to make your way home with a camera full of amazing pictures, new friends and a myriad of new experiences.
Project Details
Your support and efforts in field are a welcomed contribution to the continued increase in educational opportunities of students in Luang Prabang. As a volunteer you will be expected to serve as a community role model, promoting respect for Laos' heritage and environment.

As Laos's tourism industry has begun to expand and diversify, the demand and need for English education as well as cross cultural experiences is rapidly increasing. Working directly with the community, you will contribute to increasing students access to education and skills development in both of these important areas.

How this project makes a difference

The main focus of GVI Laos is education as a tool for individual and community development. Educational opportunities and socio-economic status are closely related in Laos. Economic disadvantage and deep-rooted cultural values restrict access to education. This is only magnified for those living in rural areas; for Laos, this equates to three quarters of the population. Our programs target disadvantaged social groups with the aim of helping to increase students' access to education. By doing so, GVI Laos works to empower our students to increase their future employment opportunities, positively impact their socio-economic status and improve the quality of life of themselves, their families and communities while meaningfully contributing to the development of Laos as a whole.

Laos short, mid, and long-term objectives

All of our programs have short, mid and long-term objectives that fit with the United Nations Sustainable Development Goals. This enables us to report on our collaborative impact across the world in a streamlined manner, measuring which UN SDGs we are making a substantial contribution to. Furthermore, this will help our local partners and communities measure and visualize their contribution to the UN SDGs.

Upon arrival to base, you will be educated about the history of the UN SDGs. You will learn about the specific goals of your location, the long-, mid- and short-term objectives, and also clarification of how your personal, shorter-term involvement contributes to these goals on a global level.

Our aim is to educate you on local and global issues, so that you continue to act as active global citizens after your program, helping to fulfil our mission of building a global network of people united by their passion to make a difference.

Learn about the long-term objectives you will be contributing to in Laos:

1. To develop relationships with educational institutions and temples with the aim of increasing their ability to provide educational opportunities
2. To improve quality of education in Laos for students taught by GVI
3.To provide educational opportunities to all students in the local community, regardless of socio-economic status, ethnicity and gender
4. Improving the health and wellbeing of the Lao community
5. Improving employment opportunities and socioeconomic status of community members.
6. Reduce Carbon Footprint
What's Included
24-hour emergency phone

24-hour in-country support

Access to Alumni Services and Discounts

Airport pick-up (unless otherwise stated)

All necessary project equipment and materials

All necessary project training by experienced staff

Location orientation

Long term experienced staff

Meals while on project (except on work placements for long term internships)

Safe and basic accommodations (usually shared)

Welcome meeting
What's Not Included
Additional drinks and gratuities

Extra local excursions

Flights

International and domestic airport taxes

Medical and travel insurance

Personal kit

Police or background check (where necessary)

Visa costs
Adventure
Although this trip follows a structured itinerary, don't think you won't be seeing and doing some amazing things! You'll embark on both a cultural weekend and additional side trips in order  to discover all the amazing sights the region has to offer!

Proposed Itinerary
Saturday Day 1:
AM: Introduction to Laos by Program Manager and U18's staff. Greeting and Orientation.
PM: Cultural Orientation, health and safety briefing and chanting at one of the many temples at Luang Prabang. Welcome dinner.

Sunday Day 2:
AM: Presentation about GVI Laos and our objectives. Overview of the U18's programs. Culture talk on Buddhism and life as a Novice Monk by a former Novice Monk. Lao Lesson. Teaching Training.
PM: Kuang Si waterfalls

Monday Day 3:
AM: Library Kids Summer Program/Sports program
PM: Visit to the museum and Wat Xieng Thong.

Tuesday Day 4:
AM: Library Kids Summer Program/Sports program
PM: Mekong River Boat Ride, Night market visit

Wednesday Day 5:
AM: Alms Giving, Library Kids Summer Program/Sports program
PM: Katu Weaving class.

Thursday Day 6:
AM: Library Kids Summer Program/Sports program
PM: Preparation for language and culture exchange. Trivia and/or Movie night.

Friday Day 7: Day 1 Trek/Kayak tour
Saturday Day 8: Day 2 Trek/Kayak tour
Sunday Day 9: Lao Cooking Class

Monday Day 10:
AM: Library Kids Summer Program/Sports program
PM: Language and culture exchange Day 1. Culture talks on Ethnic groups in Laos.

Tuesday Day 11:
AM: Library Kids Summer Program/Sports program
PM: Language and culture student exchange Day 2. Scrabble Tournament Day 1.

Wednesday Day 12:
AM: Library Kids Summer Program/Sports program
PM: Scrabble Tournament 2 Finals.

Thursday Day 13:
AM: Library Kids Summer Program/Sports program
PM: Pak Ou Caves

Friday Day 14:
AM: Living Land Farm (Rice farming experience)
PM: Farewell Baci blessing ceremony and dinner

Saturday Day 15: Departure
The Team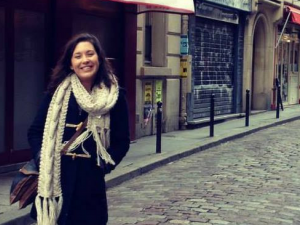 Leyla Isin
Program Manager
Meet Leyla, our wonderful program manager in Luang Prabang. She completed a degree in International Relations, specialising in International Development from the Australian National University, she is TESOL certified, moderately fluent in French and is currently studying Lao. Leyla is a passionate person with diverse interests; she has been playing the piano since age 6, she loves running and doing yoga, she loves travelling and has set foot in many countries, sky dived in Austria, and cliff dived in Croatia.

She was first attracted to GVI as a volunteer in 2013. "Our work as a non-political, non-religious organisation that runs bottom up, inclusive projects was what I admired and wanted to get involved in. After volunteering in Kenya for 6 weeks in 2013, I went back to Australia to finish my degree. I knew that I wanted to put my volunteer experience and knowledge into practice in the field, and Laos has been the perfect place to do this!"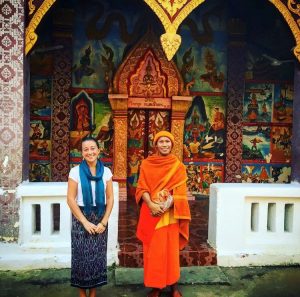 Molly Plexico
Country Director
Meet Molly, our hard working country director for both Thailand and Laos. Over seeing operations in two countries is no easy task but Molly is more than capable.

She started volunteering and travelling at a young age, working  in soup kitchens, with AmeriCorps, at animal shelters, as a Big Sister with Big Brother Big Sisters of America and as a Guardian ad Litem. She studied family development and psychology and loves to dance.

Her goal is to visit one country for every year she is alive. The most unusual place she has travelled to is Uzbekistan, on a trip beginning in Europe and ending in Southeast Asia. This is where she fell in love with Laos which began her journey with GVI. She started working for GVI back in 2012 and she is now based in Thailand. GVI has hubs all around the world and she has been lucky enough to visit the hubs in Nepal, Thailand, Laos and the office in South Africa.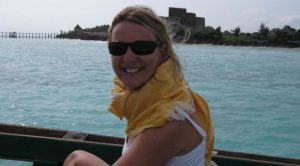 Shayle Havemann
Director of Programs
Meet Shayle, our innovative and driven director for all our projects around the world. She has two honours degrees, one in Industrial and Organisational Psycology, and another in Developmental and Education Psycology. Shayle also has over 10 years experience in setting up, managing and evaluating environmental and community programs across Africa, Asia, Europe and Latin America.

She is well-practiced in facilitating meaningful and effective intercultural engagement and this makes her the perfect person for overseeing our operations in the multicultural country of South Africa.

When not attending meetings or planning her next endeavour, Shayle can be found spending time with her family or taking part in some or other exciting outdoors activity!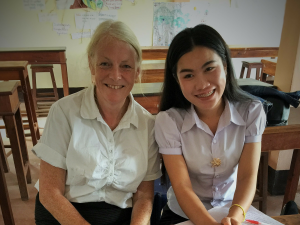 Sue Williams
Education Coordinator
Meet Sue, one of GVI's Field Staff members in Luang Prabang. Sue is an ex-volunteer herself and completed two GVI internships, one in 2012 in Thailand and then another in Luang Prabang in 2015. This Sri-Lankan born TEFL qualified teacher is currently studying BA Humanities and is passionate about the Asian climate, food and culture. Sue is a wizard in lesson planning, teaching, organising, administration, and making sure all the volunteers are happy and safe, both at work and at play.

Meeting new people gives her a thrill and she absolutely loves getting the chance to work with new volunteers on a day-to-day basis. Teaching Novice monks and making a difference in their lives have been a highlight on her GVI journey and she has been intrigued by their sense of humour! "Giving alms to the monks early in the morning is the best way to start the day and going to listen to the novices chanting in the evening is the best way to end a hectic day."

She thrives off the energy from enthusiastic and open-minded volunteers and being able to mentor them from nervousness to confidence. Her skills aren't restricted to the classroom; she is also very entrepreneurial and adventurous. Sue had her own business for over fifteen years and celebrated becoming a grandmother in 2012 by going zip-lining in Chiang Mai, Thailand!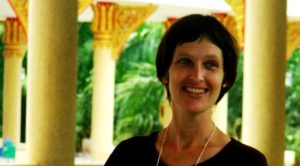 Jill Walker
Assistant Director of Programs
Meet Jill, our Assistant Director of Programs and line manager for Thailand, Laos, India, Nepal, Australia and Kenya programs. 'Manow' (lime), as she's locally known in Thailand where she's based, taught English, environmental education and art in the USA and Thailand before joining us to set up a TEFL and Community Development Expedition. "I haven't looked back since!"


When Jill isn't working, she likes reading or doing just about anything energetic. "I devour books, love cooking and enjoy finding some time to get some exercise – yoga, dancing and aerobics are some of my faves."


What does Jill like most about her job? "It's great to see volunteers rising above the cultural and language barriers between themselves and the communities. That, and every day is completely different, which is the way I like it- it keeps me from getting bored." Being 'allergic' to being bored has led to Manow doing some pretty amazing things. "I once ended up spending a week living in a cave with some Buddhist monks while I helped them build a small adobe monk hut."