Program Details
Code: ZACT0270N
Teaching and Community Development Internship in South Africa
Assist with education projects in Cape Town's townships and gain additional experience on a work placement
Program Information
Gain valuable experience when you join a teaching and community development internship in South Africa's famous city of Cape Town. Learn to plan and deliver a range of educational lessons as well as leadership and teamwork skills, then apply it in educare centres and township schools to provide disadvantaged children with a richer, better quality education, from your base in the stunning Mother City.
United Nations Sustainable Development Goals
Overview
Join our international team in the spectacular city of Cape Town and work with children from the local townships while developing teaching experience and qualifications on this long-term internship.
The internship begins with a 12 week volunteer project, where you will learn how to plan and deliver a range of educational programmes in local township schools and educare centres, gaining experience in teamwork and leadership.
After successfully completing this phase you will then undertake a 12 week work placement where you will further develop your teaching skills and assist in the running of educational programmes (including child care, sports, and creative play) for young children. You will work with a range of partner organisations or assist the GVI team in the operation and management of our project. With both pathways, you will work alongside professional community development teams, gaining valuable experience throughout.
After a successful internship, qualifying candidates may be given the opportunity to work for GVI or selected partner organisations in South Africa, or in other countries around the world where GVI operate. Field work positions can be paid or unpaid, range in duration from one month to one year, and availability varies. Qualification for possible GVI positions is at the sole discretion of Global Vision International.
All internships are geared at developing your leadership and role model skills, allowing you to develop a variety of key soft and hard skills that will put you a step ahead the rest of the pack. GVI have been running community development, education, and conservation projects since 1997 and our highly experienced field staff will help you gain and improve vital skill sets to improve your future job prospects.
Testimonial
I interned in Gordon's Bay, South Africa, on the Community Development Project and it was the most eye-opening, intense and amazing time of my life! It may sound an exaggeration…but believe me, it's not! The people you meet, the children you teach, the places you visit, the friendships you build…everything together makes this experience truly inspiring. It feels great talking and spreading the word about such a reliable organisation and, above all, the great experience I had!!
Program Details
GVI Live
22 Sep
The world will know Peace...
The world will know Peace One Day. There are thousands of humans out there, working to educate, to contribute, to solve. [...]
20 Sep
"You're never too old,...
"You're never too old, too wacky, too wild, to pick up a book and read to a child." - Dr Seuss Learn a little about the [...]
Posts from the Field
South Africa is the ultimate gap year destination, there are so many beautiful places to see but there are also many opportunities [...]
GVI Blog
Now that you've returned from abroad, how do you express these new abilities on a cover letter or resume? It can be difficult [...]
Volunteering abroad is a complicated reality. If done correctly, and with a trustworthy organization, it can contribute to [...]
Life on the Internship
Your First 12 Weeks

The internship starts with an orientation, during which you will learn about South African customs and cultures, life inside the township, common Xhosa sayings as well as training on the current curriculum, lesson planning and child/classroom management.

From Monday to Friday you will work with children in the local township at one of our various educational centres. The days usually run from 8:30am - 4:00pm and you may need to spend an hour or two each day preparing for the next day's lessons or doing self-study specific to your internship requirements.

Work Placement

After successfully completing your 12 weeks of training you will start your work placement. Typically the placements are educational-based project initiatives either with GVI or one of our local project partners. Over the 12 week placement you will develop further skills in teaching, health & safety and project logistics, leadership, and support the day-to-day running of GVI's or our local partners' community development programmes.

Accommodation

You will live in an attractive coastal village close to Cape Town and Stellenbosch, with direct exposure to local culture and communities. Accommodation will be in houses/apartments with shared rooms and bathrooms, hot running water and electricity.
Project Details
GVI runs educational programmes in schools and educare centres in the townships surrounding Cape Town.
Depending on where you are placed you may be expected to assist in the following areas: outdoor exercises and games; arts and crafts; music and drama activities; storytelling; assistance with homework; working with special needs children; health workshops; numeracy and literacy; and sports
Please note that it is not possible for you to choose exactly where you would like to be placed. We hope that you will be flexible and open-minded enabling us to place you wherever the need is greatest at the time and wherever we feel that your skills, interests and experience can be best utilised.
How this project makes a difference:
Many of the primary schools in townships are severely overcrowded with over 50 students per class meaning that teachers are unable to give each child individual attention to help them develop and grow.  GVI has designed a project providing individual coaching sessions to those children that have difficulties reading and writing.
*During the holiday time all participants will join Cape Town's construction project and work on projects involved in the maintenance and beautification of Educational Institutions and Community Organisations in the Townships outside of Gordon's Bay. Depending on the needs of the community, you will assist with basic construction aimed at improving or maintaining educational facilities and resources in line with SDG 4 – Quality Education.
Cape Town's short, mid, and long-term objectives

All of our programs have short, mid and long-term objectives that fit with the United Nations Sustainable Development Goals. This enables us to report on our collaborative impact across the world in a streamlined manner, measuring which UN SDGs we are making a substantial contribution to. Furthermore, this will help our local partners and communities measure and visualize their contribution to the UN SDGs.
Upon arrival to base, you will be educated about the history of the UN SDGs. You will learn about the specific goals of your location, the long-, mid- and short-term objectives, and also clarification of how your personal, shorter-term involvement contributes to these goals on a global level.
Our aim is to educate you on local and global issues, so that you continue to act as active global citizens after your program, helping to fulfil our mission of building a global network of people united by their passion to make a difference.
Learn about the long-term objectives you will be contributing to in Cape Town:


Improve the quality of education in Nomzamo and Zola.


Promote gender equality in the local community



Increase the health and wellbeing of less privileged people in the community



Increase in-country capacity by providing training to less advantaged people in South Africa


What's Included
24-hour emergency phone

24-hour in-country support

Access to Alumni Services and Discounts

Airport pick-up (unless otherwise stated)

All necessary project equipment and materials

All necessary project training by experienced staff

Certification and summary of training and experience received

Comprehensive training necessary for project work and work placement

Confidential professional reference

Daily transport to and from project sites

Emergency first aid course and certification

Final evaluation from your mentor

Location orientation

Long term experienced staff

Meals while on project (except on work placements for long term internships)

Safe and basic accommodations (usually shared)

Teamwork and leadership experience

Weekly evaulation with your mentor

Welcome meeting

Work placement (if successful during the first 12 weeks of the internship)
What's Not Included
Additional drinks and gratuities

Extra local excursions

Flights

Food during the placement portion of your internship

Internal transport to placements

International and domestic airport taxes

Medical and travel insurance

Personal kit

Police or background check (where necessary)

Visa costs
Exploration
Volunteering with GVI not only allows you to participate in programmes assisting disadvantaged communities or endangered ecosystems, but it also offers wonderful opportunities to travel in the local area in your downtime or further afield either before or after your programme. Below is some information on trips and travel options in South Africa.
Optional Side Trips
Cape Town Cultural and Activity Weekend
This trip includes 2 nights in Cape Town near Long Street so that you can sample the lively weekend city life. On Friday afternoon, you will travel through to Cape Town after finishing your volunteer work.. The Saturday is a free day and you may wish to take the opportunity to visit some of the following iconic Cape Town attractions: Robben Island, Table Mountain, District 6 Museum, Castle of Good Hope or the Green Market Square craft markets. Sunday includes a full day in Cape Point and a visit to an African Penguin colony. You will have the opportunity to explore the Cape Point nature reserve on mountain bike where you may see antelope, zebra, ostrich, seals and possibly even whales. During the day, you will enjoy a picnic lunch on one of the reserves beautiful beaches.
Wildlife Safari
Visit a private game reserve which is located one and a half hours from Cape Town. Here you will enjoy lunch and an afternoon safari before returning home. Transfers to and from the project accommodation are included. There are many other fantastic trips in the area around Cape Town that can easily be arranged once in-country such as shark cage diving, skydiving, wine tasting tours, Hermanus day trips for whale watching (seasonal) or a typical township experience.
Further Travelling Opportunities
South Africa has such a wealth of fantastic opportunities for further travel. In Cape Town, you have easy access to the famous Garden Route, chances to explore the Cederberg Mountain range or take more time to enjoy the vibrancy of Cape Town. Other possibilities include the spectacular Drakensberg Mountains, the beauty of the Kalahari Desert, historic Zululand, the fantastic Southern Coast, the world-renowned National Parks of Kruger and Hluhluwe-Imfolozi, and many more amazing options in this stunning country.
The Team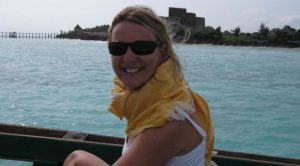 Shayle Havemann
Director of Programs
Meet Shayle, our innovative and driven director for all our projects around the world. She has two honours degrees, one in Industrial and Organisational Psycology, and another in Developmental and Education Psycology. Shayle also has over 10 years experience in setting up, managing and evaluating environmental and community programs across Africa, Asia, Europe and Latin America.

She is well-practiced in facilitating meaningful and effective intercultural engagement and this makes her the perfect person for overseeing our operations in the multicultural country of South Africa.

When not attending meetings or planning her next endeavour, Shayle can be found spending time with her family or taking part in some or other exciting outdoors activity!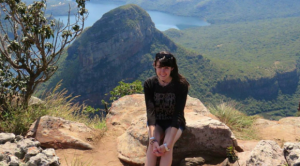 Katelin Ryan
Service Learning Manager Cape Town
A sustainable development extraordinaire with a great commitment to create sustainable solutions for local communities. Katie has worked in South Africa for many years before her role with GVI and after completing her Master's degree in International Education she joined our team of professionals.
Her credentials include over eight years of volunteering, teaching, managing, and leading international education programs around the world. This includes working in zero-waste policy communities in New Zealand, and in an orphan bear refugee center in Croatia.
As our Service Learning Manager she is excited to use her experience designing experiential education programmes and managing community programmes.