Program Details
Code: CRQU0463N
Short Term Community Development Internship in Costa Rica
Contribute towards long term sustainable development projects while discovering the dynamic culture of Costa Rica.
Our Impact
Location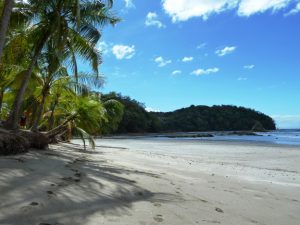 Volunteer in Manuel Antonio
This location takes you to the stunning Costa Rican Pacific Coast, and to the doorstep of the stunning and diverse Manuel Antonio National Park, only a 3-4 hour bus journey from San Jose. Surrounded by palm plantations and rainforest, the town contains a stunning array of wildlife with monkeys and toucans in plain sight most days. In and around the national park, the whole area is famed for its beautiful beaches and hiking trails, making this location an exceptional place to volunteer, intern, teach, learn a new language, relax and enjoy the casual way of life.
Program Information
Partake in a variety of community development projects in the town of Quepos, Costa Rica. Get involved in construction projects ranging from fixing up educational centres to helping plant vegetables in community gardens. Assist with educational activities aimed at improving English classes and after school activities. In addition to daily service work you will receive skill based training and mentorship in order to improve career based skills and increase employability.
Overview
Located on the Pacific coast the community of Quepos, located three hours from the capital of San Jose, is a traditional laid-back Costa Rican town. Known as the entrance to world famous Manuel Antonio National Park the town has maintained it's traditional 'Tico' flair.
Volunteers will be helping to develop both the infrastructure and the quality of educational offerings in order to bring a better quality of life to local disadvantaged youth.
In order to gain a better appreciation for Costa Rican culture and to further connect with the projects themselves you will take daily Spanish lessons. These will be in addition to the volunteer program and will take place around your working schedule.
All internships are geared at developing your leadership and role model skills, allowing you to develop a variety of key soft and hard skills that will put you a step ahead the rest of the pack. GVI have been running community development, education, and conservation projects since 1997 and our highly experienced field staff will help you gain and improve vital skill sets to improve your future job prospects.
Program Details
GVI Live
15 Oct
Access and education...
Access and education are a key part of ensuring that rural women around the world have opportunities to improve their lives. [...]
14 Oct
The mastery of concepts...
The mastery of concepts related to leadership involves both mentorship, self-learning, and practice. Using a tried and trusted [...]
Posts from the Field
People might tell you teens can't change the world, but there are opportunities out there for you to do just that. A youth [...]
GVI Blog
It's your first time volunteering abroad and you're excited, eager to go somewhere new and make a difference. You have natural [...]
Now that you've returned from abroad, how do you express these new abilities on a cover letter or resume? It can be difficult [...]
Life on the Internship
As a short-term intern, you will spend the week working within the community of Quepos as well as some smaller nearby towns. Daily activities will be dependent on the needs of the community at the time and may include; sprucing up the paint in a grade school classroom, renovating the resources available for English lessons, or constructing new community centres. There will also be the chance to assist with teaching various classes, organising afterschool recreational events, and helping to set up for community functions. In the evenings and on weekends you will have the chance to further explore Costa Rican culture. From cooking a traditional meal of Gallo Pinto to participating in a local dance class.

As a short-term intern time will be set aside for leadership development that further assist the projects and contribute to your personal and professional development. At the end of your internship, you will plan and implement your own project that contributes to the long-term development goals of the project and the community as a whole.

Weekdays will be busy which means that weekends are for exploring the beautiful country of Costa Rica. Trips to nearby Manual Antonio National Park, surfing the Pacific coast beaches, or travelling inwards to the numerous coffee plantations nearby are all options!

Accommodation

Throughout your internship, you will be sharing accommodation in a comfortable house with other volunteers in Quepos. The house is a traditional Costa Rican style home with small shared dormitories and communal areas to enjoy.
Project Details
Your work as a short term intern contributes to the overall long term aims of our work with the communities of Quepos. Working with multiple educational settings helps to assist improve the learning environment and quality of education that students are receiving.

As an intern you will be expected to take a leadership role on project, providing an example for both the students and other volunteers.

Long term goals for our community development internship are to contribute towards ending the cycle of poverty by providing youth with better resources and access to a richer future, providing safe spaces within the community for children affected by abuse and neglect, and by encouraging a general attitude towards education that is positive and inspires youth to stay in school.

*During school holidays, you may have the opportunity to organize alternative activities such as summer programs with educational games, arts and sports for the local children, or organizing the resources and doing community/restoration work such as painting or construction work.

Jalova's short, mid, and long-term objectives:

All of our programs have short, mid and long-term objectives that fit with the United Nations Sustainable Development Goals. This enables us to report on our collaborative impact across the world in a streamlined manner, measuring which UN SDGs we are making a substantial contribution to. Furthermore, this will help our local partners and communities measure and visualize their contribution to the UN SDGs.

Upon arrival to base, you will be educated about the history of the UN SDGs. You will learn about the specific goals of your location, the long-, mid- and short-term objectives, and also clarification of how your personal, shorter-term involvement contributes to these goals on a global level.

Our aim is to educate you on local and global issues, so that you continue to act as active global citizens after your program, helping to fulfill our mission of building a global network of people united by their passion to make a difference.

Learn about the long-term objectives you will be contributing to in Jalova:

1. Increase scientific knowledge of Tortuguero National Park
2. Increase awareness of GVI Jalova projects and the ecological value of the Tortuguero National Park
3. Build local capacity to support long-term conservation of biodiversity and sustainable community development in Costa Rica
4. Continue to minimize our environmental impact on Tortuguero National Park and raise awareness of environmental issues amongst volunteers and visitors


Our Ethics
Below is a list of core ethics and best practices we believe are essential to the operation of high quality, ethical volunteer and sustainable development programs. We believe that all responsible volunteer and sustainable development operations should focus upon these principles. If you are considering volunteering, these are some of the key considerations you should question, to ensure that your time and money contributes towards positive change.
Our 10 Ethical Commitments
Locally Driven, Collaborative Projects
We aim to design all our projects in collaboration with local organizations and communities and ensure that they are locally driven.
Clear Objectives & Sustainable Outcomes
We aim to clearly define short-, mid-, and long-term objectives with sustainable outcomes for all our projects.
Impact Reporting
We aim to track, record, and publish the impact of each of our projects.
Working Against Dependency
We aim to build in-country capacity by assisting local organizations in becoming self-sustaining.
Responsible Exit Strategies
For each local organization we work with, we aim to have a plan in place for withdrawing support responsibly.
Clear Roles & Specialized Training
We aim to ensure that ever participant is assigned a clear role and that they are fully trained and supported to carry out their work by specialized staff.
Respect for all
In all our actions we aim to respect the skills and efforts of all and seek to protect the rights, culture and dignity of everyone who engages with GVI.
Local Ownership
We work to ensure that credit for the results of any project, along with any data collected, research conduct, or Intellectual Property developed, remains the property of local organizations.
Transitioning from the Orphanage Model
We do not condone and aim to withdraw support of orphanages and residential care centers.
Child and Vulnerable adult policies
We will live by our Child Protection and Vulnerable Adult policies.
Continual Development
As an organization, GVI is committed to striving toward best practice, and to educating both our potential participants, our partners, and the world at large about them. Both the volunteering and sustainable development sectors are increasingly, and rightly, under scrutiny. Many recent local and global articles highlight poor practices and questionable ethics GVI is widely recognized for striving to apply global best practice in the volunteering, education and sustainable development sectors throughout our operations by reputable organizations such as ChildSafe.
However, global best practice is always evolving and we dedicate both time and resources to engage with internationally respected experts and learn from the latest research to ensure our programs both fulfil their potential to create maximum positive impact, and minimise their potential to create unintentional negative impact. Along with and as part of the sustainable development and volunteering community, we are constantly learning and applying this learning to practice. We do not always get everything right, but we seek feedback from our community members, partners, participants and our staff, and react accordingly. We know are already doing a great job, and feedback we have received confirms this, but we aim to do even better and are continuously refining our operations to improve upon our already excellent reputation.
What's Included
24-hour emergency phone

24-hour in-country support

Access to Alumni Services and Discounts

Airport pick-up (unless otherwise stated)

All necessary project equipment and materials

All necessary project training by experienced staff

Certification and summary of training and experience received

Confidential professional reference

Location orientation

Long term experienced staff

Meals while on project (except on work placements for long term internships)

Safe and basic accommodations (usually shared)

Teamwork and leadership experience

Weekly evaulation with your mentor

Welcome meeting
What's Not Included
Additional drinks and gratuities

Extra local excursions

Flights

International and domestic airport taxes

Medical and travel insurance

Personal kit

Police or background check (where necessary)

Visa costs
Exploration
A small town located on the Pacific coast, Quepos provides a quintessential glimpse into typical Costa Rican life. Located in Puntarenas Province the district is known for sports fishing, surfing, and as an entrance to the stunning Manuel Antonio National Park. Help contribute to vital community development projects while exploring this laid back town.

Weekend Explorations!

Most volunteers spend their weekend exploring nearby Manuel Antonio National Park where lush tropical rainforests coincide with stunning beaches of the Pacific coast, this park is acclaimed as one of the most biodiverse on the planet. Spend your time enjoying the beaches, hiking the forest, or spotting local animals such as mantled howler monkeys (there are four species total in the park) and two-toed sloths.

A popular adrenaline filled day trip is to go on a canopy and zip-lining tour through the treetops of the rainforest.

The Pacific coast of Costa Rica is known for surfing. Nearby beaches include Jaco, Dominical, and Punta Arenas where surf lessons can be found for cheap and breaks will satisfy both experts and novice surfers. Advanced surfers might want to head for Pavones for expert only breaks.

Further Afield!

Travel inland near to Costa Rica's capital of San Jose and spend the day admiring still active volcanos such as Arenal and Poas, after sightseeing you can also take a dip in the many natural hot springs that the area is known for.

Across the country, you can take in the Caribbean Coast where snorkeling and wildlife spotting are plentiful. Expect a landscape that has escaped much development and remains rough and rugged.

For a cultural glimpse into the country head to San Jose, Costa Rica's capital, and stroll through either the Gold or Jade Museums during the day. Come nighttime, attend a play in one of the numerous theatres or take in the Latin American vibe with its lively nightlife.

Gastronomic Delights!

The countries national dish in Gallo Pinto and is a rice and bean mix that has been stir-fried together. Typically smothered in the ever famous Lizano sauce, a vegetable based sauce that most would say is an acquired taste.

Beyond rice and beans, in a variety of combinations, another must try in fried plantains. Starchier than bananas, plantains become sweet and incredibly tasty when cooked in oil and served as a side dish or for dessert.
The Team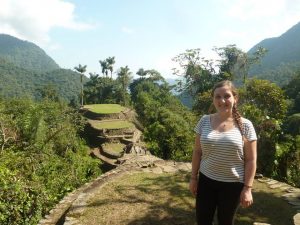 Hannah Watson
Education Officer
Meet Hannah, our happy education officer. Hannah joined the GVI staff after she decided to work abroad in the field, in a more face to face role. She has a degree in Spanish and English Literature, evidently making her a perfect fit for this role!

Hannah also has other impressive experience working abroad. "I worked in Spain for a year as a language assistant in a primary school. I then went to Colombia and I ran a conversation club in a University. When I returned from Colombia I got a job with World Challeng. In between all this I have nnterrailed around Europe, spent a summer volunteering in a hostel in Barcelona, helped to lead an expedition to Morocco, cycled around Cuba, hiked in Peru, rocked around the Galapagos and Ecuador, spied on Orangutans in Borneo and chased Penguins in the Falkland Islands!"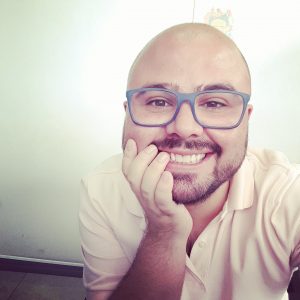 Luis Jimenez
Logistics Manager
Meet Luis, our well-travelled logistics manager! Luis studied Arts History and also has degree in Human Resources. His first contact with volunteer work was when he was studying at the University of Costa Rica and worked on a project to protect the sea turtles at Ostional beach in Guanacaste, Costa Rica. Luis has a culturally diverse background as his stepfather was German and he had the opportunity to get to travel to some European, American and Latin American countries.

The chance to contribute to community development and help shape the children's futures is what first attracted Luis to GVI. He loves getting to know and work with all the volunteers from around the world!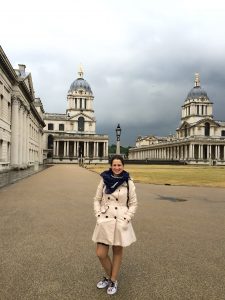 Eunice Jimenez
Base Manager
Meet Eunice, our experience base manager here in Quepos. Eunice is a Biologist with a Masters in high school education and has volunteer experience doing construction work in the middle of a forest in Germany, rebuilding some public areas in a small village in the north of Spain, and working with marine turtles in Costa Rica. She has also been lucky enough to have travelled around Europe, China, Canada and the USA.

Her internship as a Environmental Educator was what set her career into motion and now, years later, she is still pursuing her passion for the environment and teaching. She loves working for GVI as it gives her the opportunity to make a difference and to work with people from all around the world!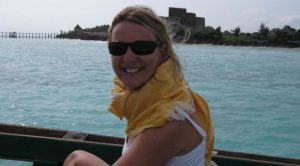 Shayle Havemann
Director of Programs
Meet Shayle, our innovative and driven director for all our projects around the world. She has two honours degrees, one in Industrial and Organisational Psycology, and another in Developmental and Education Psycology. Shayle also has over 10 years experience in setting up, managing and evaluating environmental and community programs across Africa, Asia, Europe and Latin America.

She is well-practiced in facilitating meaningful and effective intercultural engagement and this makes her the perfect person for overseeing our operations in the multicultural country of South Africa.

When not attending meetings or planning her next endeavour, Shayle can be found spending time with her family or taking part in some or other exciting outdoors activity!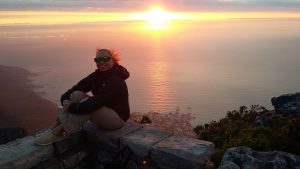 Cynthia Arochi Zendejas
Costa Rica Country Director
Meet Cynthia, our Country Director in Costa Rica. She started out with GVI as one of our National Scholarship Program participants in 2006 and later became our Programme Coordinator in Mexico. Her skills and enthusiasm just made it too hard to let her get away!

Cynthia is a certified Veterinarian, an EFR Instructor and holds a Master's degree in International environmental Science. She is also a member of the Mesoamerican Society for Biology and Conservation, chapter Costa Rica.

The most interesting things she's experienced during life in the field? "Watching the turtles hatching! Also finding jaguar tracks and being able to participate in community tours." Apart from those, Cynthia also loves arranging and participating in the fun Charity Challenges with volunteers.

What does Cynthia think volunteers bring to the projects? Since our goal is to provide support to local organisations which don't have the human or economic resources to achieve their conservation or sustainable development objectives, our volunteers play a key role by being the hands needed, or helping to fund raise for those projects."
Volunteers who went on this program also considered these
Immerse yourself in the local culture and contribute to valuable community development[...]
Volunteer with Children
Teaching
Construction
Live in the Caribbean and collaborate with Save the Children on this short term community[...]
Teaching
Volunteer with Children
Explore the tropical country of Fiji on a hands-on short-term teaching internship
Contact Us
Global Vision International
1 Emperor Way, Exeter Business Park Exeter, Devon, EX1 3QS, UK
Learning Provider Number (LPN): 10002692
Centre Number: 17067

Download a Brochure