Program Details
Code: KHPP0534F
Cambodian Cultural Immersion Teen Volunteer Program
Join other international teen volunteers in the riverside town of Kampong Cham, take part in Cambodian cooking classes and language lessons.
Program Information
Get involved with conversational English activities, plastic cleanups, educational games with the local children, and planting and maintaining of food gardens. You will experience full cultural immersion as you eat the local food, explore the nearby sites, eco village, Koh Pen Island and
wat
temples.
Overview
Cambodia will charm you with its unique blend of old temples and new modern influences. Our base is in the small town of Kampong Cham, where you and your group may be able to take a cycling tour around the town, and admire the winding Mekong River. Here you will experience cultural exchange with the local people, taste the delicious food, learn common phrases and see Cambodian traditional dancing.
Our teen program in Cambodia was developed using the framework of the UN Sustainable Development Goals, with the main focus being goal #10, Reducing Inequalities. You will experience full cultural immersion as you stroll the promenade, explore the nearby eco village, Koh Pen Island and
wat
temples.
Highlights



Explore Kampong Cham, and the busy capital city of Phnom Penh




Assist with planting food gardens




Taking part in practice classes of conversational English




Experience Cambodia's stunningly beautiful temples and

wats




Take part in an urban plastic cleanup




Put on educational games and sports activities for the local children




Earn your ILM Youth Leadership Certificate.



Program Details
GVI Live
12 Nov
Assessment drive continue...
Assessment drive continue with Laura showing us segments of a Baboons tail plant https://t.co/7mGqXzB0yv
11 Nov
The Wildlife Blogger...
The Wildlife Blogger of the Year competition has over £2,000 in prizes available in addition to other benefits. And, it's [...]
Posts from the Field
Researching into the nearby Cham community that reside in Kampong Cham.
GVI Blog
Project Life
Accommodation
Accommodation is in shared, same sex rooms (unless otherwise requested) with shared Western bathroom facilities. There is running water for showers and flush toilet facilities are available.
Meals
Both western and Khmer food is available at local restaurants and vegetarians can be accommodated. For breakfast you can expect a choice of eggs, bread, fruit and cereal. For lunch and dinner khmer dishes consisting of noodles, rice, and curries are available as well as western dishes such as sandwiches, burgers and pasta. There are many cafes and restaurants in the local area and you are free to go out as a group for additional meals at your own expense.
Communication
You will have access to long distance communications whilst on the program, but make sure friends and family know how often they can expect to hear from you. Participants will have access to WIFI at the guesthouse and a local sim card can be purchased for about
$2 a month, to be used with your unlocked cell phone.
Transportation
The common method of transport is by tuk tuk. Traveling by tuk tuk might be a bit different to what you're used to but it's very pleasant, with a breeze through your hair and the feeling of traveling like a local Cambodian. Alternatively, you may also cycle together to project sites.
Medical facilities
Medical facilities are located close to the accommodation. We have a team of trained staff who would be on hand to assist with any medical issues, should they arise. There are many pharmacies in Kampong Cham, so over the counter medicine is also accessible. Please bring all prescription medicine with you along with the prescription.
Project Details
We launched our programs in Kampong Cham in 2018. Here we work in collaboration with our local partners on various community development and educational initiatives, where we aim to assist their existing endeavours. Providing better education empowers students to reach their aspirations and broaden their employment opportunities in the future. Here in Kampong Cham, if you are able to speak English you have a much greater opportunity of employment in the tourism sector. Working in this sector can usually provide chances of promotion, a greater income and a chance to change one's economic background and is, therefore, an aspiration for a lot of the local community.
All these initiatives allow us to offer support to the community and our local partners, and to address many of the UN Sustainable Development Goals, such as #1- No poverty, #2 - Zero Hunger, #3- Good health and well-being, #4 - Quality Education, #5- Gender Equality, #8 - Decent Work & Economic Growth and #10 - Reduced Inequalities.
GVI Kampong Cham Long-term Objectives:  



To improve the quality of education to the local community of Kampong Cham, regardless of age, ethnicity, religion, socio-economic background or any other disadvantageous factors,




To strengthen bonds with our current partners and develop new partnerships with local organisations to broaden our areas of work and the communities we work within.



What's It like?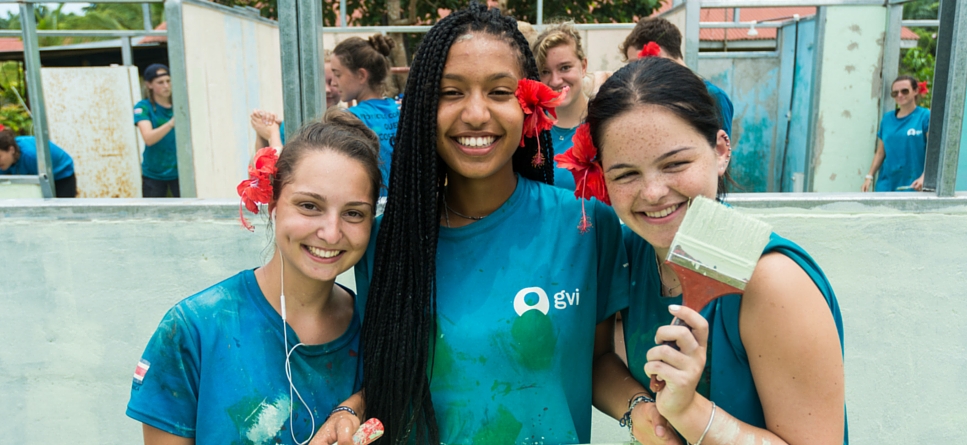 If you'd like to find out what the experience of joining a GVI project is really like, simply contact us and we'll put you in touch with one of our many Alumni.
We'll try to match you to an Alum based on your location, nationality, age, stage of academic career, gender, and program interests. This allows you to gain insights into the experience that is most relevant to you.
Depending on your location you might be able to speak to an Alum over the phone or online, or meet up with them face-to-face at a coffee shop nearby. We also run a series of small events around the world where you can speak to GVI Alumni, Ambassadors and staff members.
Our Ethics
Below is a list of core ethics and best practices we believe are essential to the operation of high quality, ethical volunteer and sustainable development programs. We believe that all responsible volunteer and sustainable development operations should focus upon these principles. If you are considering volunteering, these are some of the key considerations you should question, to ensure that your time and money contributes towards positive change.
Our 10 Ethical Commitments
Locally Driven, Collaborative Projects
We aim to design all our projects in collaboration with local organizations and communities and ensure that they are locally driven.
Clear Objectives & Sustainable Outcomes
We aim to clearly define short-, mid-, and long-term objectives with sustainable outcomes for all our projects.
Impact Reporting
We aim to track, record, and publish the impact of each of our projects.
Working Against Dependency
We aim to build in-country capacity by assisting local organizations in becoming self-sustaining.
Responsible Exit Strategies
For each local organization we work with, we aim to have a plan in place for withdrawing support responsibly.
Clear Roles & Specialized Training
We aim to ensure that ever participant is assigned a clear role and that they are fully trained and supported to carry out their work by specialized staff.
Respect for all
In all our actions we aim to respect the skills and efforts of all and seek to protect the rights, culture and dignity of everyone who engages with GVI.
Local Ownership
We work to ensure that credit for the results of any project, along with any data collected, research conduct, or Intellectual Property developed, remains the property of local organizations.
Transitioning from the Orphanage Model
We do not condone and aim to withdraw support of orphanages and residential care centers.
Child and Vulnerable adult policies
We will live by our Child Protection and Vulnerable Adult policies.
Continual Development
As an organization, GVI is committed to striving toward best practice, and to educating both our potential participants, our partners, and the world at large about them. Both the volunteering and sustainable development sectors are increasingly, and rightly, under scrutiny. Many recent local and global articles highlight poor practices and questionable ethics GVI is widely recognized for striving to apply global best practice in the volunteering, education and sustainable development sectors throughout our operations by reputable organizations such as ChildSafe.
However, global best practice is always evolving and we dedicate both time and resources to engage with internationally respected experts and learn from the latest research to ensure our programs both fulfil their potential to create maximum positive impact, and minimise their potential to create unintentional negative impact. Along with and as part of the sustainable development and volunteering community, we are constantly learning and applying this learning to practice. We do not always get everything right, but we seek feedback from our community members, partners, participants and our staff, and react accordingly. We know are already doing a great job, and feedback we have received confirms this, but we aim to do even better and are continuously refining our operations to improve upon our already excellent reputation.
What's Included
24-hour emergency phone

24-hour in-country support

Access to Alumni Services and Discounts

Airport pick-up (unless otherwise stated)

All necessary project equipment and materials

All necessary project training by experienced staff

Location orientation

Long term experienced staff

Meals while on project (except on work placements for long term internships)

Safe and basic accommodations (usually shared)

Welcome meeting
What's Not Included
Additional drinks and gratuities

Extra local excursions

Flights

International and domestic airport taxes

Medical and travel insurance

Personal items and toiletries

Police or background check

Visa costs (where necessary)
Adventure
During your project, you will have the opportunity to explore some of the local sights and attractions with your group and GVI staff guide. Some of the locations you might visit include:


Phnom Penh:

This is the bustling capital of Cambodia and was known long ago as the "Pearl of Asia", because of its colonial French style buildings, grand architecture and cosmopolitan feel. It has a lively atmosphere with music, arts, culture and

'street' cafes, where one can sample the local rice noodle dish,

Ka tieu

.



Koh Pen Island:

A little island in the middle of the Mekong River, with a picturesque rural village known for its colorfully painted doors. In the dry season take a cycle across the longest bamboo bridge in the world, which connects the island to the mainland.



Banteay Prey Nokor:

The local

wat

temple is a dramatic but little known religious monument. With its colorful Buddhist murals, ancient stonework, and statues of lions, dragons and other mythical creature.



Cheung Kok Ecotourism Village:

This ecotourism village was created by Amica, a French NGO. It's community is focused on developing sustainable alternative income streams. Here you will see villagers practicing their artisan skills such as silk making, traditional krama making, weaving of palm leaves and cultivation of rice.



The Team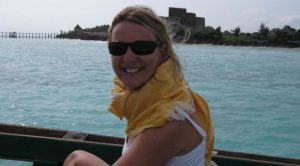 Shayle Havemann
Director of Programs
Meet Shayle, our innovative and driven director for all our projects around the world. She has two honours degrees, one in Industrial and Organisational Psycology, and another in Developmental and Education Psycology. Shayle also has over 10 years experience in setting up, managing and evaluating environmental and community programs across Africa, Asia, Europe and Latin America.

She is well-practiced in facilitating meaningful and effective intercultural engagement and this makes her the perfect person for overseeing our operations in the multicultural country of South Africa.

When not attending meetings or planning her next endeavour, Shayle can be found spending time with her family or taking part in some or other exciting outdoors activity!
Parent Info
'If only every student could do this. It changes your life in all the right ways,' says Chris Heritage, parent of Luke Herritage, one of our teen volunteers who has participated on two GVI programs, one in Costa Rica and another in South Africa.
We are a parent-run organisation that is incredibly serious about health and safety, and increasing the impact, as well as the long-term career benefits of our programs. Our programs help young people develop the skills to select a career path that is personally fulfilling, and live a life aligned to the well-being of our planet and the global community.
Ken and Linda Jeffrey, whose son Sam volunteered with GVI in Thailand, talk about how the experience affected Sam. He also went on to volunteer with GVI again in South Africa. 'I know it sounds like a cliche but in a sense, he did go away as a boy and he came back as a young man. Both of us could recommend GVI without any hesitation to any other parent thinking about exploring an opportunity for their children to explore the world and to see different parts of it.'
Parent Info Pack
Download the Parent Pack and learn more about:
Our staff: All our projects are run by staff, selected, vetted, trained, and managed by our central office.
Health and safety: Our safety practices include a child and vulnerable adult protection policy.
Staying in touch: See what's happening on base, by following a hub's dedicated Facebook page.
Free parent consultations: We would love to talk to you about exciting opportunities available for your child.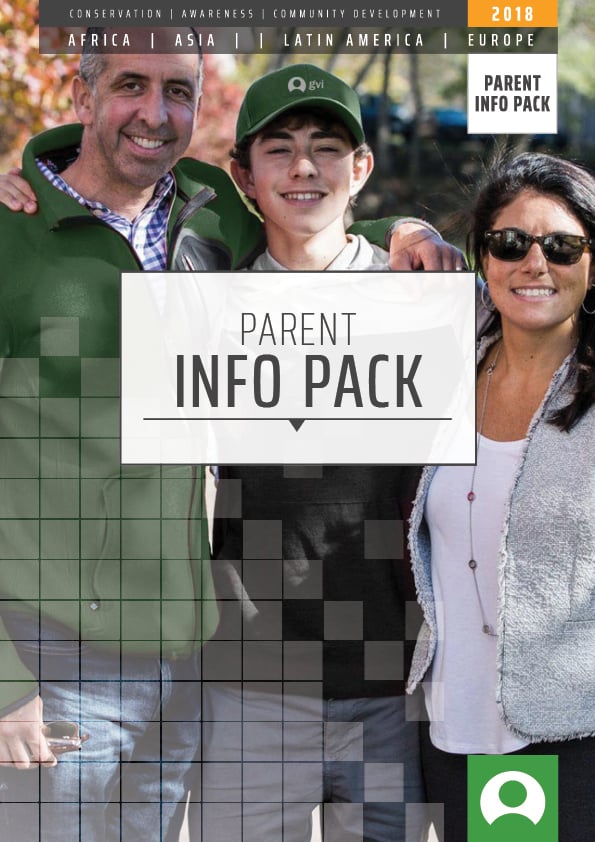 Volunteers who went on this program also considered these
Volunteer on education projects and embark on a cultural adventure trip on this[...]
Teaching
Volunteer with Children
Join other international teen volunteers in the riverside town of Kampong Cham, take[...]
Women's Empowerment
Volunteer with Children
Embark on a West African cultural immersion adventure while making a direct contribution[...]
Women's Empowerment
Teaching
Global Health
Contact Us
Global Vision International
1 Emperor Way, Exeter Business Park Exeter, Devon, EX1 3QS, UK
Learning Provider Number (LPN): 10002692
Centre Number: 17067

Download a Brochure