Accounting and Finance Internships In Cape Town
Demonstrate your financial acumen by completing an accounting internship abroad with a small business entrepreneur in Cape Town.
Program Code: ZABS0814N
Program Information
Prove that you can be trusted to get a businesses finances in order and make sound, practical recommendations based on complex financial projections. Show that you can effectively communicate your reasoning to management, even across cultural boundaries, by working with low-resource small businesses in South Africa. Gain real world experience and intercultural competency by partnering with South African entrepreneurs on projects selected for you by the University Of Cape Town's Graduate School of Business. Grow your theoretical knowledge of global markets and how they influence informal economies and learn what it means to lead a team.
Overview
Demonstrate the value of your organizational and analytical skills, by helping small South African startups, optimise every cent they own. Help them get their recording processes in order and advise them on how current decisions might affect future growth. Develop your intercultural competency and ability to thrive in the international context of today's marketplace by collaborating with South African business owners on real business problems.
Learn more about how to apply the latest business thinking to the challenges of the emerging market and use the practical sensibility of local entrepreneurs to make the most of each opportunity. As a GVI business management intern based in Cape Town, you will be partnered with a local startup in need of your specific skill set. Industries range from catering and fast food to music and IT. Interns will focus on getting a startups finances in order to help them minimize wastage, apply for funding, or create a more efficient system of recording incoming and outgoing payments.
HIGHLIGHTS



Perfect your leadership skills by guiding a team toward the achievement of a goal and reflecting on your work in one-on-one sessions with your assigned mentor.




Live in Cape Town's Suburbs and travel daily to the satellite campus of The University Of Cape Town's triple-crowned Graduate School Of Business School.




Request and receive a personal recommendation from your mentor to your resume, as well as a leadership and internship completion certificate.




Help small businesses and entrepreneurial endeavours to make sound financial decisions.



Program Details
Accounting Internship Cape Town, South Africa
LEARNING
Cultural Competency:
Upon arrival interns will first undergo health and safety training as well as a risk assessment. This ensures that able to navigate their own way through Cape Town, with confidence and security. The next day interns will be taken on a welcome walk to see some of the local area, before starting their project work with local entrepreneurs.
Business Theory:
Each week interns will be required to attend lectures, that are hosted by the University of Cape Town's Graduate Business School. These lectures bring local and global business thought leaders together to discuss current trends and topics.
There is also an option to explore how business works in developing contexts even further by exploring topics like informal economies, alternative business models, micro-finance, and guerilla marketing.
Leadership Course And Mentorship:
Like all other GVI internships, GVI business internships abroad include our leadership course. Guided by their mentor, interns learn about leadership and get the chance to put what they have learnt into action and reflect on their experiences. Mentors will meet once a week with an intern in a one-on-one session to discuss their progress.
OUR BUSINESS SCHOOL PARTNER
The University of Cape Town ranks top out of all institutions on the African continent and its Graduate Business School is one of only three triple-crowned institutions on the continent. Its satellite campus, Solution Space, set in Cape Town's informal settlement of Philippi, is an innovative venture that bridges the knowledge, skills, and experience gap between young startups and academics. The space is a collaborative learning environment that allows students of business from all over the world to learn from the real experiences of local entrepreneurs and gives local entrepreneurs access to the latest developments in business thinking.
Life On Base
GVI's operations are based in Cape Town, in a picturesque coastal village nestled at the foot of the Hottentot Hollands Mountain Range, roughly a 45 minute drive from the city centre. You will travel into Phillipi for your program work, seeing the best that Cape Town has to offer en route. The Phillipi base plays host to our business internships, which participants will get to experience in a communal, familial-type setting, both with their fellow participants as well as GVI staff.
Accommodation Tour
ACCOMMODATION
Accommodation on GVI's base is just a short distance away from the beach. Your South African experience will involve dorm style rooms and shared bathrooms, with facilities including a large balcony, patio in the garden as well as other communal spaces where participants can get to know their fellow participants from all over the world.
MEALS
Generally, most volunteers will prepare their own breakfasts, which is usually toast or cereal. Volunteers also pack their own lunches first thing in the morning, to be enjoyed while you're working hard on the project site. When arriving at base, participants are split into dinner teams, in order to take turns cooking evening meals, and also to help participants get to know their new peers from all over the world. 
COMMUNICATION
Being on a program with GVI means being fully immersed in the experience, so access long distance communications are available, but it is limited. Be sure to let your loved ones know how often they can expect to hear from you. Participants typically venture to internet cafes to keep in touch but daily internet access can be provided at your own expense. Be mindful that your mobile phone may not work in South Africa, and should this be the case, you can always purchase a local sim and top up airtime at a convenience store around the corner when necessary.
TRANSPORTATION
Your program associated transport on location will be taken care of by the GVI staff on the ground.
On our Cape Town base, you will be conveniently based within an easy drive to and from the project site.
CLIMATE
Cape Town has a Mediterranean-style climate, with wet and cool winters, and dry and warm summers. The annual average temperature in Cape Town is a sunny 17 degrees and it can reach up to 30 degrees in the peak of summer, in December - February. Don't let winter be a deterrent to you: a winter's day in South Africa is often warmer than a summer's day in the UK, with more than half of the year experiencing temperatures of over 21 degrees. Pack your beach slops!
What's It like?

If you'd like to find out what the experience of joining a GVI project is really like, simply contact us and we'll put you in touch with one of our many Alumni.
We'll try to match you to an Alum based on your location, nationality, age, stage of academic career, gender, and program interests. This allows you to gain insights into the experience that is most relevant to you.
Depending on your location you might be able to speak to an Alum over the phone or online, or meet up with them face-to-face at a coffee shop nearby. We also run a series of small events around the world where you can speak to GVI Alumni, Ambassadors and staff members.
Live Updates
Follow GVI Volunteer-In-Philippi's Facebook page for live updates straight from the field. Get an idea of the types of projects you might be involved in, meet our staff and participants, experience life on this GVI base, hear about free time activities, and learn about the local culture and environment.
GVISouthAfricaBusinessInternships
Arrivals
When it comes to support, we ensure that each participant is provided with unparalleled, 360 degree support, from your initial contact with the GVI Family, all the way through your program, and even after, as you become part of the GVI Alumni Team.
As part of this promise, we will ensure, whenever possible, that one of our dedicated staff will be available to meet you at the airport. In most locations, we also set up a Whatsapp group to help with managing airport arrivals. We will arrange with you prior to your departure that, should you arrive in the agreed upon pick up window, a member of our staff will be there to welcome you, easily identifiable in a GVI t-shirt or holding a GVI sign and wearing a friendly smile. This means there will be someone there to greet you as you land, and from there you will be transported to your GVI base to start your adventure and meet the rest of your team.
Flights
Please note that if you use this service delivered by Student Universe and / or if you buy your ticket through this portal you are agreeing to the Student Universe Privacy Policy and Terms and Conditions. Your agreement regarding flights will be between you and Student Universe or as per their terms and conditions.
As GVI is providing this portal as a service we are not responsible for the accuracy of this site.
We are also not responsible for any loss, damage (including loss of profits or consequential damages), injury, illness, harm or death in relation to your flight and travel arrangements.
Meet the team -
Senior Field Management
Richard Wilks
Regional Director for Africa
Meet Richard. Within GVI, he is the Regional Director for Africa. This covers both Ghana and South africa. He is currently based in Limpopo, South Africa, near our wildlife conservation base Karongwe Game Reserve. This is perfect for Richard as it allows him to carry out his passion for wildlife conservation, education, and the process of linking the two together. Further Richard has a Bachelors of Science in Wildlife Ecology.
An interesting fact about Richard is he loves bird watching, and labels himself as being a bit of a bird nerd!
Your Impact
All of our programs have short, mid and long-term objectives that fit with the United Nations Sustainable Development Goals or UN SDGs. This enables us to report on our collaborative impact across the world in a streamlined manner, measuring which UN SDGs we are making a substantial contribution to. Furthermore, this will help our local partners and communities measure and visualise their contribution to the UN SDGs.
Upon arrival to base, you will be educated about the history of the UN SDGs. You will learn about the specific goals of your location, the long-, mid- and short-term objectives, and also clarification of how your personal, shorter-term involvement contributes to these goals on a global level.
Our aim is to educate you on local and global issues, so that you continue to act as active global citizens after your program, helping to fulfil our mission of building a global network of people united by their passion to make a difference.
Our Cape Town based business internship programs involve working alongside small business entrepreneurs helping them to develop their businesses in a range of areas, alongside the direction of local partners
We have partnered with the University Of Cape Town's Graduate Business School Cape Town to implement and deliver business management support to low-resource startups and local entrepreneurs. By participating on a GVI program in this region, you will be assisting with the skills needed for business development in this uniquely South African location. We provide support where it is needed by our partners and local communities.
All of GVI Cape Town's program objectives are aligned with the United Nations Sustainable Development Goals (SDGs) framework. This enables us to more effectively report on our collaborative impact across the world in a streamlined manner, measuring which UN SDGs we are making a substantial contribution to. In the long term, this will not only help us to measure our impact, but will also help our local partners, and the people we support, to measure and visualize their contribution to the UN SDGs.
Our Partners In Philippi
Project Objectives
GVI Cape Town Long-term Objectives:
1. Designing and implementing effective strategies in the complex environment of a developing economy.


2. Assisting in creating decent work and economic growth through business skills and education.


3. Increasing the business opportunities and know how of community members with less resources available to them
4. Increasing in-country capacity by providing long term training to help the local community achieve their long term sustainability objectives.
Training
A GVI program is an investment in your career. No matter which you choose, you will be working toward improving your employability by mastering new social skills, gaining further technical expertise and earning qualifications in many cases. Most of our staff are, in fact, GVI Alumni, and we have helped many of our Alumni discover, move toward, and earn their own personal dream jobs. Each program includes introductory workshops, ongoing presentations, as well as on-the-ground professional support provided by our very own trained staff members. In addition, our training programs are critical for helping us to ensure the long-term impact of our sustainable development projects around the world.
For All GVI Participants
Welcome Presentation
Introduction to GVI as a whole and the work in your specific location. Learn about the short, mid, and long-term objectives of the sustainable development projects at your base, which United Nations Development Goals they impact most directly, and which local partners we work with.
Health and Safety Training
Learn about the Emergency Action Plans in place at your base, the full Risk Assessment, and best practices for personal safety.
Child and Vulnerable Adult Protection Training
Learn about the importance of child and vulnerable adult protection best practices and how to apply them while on project.
Your Program Specific Training
GVI's ILM Endorsed Leadership Training
This includes several presentations on leadership-related topics as well as practical applications of the topics, weekly one-on-one meetings with an assigned mentor, and a final leadership project.
Qualifications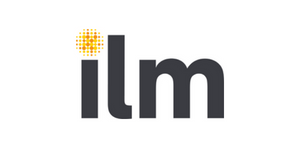 GVI's ILM Endorsed Leadership Certificate
GVI's Leadership Course helps participants master theoretical concepts related to team-leading and put them into practice through a series of presentations, activities, reflection periods, assignments and weekly one-on-one sessions with a designated mentor. The course is endorsed by The Institute of Leadership & Management (ILM), a research body consisting for over 30,000 leadership professionals. This certified course is included in program fees of all GVI internships, but can also be added onto any GVI program of 4 weeks or longer. Participants who complete the course will receive a 12-month membership ILM which provides access to their knowledge bank of leadership development resources.
Placement
All GVI business interns assist real organisations with accomplishing their goals. Below we have listed some of the businesses our interns have assisted in the past. Placements at specific organisations are not guaranteed and are dependant on the needs of the specific businesses at the time.
ESTRATWENI MOBILE FOODS

Estratweni Mobile Foods makes takeaway meals not widely available in Cape Town informal settlements, namely burgers and hot dogs, affordably and readily accessible to locals in these areas. The business was founded by entrepreneurs, Blax and Space. They first started their business by selling muffins on the side of the road and now have a fleet of four food trucks and employ seven local staff members.

The business not only helps to empower local community members with jobs but it also serves as an example to youth in the community that businesses can thrive in the informal settlement environment.

GVI's business interns worked in collaboration with the company's founders to enhance the organisation's brand power. They assisted the entrepreneurs with the creation of a new logo, website, and business cards.
IZENZO DAD CARE

Izenzo Dad Care is a social enterprise that aims to help fathers get more involved in the lives of their families by strengthening existing parenting skills and teaching new skills. Research completed by the founder, Mthunzi Qagana, found that the presence of a father is a fundamental factor in childhood development. The organisation's mission is especially relevant to South Africa where more than half of the population grew up without a father figure.

Izenzo dad care creates a safe space where fathers can discuss the joys and trials of parenting including their challenges and the resulting negative emotions like anxiety.

GVI interns supported Izenzo by registering the company, conducting market research, and creating social media as well as other marketing assets. In addition, GVI interns also worked with the founder to generate an effective business pitch.
SOUTH AFRICA MAKES (SAM)

South Africa Makes (SAM) is an organisation that bridges the gap between entrepreneurs located in Cape Town's informal settlements and their relevant industries. They provide 3D printing and additive manufacturing for their clients.

GVI business interns assisted the business owners with market research and analysis. They then revamped SAM's marketing strategy. Interns also helped the owners to create and deliver business pitches designed to bring in additional funding and investment.
I MATTER

I Matter aims to help people improve their lives by enhancing their emotional intelligence. They offer weekly face-to-face sessions where locals can learn skills like emotional regulation, communication for relationship building, and healthy self-image.

Their business model allows higher income clients to subsidise those of a lower income, thus increasing access to psychological and emotional support for people from lower income backgrounds in Cape Town.

GVI interns helped to launch I Matter by developing the business' market positioning, creating business pitches, and setting up the organisation's social media.
BABY FRIENDLY

Baby Friendly, was founded in 2018 with the aim of offering quality baby products along with friendly customer service to the informal settlement of Khayelitsha. The company currently sells a wide range of baby products from baby clothing, such as bibs and hats, to everything needed for throwing a baby shower.

Supporting the local community is important to the organisation. They collaborate with local designers, provide employment to local community members, and build lasting relationships with customers through providing a quality service and products.

GVI Interns worked collaboratively with the owners to develop a business plan, carried out market research, and created a pitch to help secure further funding and investment.
AFRICAN WOMENS RISING (AWR)

African Womens Rising (AWR) helps to empower young women across South Africa by promoting self-sustainable employment. They help women secure a livelihood so that they can exercise greater control over their lives. This helps to minimise the vulnerability of young women to gender-based violence and other threats.

GVI business interns worked collaboratively with AWR, applying their business knowledge to offer day-to-day support. This included assisting the business owners to develop, refine, and grow their business concept to help with expanding its reach.
PHILIPPI MUSIC PROJECT (PMP)

The Philippi Music project (PMP) was founded by Sibusiso Nyamakazi and Baptiste Guillemet in 2016 and offers musicians from Cape Town's informal settlements access to affordable recording services.

The organisation's mission is to spread the work of musicians from informal settlements in Cape Town to a wider audience, bring money into the community through hosting musical events in the area, and supporting the education of youth in the community by having experienced musicians teach younger locals technical skills required in the audio industry.

GVI interns helped the business with their goal of applying their established business model to additional communities. The interns also helped to develop a resource bank of revenue ideas to support the goal of raising additional income.
Exploration
Joining a program not only allows participants to collaborate with communities or work toward preserving unique ecosystems but it also offers plenty of opportunities to explore the surrounding area or travel further to see what other parts of the region have to offer.
Long term field staff are a great source of advice, and have helped us put together the following information on local travel options. Many decide to travel before or after their experience (subject to immigration restrictions), solidifying the lifetime friendships established on program. Please note that the below suggestions are not included in the program fee, and are for the individual to organise at their own expense.
Weekend Trips
Cape Point Nature Reserve
Participants are able to see various antelope, zebra, ostrich, seals and possibly even whales! Plan a picnic lunch on one of the reserves beautiful beaches too while you're at it.
Cape Point Penguin Visit
If you're planning a nice day trip for a Saturday, you should consider a trip to Cape Point and a visit to an African Penguin colony shortly after.
South African Landmarks
Robben Island, Table Mountain, The District 6 Museum, Castle of Good Hope or the Green Market Square craft markets are all once-in-a-lifetime experiences, which participants are encouraged to read more about ahead of their travels to South Africa.
Further Travels
Kruger National Park
Where roughly 2 million hectares of unrivaled diversity of life forms fuses with historical and archaeological sights – this is real Africa.
Kalahari Desert and Historical Zululand
The culture richness and diverse beauty of the Kalahari Desert and historic Zululand is often quite hard to put into words, but is an activity to be planned as part of greater cultural immersion and in an effort to expand your horizons, to solidify your global citizen status.
Drakensberg Mountains
The Drakensberg mountain is a spectacular hotspot in the country and a must-see tourist destination while you are in South Africa.
Cederberg
The Cederberg Mountain Range is an exquisite sight to see for the adventure enthusiasts. Walk or hike your way through an experience that quite frankly, is only done justice in person, and not on photographs.
Garden Route
In Cape Town, participants have easy access to the famous Garden Route and most participants come back raving after a weekend trip on the open road in the beautiful region.
Wildlife Safari
Visit a private game reserve which is located one and a half hours from Cape Town. Here you will enjoy lunch and an afternoon safari before returning home. Transfers to and from the project accommodation are included. There are many other fantastic trips in the area around Cape Town that can easily be arranged once in-country such as shark cage diving, skydiving, wine tasting tours, Hermanus day trips for whale watching (seasonal) or a typical township experience.
Cultural Immersion
Engaging intimately with a new context teaches not only global awareness but adaptability and critical thinking, skills highly valued in the modern marketplace. Local and cultural immersion is encouraged on all our programs around the world, and is also one of the most enjoyable aspects of your experience. Luckily, there are many activities you can get involved with in your free time, or before and after your program. On our community programs the focus is on cultural topics, while on marine or wildlife programs the emphasis is more on the environmental element. Use your evenings and weekends to explore diverse and eclectic topics like Theravada Buddhism in Laos or how plastic pollution and climate change affects Indian Ocean coral.
Cape Town immersion
Cape Town is a bustling melting pot of culture, considering it is a fairly complex, multicultural city with a fascinating history. There are many activities you could participate in while visiting the region, including township tours, taking language lessons, visiting the V&A Waterfront, going for a walk on the sea promenade, going whale watching in the bay, as well as exploring the various local cuisines on offer in the multitude of suburbs across the city.
Diversity
The country has celebrated over twenty years of democracy, usher in by the inauguration of former president Nelson Mandela in a historical moment in 1994. South Africa is often referred to as the rainbow nation to describe the country's multicultural diversity, especially in the wake of apartheid and this is something participants are encouraged to learn more about both before and during their time visiting the country and engaging with the local population.
Culture
South Africa is the largest country in Southern Africa and the 25th largest country in the world by land area, with a diverse cultural population of over 56 million people.
Language
The population of South Africa is made of a diverse number of ethnic groups and cultures. There are also eleven official languages.
Our Ethics
Below is a list of core ethics and best practices we believe are essential to the operation of high quality, ethical volunteer and sustainable development programs. We believe that all responsible volunteer and sustainable development operations should focus upon these principles. If you are considering volunteering, these are some of the key considerations you should question, to ensure that your time and money contributes towards positive change.
We want to constantly develop our own understanding of ethical best practice. In so doing, we aim to provide an exemplary industry standard for other education institutions, international development organisations, and social enterprises. Our Badge of Ethics stands for the drive to always do good, better. Find out more, click on the Badge below.
Our 10 Ethical Commitments
Locally Driven, Collaborative Projects
We aim to design all our projects in collaboration with local organizations and communities and ensure that they are locally driven.
Clear Objectives & Sustainable Outcomes
We aim to clearly define short-, mid-, and long-term objectives with sustainable outcomes for all our projects.
Impact Reporting
We aim to track, record, and publish the impact of each of our projects.
Working Against Dependency
We aim to build in-country capacity by assisting local organizations in becoming self-sustaining.
Responsible Exit Strategies
For each local organization we work with, we aim to have a plan in place for withdrawing support responsibly.
Clear Roles & Specialized Training
We aim to ensure that ever participant is assigned a clear role and that they are fully trained and supported to carry out their work by specialized staff.
Respect for all
In all our actions we aim to respect the skills and efforts of all and seek to protect the rights, culture and dignity of everyone who engages with GVI.
Local Ownership
We work to ensure that credit for the results of any project, along with any data collected, research conducted, or Intellectual Property developed, remains the property of local organizations.
Transitioning from the Orphanage Model
We do not condone and aim to withdraw support of orphanages and residential care centers.
Child and Vulnerable adult policies
We will live by our Child Protection and Vulnerable Adult policies.
Continual Development
As an organization, GVI is committed to striving toward best practice, and to educating both our potential participants, our partners, and the world at large about them. Both the volunteering and sustainable development sectors are increasingly, and rightly, under scrutiny. Many recent local and global articles highlight poor practices and questionable ethics. GVI is widely recognized for striving to apply global best practice in the volunteering, education and sustainable development sectors throughout our operations by reputable organizations such as ChildSafe.
However, global best practice is always evolving and we dedicate both time and resources to engage with internationally respected experts and learn from the latest research to ensure our programs both fulfil their potential to create maximum positive impact, and minimise their potential to create unintentional negative impact. Along with and as part of the sustainable development and volunteering community, we are constantly learning and applying this learning to practice. We do not always get everything right, but we seek feedback from our community members, partners, participants and our staff, and react accordingly. We know are already doing a great job, and feedback we have received confirms this, but we aim to do even better and are continuously refining our operations to improve upon our already excellent reputation.
Parent Info
'If only every student could do this. It changes your life in all the right ways,' says Chris Heritage, parent of Luke Heritage, one of our teen volunteers who has participated on two GVI programs, one in Costa Rica and another in South Africa.
We are a parent-run organisation that is incredibly serious about health and safety, and increasing the impact, as well as the long-term career benefits of our programs. Our programs help young people develop the skills to select a career path that is personally fulfilling, and live a life aligned to the well-being of our planet and the global community.
Ken and Linda Jeffrey, whose son Sam volunteered with GVI in Thailand, talk about how the experience affected Sam. He also went on to volunteer with GVI again in South Africa. 'I know it sounds like a cliche but in a sense, he did go away as a boy and he came back as a young man. Both of us could recommend GVI without any hesitation to any other parent thinking about exploring an opportunity for their children to explore the world and to see different parts of it.'
Parent Info Pack
Download the Parent Pack and learn more about:
Our staff: All our projects are run by staff, selected, vetted, trained, and managed by our central office.
Health and safety: Our safety practices include a child and vulnerable adult protection policy and high participant ratios.
Staying in touch: See what's happening on base, by following a hub's dedicated Facebook page.
Free parent consultations: We would love to talk to you about exciting opportunities available for your child.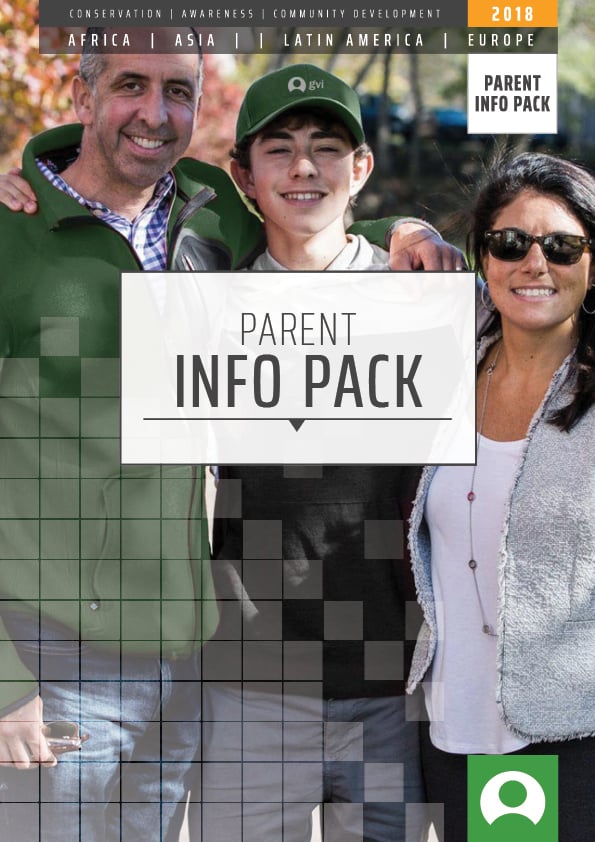 Support & Safety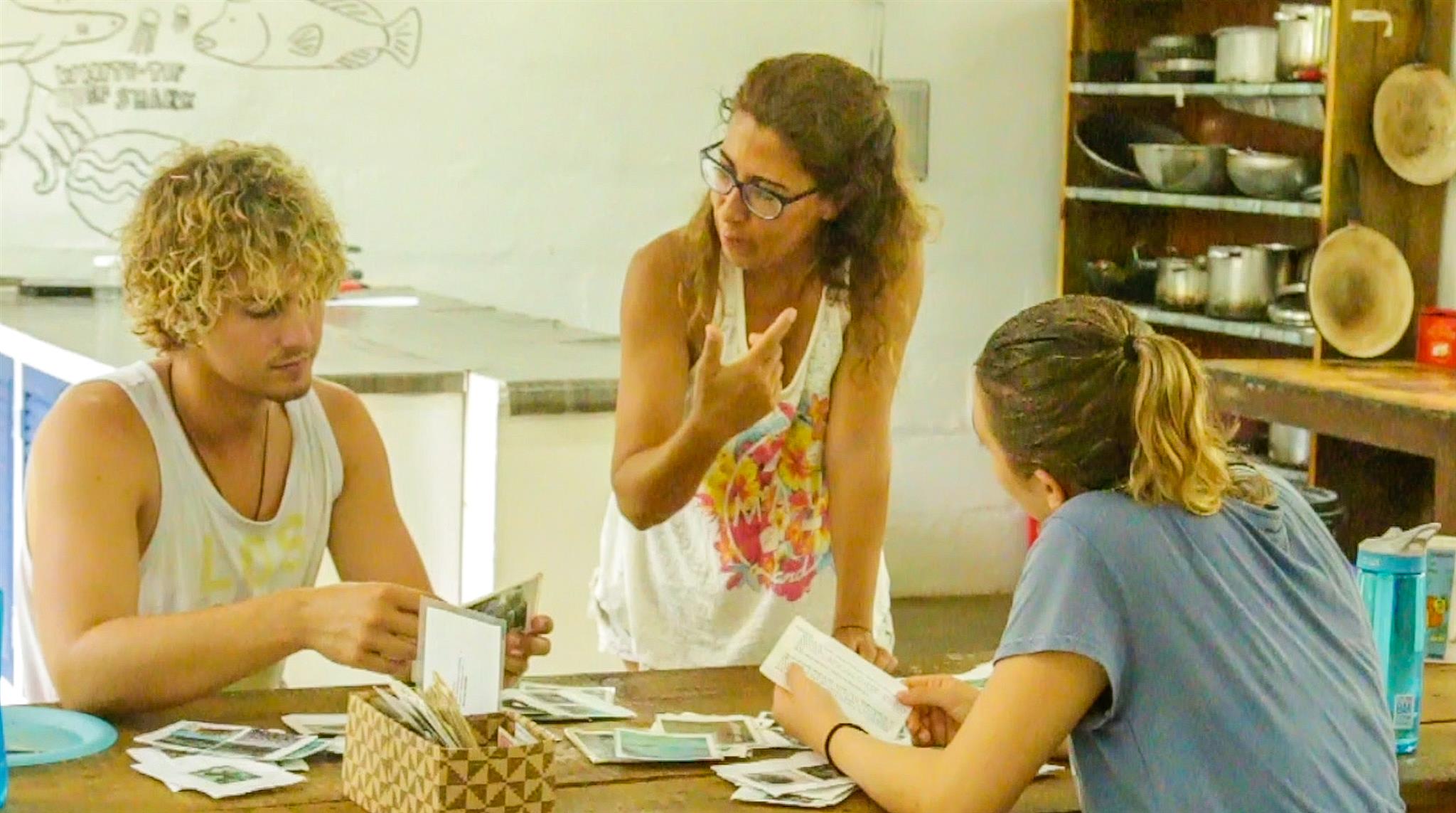 We won't sugarcoat it — traveling abroad is usually a complex process that carries an element of risk. But this is exactly why we're passionate about providing extensive support throughout the process as well as the highest safety standards during the in-country phase. We believe that volunteering abroad should not only be impactful, but an enjoyable experience that carries as little risk as possible. This is exactly how we've been able to maintain our reputation as the most highly respected volunteering organisations in the sector over the past two decades.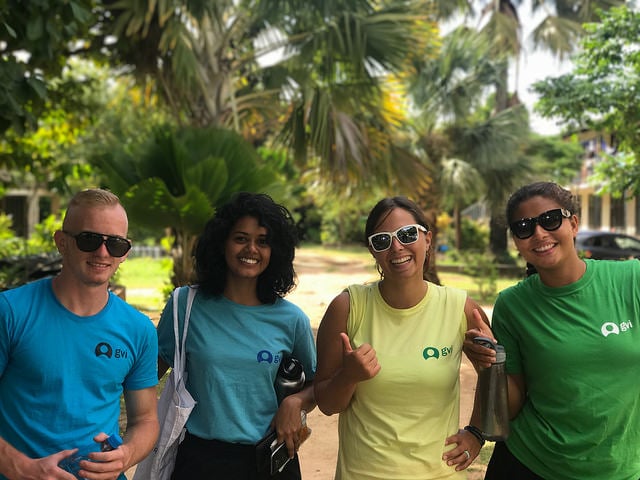 Support
Once a participant books, they will be assigned a personal support coordinator who will oversee their pre-departure journey. The support coordinator helps to bridge the gap between program enrolment and arrival at one of our field bases. Your personal support coordinator will ensure that you are provided with all the necessary information required to apply for visas, background checks, and any other documentation.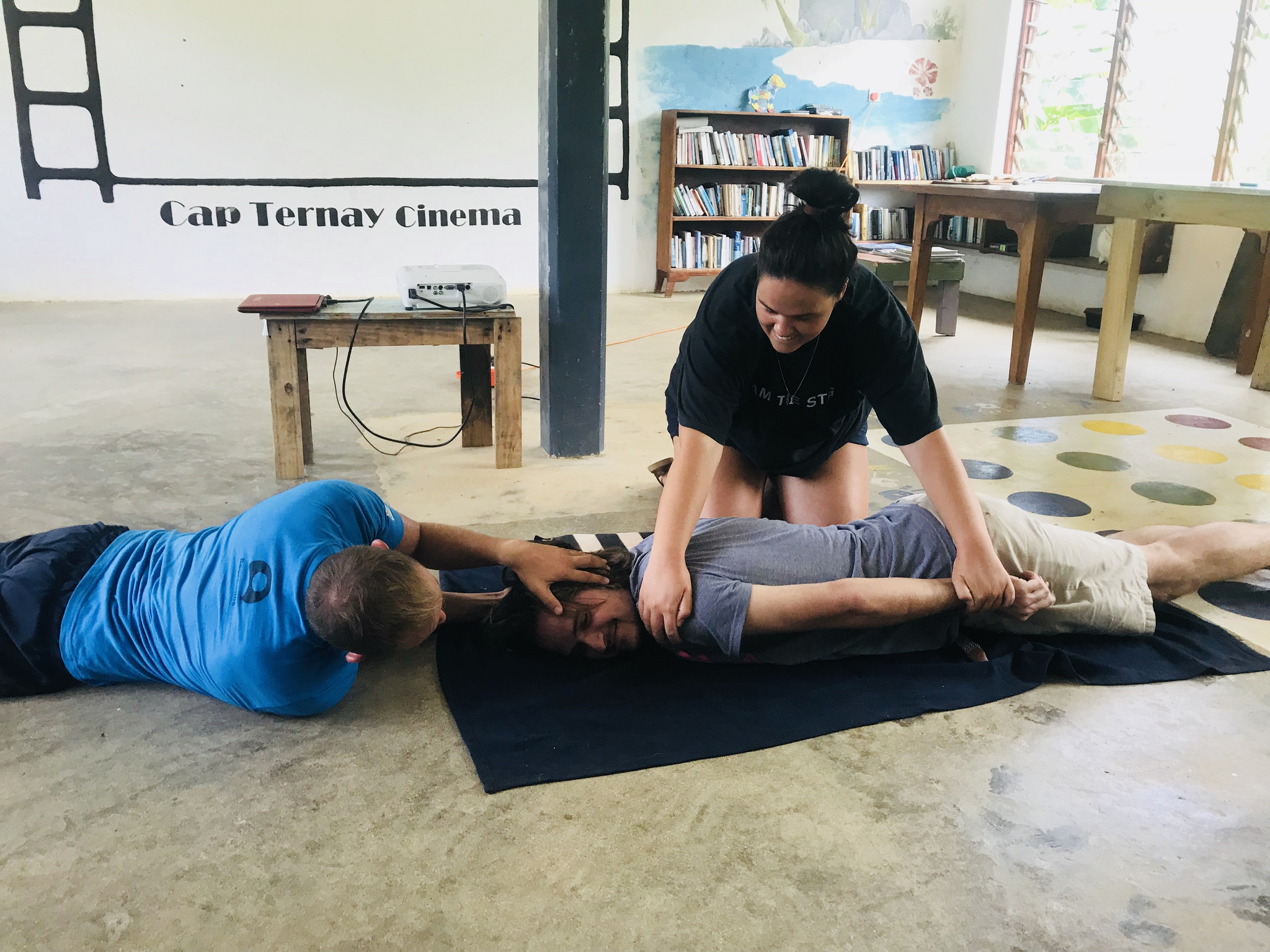 Safety
Upon arrival at the airport, participants will be greeted by a GVI staff member. All GVI staff are our own and all our programs around the world are run by our staff. All GVI field staff are background checked, Emergency First Response and safety trained. The minimum staff to participant ratio on GVI's programs is one to six, although on several bases we have a ratio of one to three. When finishing the experience, participants will provide feedback on all aspects of their program.
Health & Safety Case Studies
What's Included
24-hour emergency phone

24-hour in-country support

Access to Alumni Services and Discounts

Airport pick-up (unless otherwise stated)

All necessary project equipment and materials

All necessary project training by experienced staff

Location orientation

Long term experienced staff

Meals while on project (except on work placements for long term internships)

Safe and basic accommodations (usually shared)

Welcome meeting
What's Not Included
Additional drinks and gratuities

Extra local excursions

Flights

International and domestic airport taxes

Medical and travel insurance

Personal items and toiletries

Police or background check

Visa costs (where necessary)
Contact Us
GVI
1 Emperor Way, Exeter Business Park Exeter, Devon, EX1 3QS, UK
Learning Provider Number (LPN): 10002692
Centre Number: 17067