Meet us at our Global Digital Open Day - March 2021
Zoom call - 20 March 2021, 13h00 – 16h00 (London Time, GMT)
Are you passionate about conservation or community development?
We will be hosting another Virtual Open Day on Saturday the 20th of March 2021! This time around, in honour of Women's History Month this March and International Women's Day on 8 March, we'll be focusing on gender equality. As such, we will be joined by different female experts, staff, and past volunteers here to answer your questions and talk about their experiences. Join us to find out more from GVI staff and experts about the exciting options we offer for ethical volunteering, internships, career development and online experiences.
Talks and presentations on the day will cover our conservation and community development focused programs, as well as GVI's impact, career development, volunteering with GVI, our mission, our goals and our online courses. Specifically, our field staff from Thailand and Nepal will be offering insight into our community development and conservation programs in those locations, and we will also feature talks from past volunteers; specifically as an Under 18, Over 50, or during a gap year.
This is a great opportunity to ask our volunteers and staff any specific questions you have about conservation, community development and career development. We'll be there live to answer them in our Q&A after each presentation!
Details: Zoom call, with a link to be sent to you via email and SMS the day before the event. Please note that no Zoom account is needed and in the event that you would like to download Zoom, the free version is perfectly suitable. If you are a first-time Zoom user, please note that all GVI presenters and other attendees will not be able to see you via video or hear you via sound. An attendee will only have the option to have conversation via the 'Chat' box and ask questions in the Q&A box which will then be answered live.
Below is a schedule of events: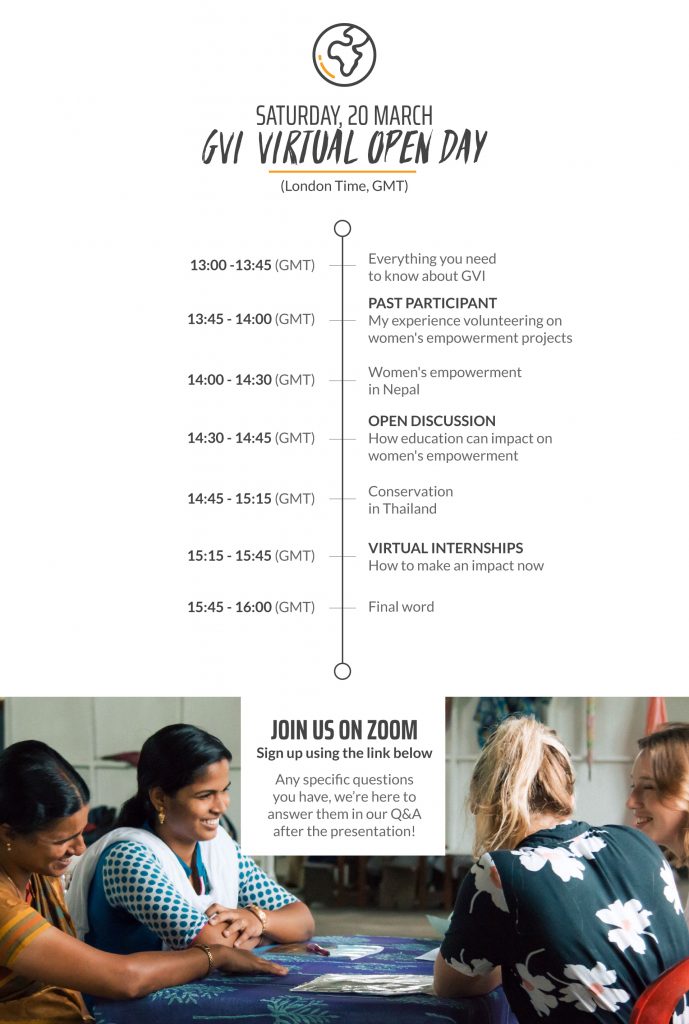 Additionally, there'll be a few special offers up for grabs, and you'll be able to secure your booking with a deposit of only £100 paid by midnight Tuesday the 23rd of March GMT and qualify for an additional £100 off your booking. Those who book via this offer can also pay their program off in instalments at no extra cost (usually a fee of £125 applies).
While GVI's programs take place in many different countries around the world, you can now also start your GVI adventure from home through our short-term online courses and virtual internships. Find out more from our staff during the open day event.
Get involved in ethical volunteer programs both at home and virtually, gain practical experience for your future, and develop transferable soft skills to boost your CV! If you're interested in using your time to make a difference and travel responsibly, this is your chance. Come meet us and hear about what the GVI experience involves, from people who've been there and taken part firsthand.
We look forward to connecting with you online soon.
Fill in the form below
to register for the event