Come Meet Fanny and Lou in Geneva - 9 February 2019
Café du lys, Rue de l'Ecole-de-Médecine 7, 1205 Genève, Switzerland - 9 February 2019, 13:00-15:00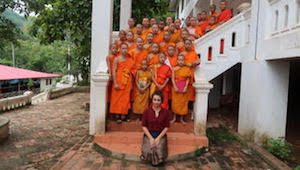 My name is Fanny and I'm a 22 years old woman. I am from Switzerland, Geneva, and my native language is French. I've been volunteering for GVI three times. Two years ago, I went to Laos in, Luang Prabang, to teach English to novices, monks, and children of all ages. I loved it so much! As soon as I returned home I booked my next trip with GVI to go back to Laos. Not only did I make a lot of friends there but I also found myself enjoying teaching. After the third time coming back in Laos I decided to drop my studies to start the faculty of future teachers. Since then I'm helping GVI from home and I'm also working as a substitute teacher.
My name is Lou, I'm 22 years old. I live in Geneva, Switzerland and I study law in Geneva University. I went on a program twice with GVI in Laos to teach English to Monks. I chose this program because I really wanted to discover Laos as it didn't seem like a big touristic place as it can be in other Asian's country. Teaching English to Monks is a wonderful opportunity to get close to their cultures. I learned a lot about Buddhism and I had a very interesting discussion about the way a Monk lives.
I like the fact that the program is well managed. Before starting, we had several pieces of training. We learned how to teach but also basic words to be able to speak a bit with the locals. I really enjoyed this program and all the opportunities I got there and I can't wait to go back
Come join Fanny and Lou for a coffee and a chat about their time in Laos and how it impacted their life.
Fill in the form below
to register for the event