Nepal Community Development Experience
Explore the fascinating country of Nepal while contributing to community development projects.
Our Impact
Location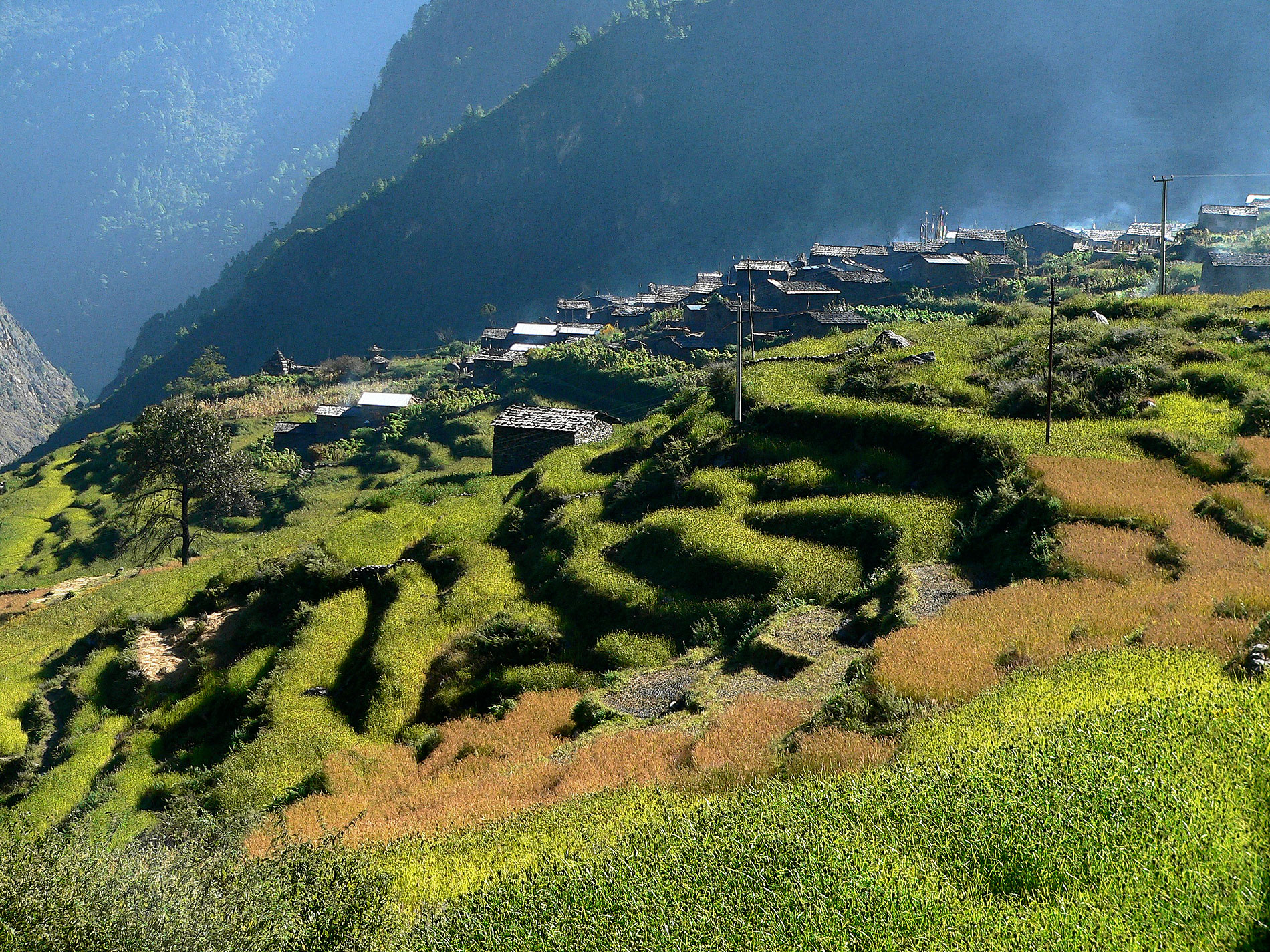 Volunteer in Pokhara
Program Information
Join GVI in Nepal where students will help contribute towards the United Nations Sustainable Development Goals by assisting with community development projects such as helping improve learning facilities in the local schools. Students will be based in the city of Pokhara where they will have the opportunity to become immersed in Nepali culture by learning how to handcraft traditional dumplings called "momos", as well as exploring Hindu temples, with the backdrop of the soaring Annapurna mountain range.
Virtual Internship Programs
Work
Experience
or
Career
Exploration
Choose from two types of virtual internships, designed specifically for students at different stages in their for-good career journey.
Overview
*Groups volunteering with GVI in Nepal will focus on improving the health and safety standards of educational facilities in Pokhara. Projects might include constructing desks, repainting a classroom, constructing new bathrooms, setting up walls or fences, or creating a sports field. This allows students to directly contribute not only to the United Nations Sustainable Development Goal #4, Quality Education, but also other goals like #3, Health and Wellbeing.
All GVI projects are informed by local community members. This ensures that the work fulfils the needs of our educational partners. A GVI staff member or local community member with professional construction experience will be available to make sure that the work is completed to a standard that will be safe and effective for educators and students. Throughout the project, group volunteers will be working closely in a team with GVI staff and local Nepali community members, exchanging expertise.
Pokhara is the starting point for many treks through the Himalayas. On a clear day, you will see three out of ten of the tallest mountains in the world. Upon arrival at the accommodation in Pokhara, group volunteers will enjoy an orientation tour of the surrounding area lead by a GVI staff member or local guide.  The group will then complete training on our health and safety guidelines and our Child and Vulnerable Adult Protection Policy. Volunteers will also learn how to minimise any risks associated with construction work. They will also learn about the rules we have in place to protect children from both direct and cyber threats.
As part of exploring Nepal and learning about its culture, the group can visit Tal Bihari, a Hindu temple in the middle of Pokhara's Phewa lake dedicated to the goddess Durga, or the Shanti Stuti, a Buddhist shrine, also known as the World Peace Pagoda. For the chance to see the sunrise, they can visit Sarangkot's viewpoint. There will also be the opportunity to handcraft Nepali dumplings, also known as momos, from the women of SASANE, an anti-human trafficking organisation. Groups might be able to join a kayaking or white water rafting trip down the Trisuli or Seti rivers.
*This overview is an example of the activities and project work that students might get involved in on this program. More specific details of the program are finalised several months before each start date and can be discussed further with your Group Enrollment Manager. The overview shown here has been followed by our staff and group volunteers in the past.
Program Details
Program Type:
Schools , University
What's It like?

If you'd like to find out what the experience of joining a GVI project is really like, simply contact us and we'll put you in touch with one of our many Alumni.
We'll try to match you to an Alum based on your location, nationality, age, stage of academic career, gender, and program interests. This allows you to gain insights into the experience that is most relevant to you.
Depending on your location you might be able to speak to an Alum over the phone or online, or meet up with them face-to-face at a coffee shop nearby. We also run a series of small events around the world where you can speak to GVI Alumni, Ambassadors and staff members.
Flights
Please note that if you use this service delivered by Student Universe and / or if you buy your ticket through this portal you are agreeing to the Student Universe Privacy Policy and Terms and Conditions. Your agreement regarding flights will be between you and Student Universe or as per their terms and conditions.
As GVI is providing this portal as a service we are not responsible for the accuracy of this site.
We are also not responsible for any loss, damage (including loss of profits or consequential damages), injury, illness, harm or death in relation to your flight and travel arrangements.
Live Updates
Follow GVI Pokhara's Facebook page for live updates straight from the field. Get an idea of the types of projects you might be involved in, meet our staff and participants, experience life on this GVI base, hear about free time activities, and learn about the local culture and environment.
Meet the team -
Senior Field Management
Cheryl Martin
Regional Director for Nepal and India
Introducing you to Cheryl. Cheryl is the Regional Director of GVI Nepal and India. Her journey with GVI began in 2011. Before this Cheryl had a history of teaching, although she fancied a change, which lead her to volunteer with GVI in Cape Town. After this she became a staff member and subsequently she stayed in Cape Town for the next four years.

Another role came up as Program Manager for Pokara, Nepal, which Cheryl took on before finally getting to where she is now.

Cherly has always possessed a love for travel. She has backpacked across Europe, working as a nanny. Her main highlight however has to be Peru. In fact it was her experience here that inspired her to volunteer in the first place.
Hannah Westcott
Program Manager
This is Hannah, the Program Manager at GVI's base in Pokhara, Nepal. She has been visiting Nepal for several years now, mostly working in Kathmandu. When she heard about the opportunity with GVI she was very excited, acknowledging that GVI is a purpose-driven organisation, which she respects and values.
Hannah believes that the small things are what have a large impact on communities. The projects she has been working with include teaching, women's empowerment and more. Hannah can observe the positive change the work brings to the communities. On top of this, she also sees the change that the work can have on the volunteers and how it develops them in their journeys.
Jill Walker
Deputy Director of Programs
Meet GVI's Jill,also known by her rap name, Rainmaker, or her spiritual name, Field Whisperer. Her journey with GVI began back in 2007 as Thailand's Country Director, where she helped set up GVI's first TEFL program!

Now she is based in Chaing Rai, Thailand. Jill's role involves providing support for all of our programs around the world. Working closing with each base, she looks to identify and manage any issues that occur so GVI are able to offer the best programs possible.
Meet the team -
In-Country Staff
Rhythm Gautam
Teaching Coordinator
This is Rhythm! He is 22 years old and was born and raised in Pokhara, Nepal. He was originally a trekking guide, then the opportunity to become a Teaching Coordinator popped up and he got involved. At the moment he teaches both Englishs and Math to partner schools for grades one to five.
Sita Thapa
Project Coordinator
Meet Sita. Sita is one of the Project Coordinator for the Women's Empowerment project in Pokhara, Nepal.
She has been with GVI for a year now, and it has since become family for her. As part of her role she works with community members and leads volunteers. She finds inspiration working with volunteers and is grateful to do the work she does, empowering women in different ways.
Your Impact
All of our programs have short, mid and long-term objectives that fit with the United Nations Sustainable Development Goals or UN SDGs. This enables us to report on our collaborative impact across the world in a streamlined manner, measuring which UN SDGs we are making a substantial contribution to. Furthermore, this will help our local partners and communities measure and visualise their contribution to the UN SDGs.
Upon arrival to base, you will be educated about the history of the UN SDGs. You will learn about the specific goals of your location, the long-, mid- and short-term objectives, and also clarification of how your personal, shorter-term involvement contributes to these goals on a global level.
Our aim is to educate you on local and global issues, so that you continue to act as active global citizens after your program, helping to fulfil our mission of building a global network of people united by their passion to make a difference.
Early Childhood Development and Education
We support several educational facilities for young students in Nepal. GVI participants contribute by improving the infrastructure of learning environments, developing educational resources, and helping students achieve learning objectives. In addition, GVI staff and participants also sometimes run informal educational workshops with students from the local community. Subjects we support include English language learning, maths, science, and computer skills. With younger students arts and crafts lessons are held to promote fine motor skills development. Sports lessons help promote gross motor skills development, teamwork, and healthy lifestyle.
Preventative Healthcare
GVI participants support health in Nepal by conducting WASH, Water, Sanitation, and Hygiene, workshops. This includes facilitating practices like hand washing and tooth brushing in the local community.
Women's Empowerment
Staff and participants contributing to our women's empowerment program in Nepal participated in a number of educational and professional development workshops. These encompass many subjects but might include lessons on topics like conversational English, mathematics, resume writing, and alternative income generation. In addition we also support women's health workshops to address issues like prenatal health and human rights presentations to address the prevalence of human trafficking in the region.
All these initiatives offer support to the community and local partners, and to address many of the UN Sustainable Development Goals, such as #4 – Quality Education, #3, Health and Wellbeing, #5 – Gender Equality and #6 – Clean Water and Sanitation.
Our Partners In Pokhara
Project Objectives
Pokhara's Long-term Objectives:
1. Providing support to students to reach learning goals appropriate to their age, grade level, or individual needs through increasing access to educational resources and their effective use in providing quality learning experiences.
2. Increasing the knowledge and understanding of healthcare in the community with an emphasis on prevention, and developing health-related skills such as Emergency First Aid.
3. Increasing professional and vocational skills held by women in the community, through education and empowerment.
Cultural Immersion
Engaging intimately with a new context teaches not only global awareness but adaptability and critical thinking, skills highly valued in the modern marketplace. Local and cultural immersion is encouraged on all our programs around the world, and is also one of the most enjoyable aspects of your experience. Luckily, there are many activities you can get involved with in your free time, or before and after your program. On our community programs the focus is on cultural topics, while on marine or wildlife programs the emphasis is more on the environmental element. Use your evenings and weekends to explore diverse and eclectic topics like Theravada Buddhism in Laos or how plastic pollution and climate change affects Indian Ocean coral.
Festivals
February: The Tibetan New Year celebration, Lhosar, is held in February. Buddhist monasteries decorate their temples, known as stupas, and there is music and dancing in Tibetan communities and families exchange gifts.

March: The Nepalese version of India's Holi celebration, the festival of colours, is celebrated in March. In Nepal this festival is known as Fagu Poornima. This is an incredible visual festival during which crowds throw one another with coloured powders.

May: As the birthplace of the Buddha, Buddha's birthday is a big event in Nepal. This is known as Jayanti day and is celebrated during May.

September to October: Probably the most popular and well-known festival celebrated in Nepal is Dashain. Taking place over the course of 15 days, it honours the main goddess of Hinduism, Shakti, in all her forms. This is a time when families come together and celebrate. Parades and feasts are common throughout the festival. It corresponds to the Navratri festival held throughout India.

October to November: Tihar is another festival held around the end of October or early November each year and corresponds to Diwali, the festival of lights, popular in India. The festivities extend for five days and each day features a unique celebration.

Yoga and Meditation
Yoga evolved as part of the Hindu tradition. As a country with a large Hindu population, yoga is part of Nepalese culture. Nepal is one of the top yoga retreat destinations in the world. There are plenty of classes you can take during your stay in Pokhara. Mediation is also a central component of both Hinduism and Buddhism. Visit a Hindu tradition meditation class for to learn japa mala meditation or a Buddhist tradition meditation class for a Vipassana meditation class.

Cuisine
Possibly the most well-known Nepalese dish is dal bhat, a lentil stew served with rice. It is a smokey, spicy, wholesome dish which happens to be vegetarian-friendly as well, in keeping with the beliefs of the Hindu religion. Momos, traditionally thought of as a Tibetan food, are popular throughout the Himalayan region, and Nepal is no exception. Momos are a type of steamed dumpling, served with a dipping sauce, and come in a variety of fillings. When you are out and about be sure to stop at a street stall to try a sel roti, a fried, ring-shaped salty snack.

Religion and Spirituality
Most of Nepal's population subscribes to Hinduism, specifically the Shaivism sect. You will find many Hindu temples throughout Nepal. However, Nepal is also home to one of the main Buddhist sites in the world, Lumbini, the birthplace of the founder of Buddhism, Siddhartha Gautama and does have a significant Buddhist population as well. You can learn about both these traditions during your stay in Pokhara, by speaking to locals, and visiting the many religious sites in the area. Visit Tal Barahi, a temple located in the centre of lake Pewa, dedicated to the goddess Durga, or the World Peace Pagoda, a Buddhist stupa.

Languages
Although Nepali is the official language of Nepal, over 100 languages are spoken within the limits of the country. Throughout your time on the project you will have plenty of opportunities to learn more about the Nepali language while interacting with locals.

Our Ethics
Below is a list of core ethics and best practices we believe are essential to the operation of high quality, ethical volunteer and sustainable development programs. We believe that all responsible volunteer and sustainable development operations should focus upon these principles. If you are considering volunteering, these are some of the key considerations you should question, to ensure that your time and money contributes towards positive change.
We want to constantly develop our own understanding of ethical best practice. In so doing, we aim to provide an exemplary industry standard for other education institutions, international development organisations, and social enterprises. Our Badge of Ethics stands for the drive to always do good, better. Find out more, click on the Badge below.
Our 10 Ethical Commitments
Locally Driven, Collaborative Projects
We aim to design all our projects in collaboration with local organizations and communities and ensure that they are locally driven.
Clear Objectives & Sustainable Outcomes
We aim to clearly define short-, mid-, and long-term objectives with sustainable outcomes for all our projects.
Impact Reporting
We aim to track, record, and publish the impact of each of our projects.
Working Against Dependency
We aim to build in-country capacity by assisting local organizations in becoming self-sustaining.
Responsible Exit Strategies
For each local organization we work with, we aim to have a plan in place for withdrawing support responsibly.
Clear Roles & Specialized Training
We aim to ensure that ever participant is assigned a clear role and that they are fully trained and supported to carry out their work by specialized staff.
Respect for all
In all our actions we aim to respect the skills and efforts of all and seek to protect the rights, culture and dignity of everyone who engages with GVI.
Local Ownership
We work to ensure that credit for the results of any project, along with any data collected, research conducted, or Intellectual Property developed, remains the property of local organizations.
Transitioning from the Orphanage Model
We do not condone and aim to withdraw support of orphanages and residential care centers.
Child and Vulnerable adult policies
We will live by our Child Protection and Vulnerable Adult policies.
Continual Development
As an organization, GVI is committed to striving toward best practice, and to educating both our potential participants, our partners, and the world at large about them. Both the volunteering and sustainable development sectors are increasingly, and rightly, under scrutiny. Many recent local and global articles highlight poor practices and questionable ethics. GVI is widely recognized for striving to apply global best practice in the volunteering, education and sustainable development sectors throughout our operations by reputable organizations such as ChildSafe.
However, global best practice is always evolving and we dedicate both time and resources to engage with internationally respected experts and learn from the latest research to ensure our programs both fulfil their potential to create maximum positive impact, and minimise their potential to create unintentional negative impact. Along with and as part of the sustainable development and volunteering community, we are constantly learning and applying this learning to practice. We do not always get everything right, but we seek feedback from our community members, partners, participants and our staff, and react accordingly. We know are already doing a great job, and feedback we have received confirms this, but we aim to do even better and are continuously refining our operations to improve upon our already excellent reputation.
Parent Info
'If only every student could do this. It changes your life in all the right ways,' says Chris Heritage, parent of Luke Heritage, one of our teen volunteers who has participated on two GVI programs, one in Costa Rica and another in South Africa.
We are a parent-run organisation that is incredibly serious about health and safety, and increasing the impact, as well as the long-term career benefits of our programs. Our programs help young people develop the skills to select a career path that is personally fulfilling, and live a life aligned to the well-being of our planet and the global community.
Ken and Linda Jeffrey, whose son Sam volunteered with GVI in Thailand, talk about how the experience affected Sam. He also went on to volunteer with GVI again in South Africa. 'I know it sounds like a cliche but in a sense, he did go away as a boy and he came back as a young man. Both of us could recommend GVI without any hesitation to any other parent thinking about exploring an opportunity for their children to explore the world and to see different parts of it.'
Parent Info Pack
Download the Parent Pack and learn more about:
Our staff: All our projects are run by staff, selected, vetted, trained, and managed by our central office.
Health and safety: Our safety practices include a child and vulnerable adult protection policy and high participant ratios.
Staying in touch: See what's happening on base, by following a hub's dedicated Facebook page.
Free parent consultations: We would love to talk to you about exciting opportunities available for your child.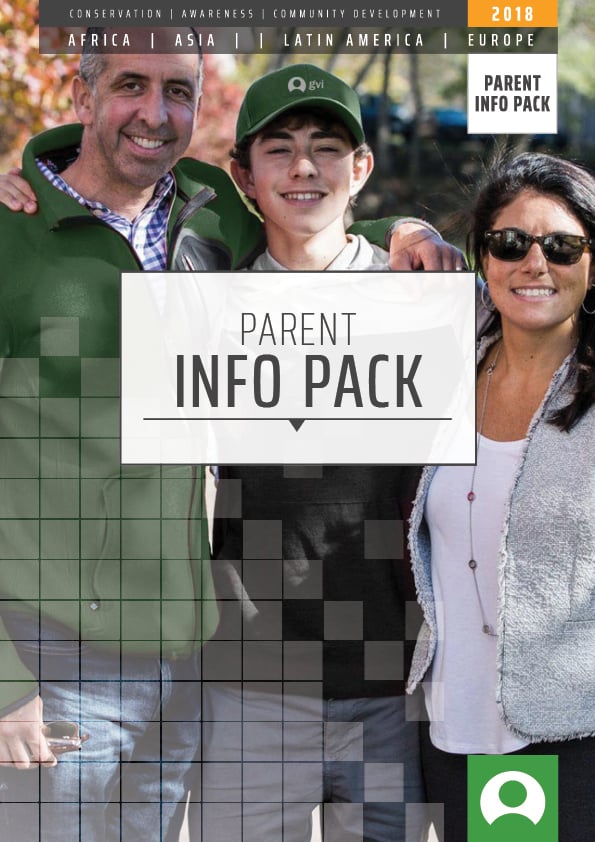 Teacher Info
Additional Teacher Info
GVI runs curriculum, CAS and experience focussed service learning opportunities around the world on multi-award winning trips. With over 25,000 travellers since inception, GVI's know-how to ensure safe, life-changing challenges that make a real difference, fostering global citizenship and intercultural understanding. Staffed and resourced by GVI all year round, our projects offer unique opportunities to engage in long-term, high impact work, whilst experiencing deep cultural immersion and some adventure.
A teacher travels free with groups of ten or more students!
GVI provides 24/7 support from our experienced staff who are based full-time on the ground, as well as support from HQ. An experienced group leader will accompany the group, taking overall responsibility for the safety of the group.
Please note prices are subject to seasonal fluctuation and will vary depending upon the needs of the group.
**Optional extras include travel insurance and flight services
---
Example Itinerary
Day 1: Say Namaste to Nepal
The group will arrive in the capital of Nepal at Kathmandu International Airport. They can take a flight of about an hour or a bus journey of about seven hours to Pokhara. While the bus seems like a long add on to the journey it is also a great chance to see the local countryside. If budget is a concern the bus is definitely the cheaper option.
Volunteers will travel to their accommodation accompanied by a GVI staff member or representative. Accommodation is selected by our staff based on its proximity to our volunteer projects and is usually shared room or dorm-style. The specific accommodation selected will differ based on the requirements of the group.
At the accommodation, the group will have a chance to settle in and rest before meeting for an evening orientation session with our GVI field team. After dinner, the group of volunteers will attend a welcome presentation hosted by the GVI team stationed in Pokhara. The volunteers will learn a little about GVI and specifically about the community development projects we run in Nepal.
Day 2: Introduction and Orientation
The group will be met by a GVI field staff member and given an orientation tour around the local area. GVI staff will also brief volunteers on the specific project they will be completing. Roles will be assigned and duties will be discussed. The volunteers will then assist staff with any preparation of the materials that are needed for the next day.
Day 3-6: Service and reflection
The work begins! Depending on the need of the community and our partners at the time you will be involved in a construction or renovation project. This could include maintenance and decoration of a classroom, community centre, furniture renovation and construction, mural painting or basic construction work from scratch.
A key ingredient to this week will be the focus on teamwork and GVI are happy to work with the school to incorporate overall goals and objectives. Being immersed in the local community for a week will give the volunteers an opportunity to experience a new and fascinating culture while contributing to projects in a meaningful and genuine way.
There will be time set aside each evening for group and individual reflection. This is also a time to discuss the day's achievements and ways in which the group can effectively prepare for the next day's work. Days are tiring but equally rewarding with plenty of time for fun!
During the week there may also be opportunities to visit nearby local sights such as the beautiful Tal Bahari Temple or the Gurkha soldier museum. Cultural and adventurous activities can also be factored in such as Nepali language lessons and cooking classes, rafting and kayaking trips on Trisuli or Seti Rivers, or a mountain biking or hiking adventure.
Day 7: A Fond Farewell
During the group's final day in Nepal, they will gather for a farewell presentation. This is their final chance to reflect on their experience. Our staff will then escort the group to the bus stop or the airport for their ride or flight back to Kathmandu. For both, this will be the last opportunity to appreciate the landscape of Nepal in the region of Pokhara to Kathmandu.
**Your trip can be extended to include additional side trips and / or further service work.
Support & Safety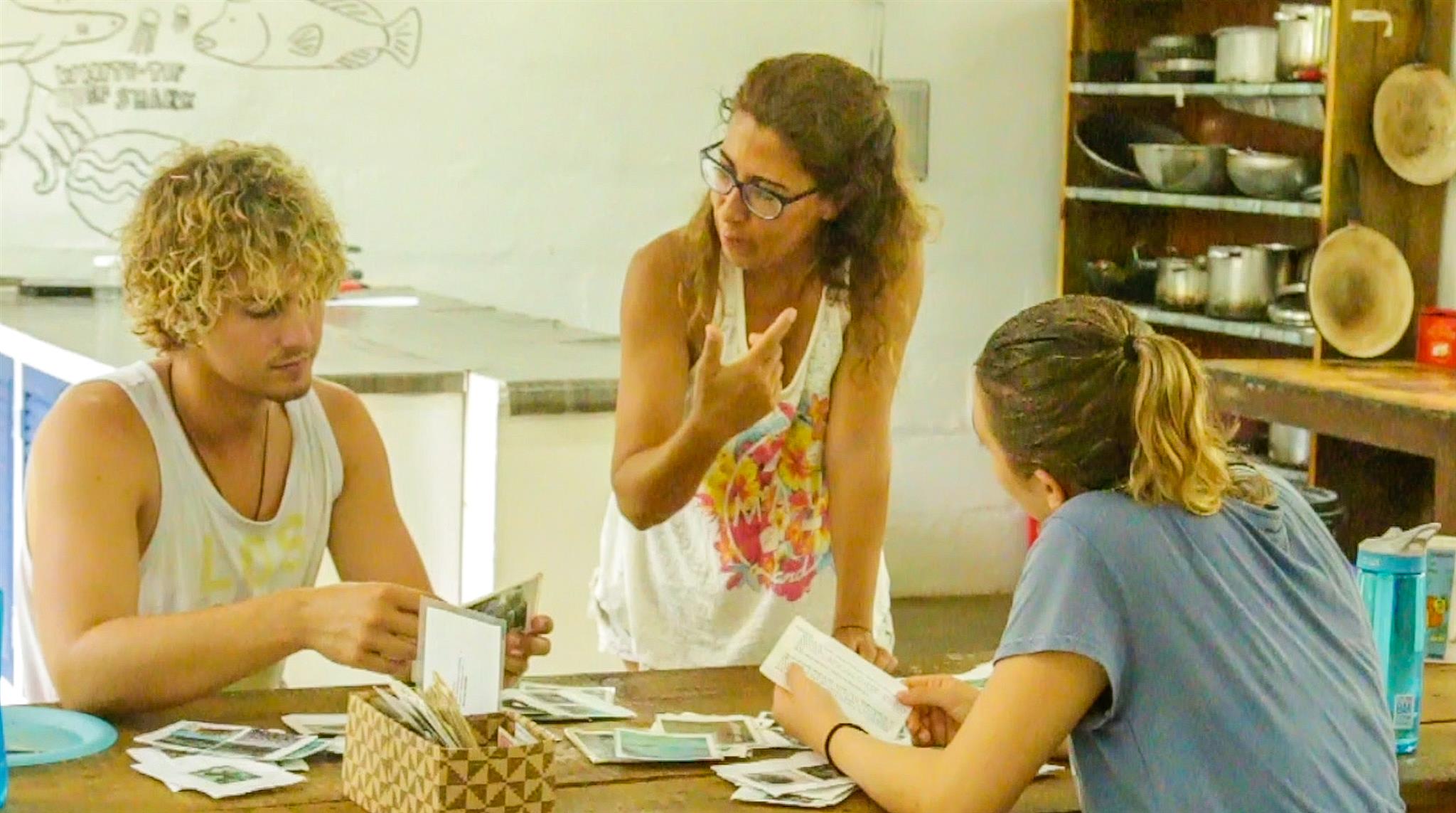 We won't sugarcoat it — traveling abroad is usually a complex process that carries an element of risk. But this is exactly why we're passionate about providing extensive support throughout the process as well as the highest safety standards during the in-country phase. We believe that volunteering abroad should not only be impactful, but an enjoyable experience that carries as little risk as possible. This is exactly how we've been able to maintain our reputation as the most highly respected volunteering organisations in the sector over the past two decades.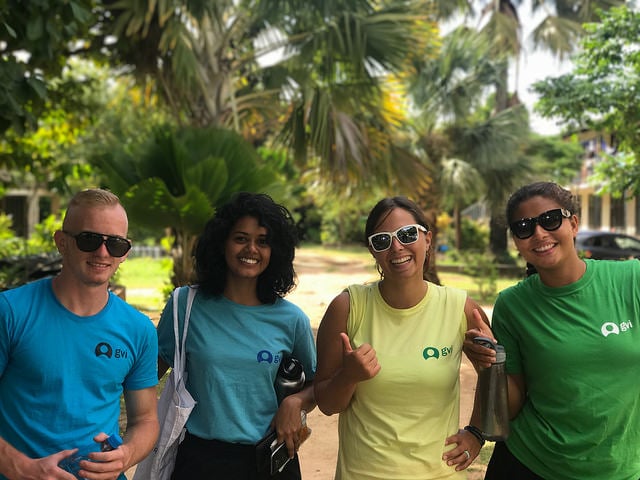 Support
Once a participant books, our support team will oversee their pre-departure journey. This helps to bridge the gap between program enrolment and arrival at one of our field bases. We will ensure that you are provided with all the necessary information required to apply for visas, background checks, and any other documentation.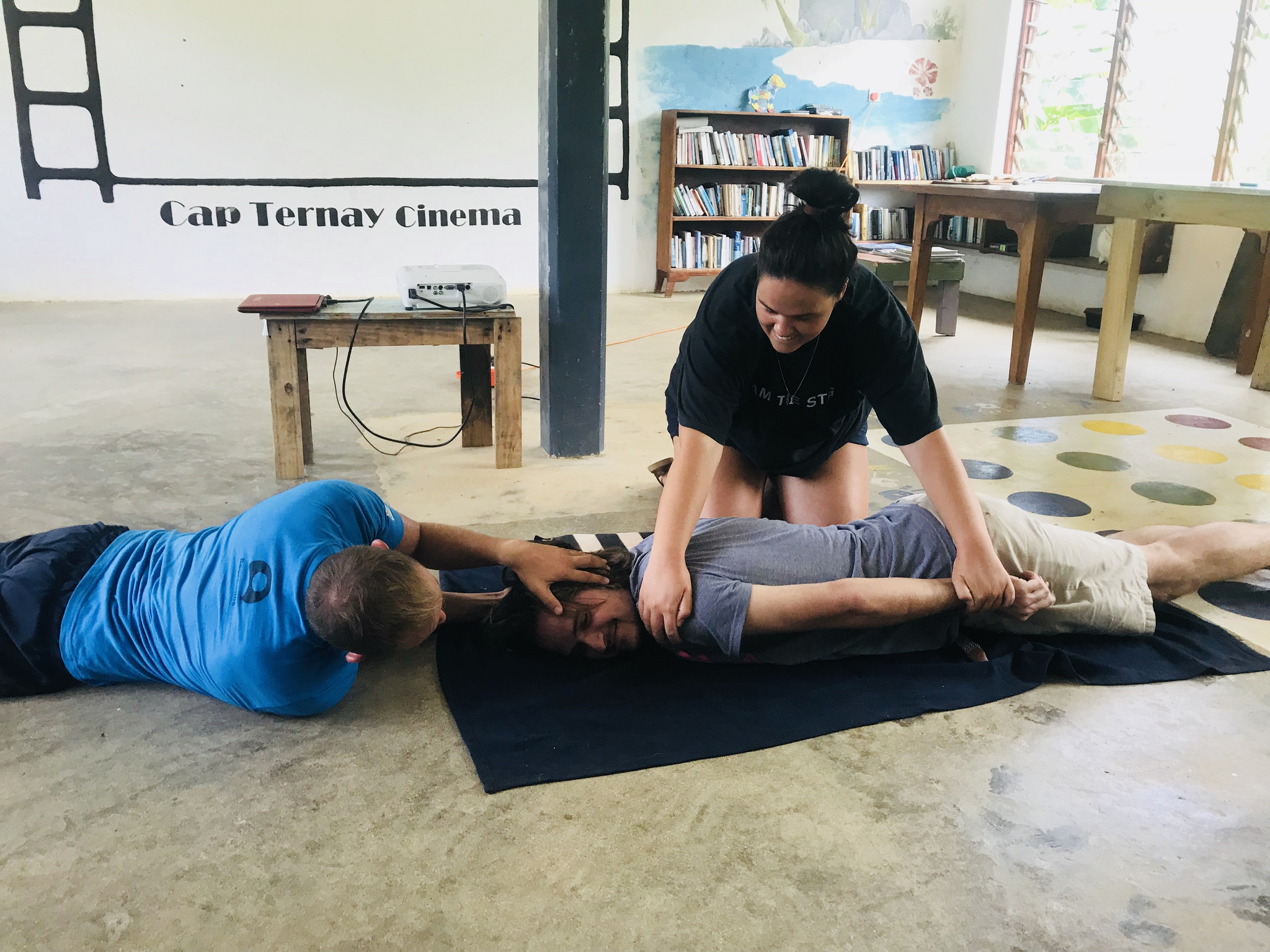 Safety
Once a participant books, our support team will oversee their pre-departure journey. This helps to bridge the gap between program enrolment and arrival at one of our field bases. We will ensure that you are provided with all the necessary information required to apply for visas, background checks, and any other documentation.
Health & Safety Case Studies
Why Choose GVI?
There are many reasons why you should consider GVI for your group trip. Allow us to take you through some of the important points:


GVI has over two decades of experience – Since we began in 1998, we have sent over 20,000 young people on trips all over the world. Most describe their experience with us as life-changing with a 95% approval rate from our customers


We are a ground operator – We run and staff our projects 24/7, all year round which means we understand and know the area you will be visiting enabling us to deliver a high quality level of support, safety and training at very competitive prices


Our variety of programs is unique and unrivalled – We offer language courses, community and conservation projects, leadership programs, cultural immersion, adventure activities and mountain trekking.


Peace of mind – You know that our projects make a real and positive impact on the local communities you visit. Since we started we have developed over 150 projects around the world.


Project ownership – We run our projects in partnership with local communities, according to the needs on the ground, so you know they are genuinely worthwhile


We are different from most other school providers – We already have projects and programs in place. We have been working in these countries for over two decades and are working hand in hand with the host communities to ensure their needs are being met.


Teachers/Educators travel free


Safety is our priority – We have comprehensive safety and back up procedures in place.


Flexibility – Our trips are available all year round so you tell us when you want to travel.


The GVI Charitable Trust – Enables your school to stay involved with your program after you return home.


Students will automatically become GVI members, enabling them to benefit from discounts on any future GVI trips.


There are opportunities for students to be GVI Ambassadors – excellent for university and college applications.


What's Included
24-hour emergency desk

24-hour in-country support

24/7 back up and support

A dedicated trip co-ordinator

Access to Alumni Services and Discounts

Access to local medical facilities

Accommodation

Airport pick-up (unless otherwise stated)

All necessary project equipment and materials

All necessary project training by experienced staff

Comprehensive health and safety procedures (Emergency Action Plans and Risk Assessments)

First aid equipment

Flight booking service on request

Food and drinking water

Group leader

Highly experienced and well qualified GVI field staff

In-country support

In-country transport costs

Insurance on request

Location orientation

Long term experienced staff

Meals while on project (except on work placements for long term internships)

Pre-departure information

Safe and basic accommodations (usually shared)

Up-to-date safety and country information

Welcome meeting
What's Not Included
Additional drinks and gratuities

Additional spending money

COVID-19: Health and Hygiene Fee

Extra local excursions

Flights

International and domestic airport taxes

Medical and travel insurance

Personal items and toiletries

Personal kit

Police or background check

Vaccinations

Visa costs (where necessary)

Visas
Contact Us
GVI
1 Emperor Way, Exeter Business Park Exeter, Devon, EX1 3QS, UK
Learning Provider Number (LPN): 10002692
Centre Number: 17067