An A to Z of the Island Conservation Expedition
By Jenny Macgregor
3 years ago

A is for Anse (the Creole word for beach), there's lots of beautiful white sandy beaches to explore here

B is for Bites, from lovely mosquitoes and sand flies, bring far more repellent and anti-itch cream than you think you need
C is for Centipedes, if spotted beat repeatedly with a stick/shoe/deodorant can until no longer moving
D is for Dexter, our trusty boat that takes you on the 10min journey between Praslin and Curieuse
E is for Early Mornings, first surveys normally leave some time between 5am and 8am
F is for Film nights, set-up the projector for a movie after dinner
G is for Grains of sand, they get everywhere, particularly in your bed
H is for Hammock, comfy for a post-survey nap
I is for Ice Cream, the gelateria on Praslin is popular with volunteers at the weekends
J is for Jars of peanut butter, good with bread, in porridge, cookies, or just eaten by the spoonful
K is for Kneading, freshly baked bread tastes lovely and preparing it is a good workout for your arms
L is for La Digue, a pretty island well worth a trip at a weekend
M is for MacGregor, our friendly local giant tortoise (loves fruit and neck scratches)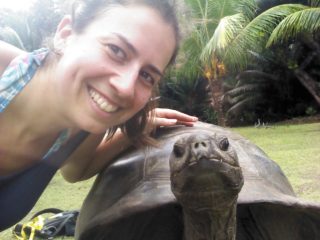 N is for Night time toilet trips in the dark, don't drink too much before bed!
O is for Oats, no better way to start the day
P is for Photos, you will take lots, and have tourists that stumble into camp take photos of you washing your pants, thinking you are some crazy native tribe
Q is for Quick Drying clothes/towel, useful with the humidity
R is for the Rangers Station, this is where many of the giant tortoises on the island live, including the very cute babies
S is for Sweaty Stinky volunteers, you will learn to embrace it, we all smell together
T is for Turtles, we've seen hatchlings take their first steps to the sea and hung out with curious juveniles and adults while snorkelling
U is for Underwater, there's lots going on here to see when on a snorkel: coral, rays, reef sharks, and of course plenty of fish
V is for Viewpoints, you can detour off some of the trails for some stunning hidden views of Curieuse and the surrounding islands
W is for Water, we drink lots of it, and spend a lot of time standing/wading through it on surveys, or getting soaked by it in tropical showers. Bring lots of bikinis.
X is for Xylocarpus granatum, one of the species of tree in the mangroves that you will learn all about
Y is for Yummy dinners, you will have to get creative when cooking to cater for lots of different tastes, diets and allergies of all the staff and volunteers
Z is for Zzzzzz, you will want and need plenty of sleep, bring ear-plugs if you're a light sleeper!