Wondrous waterfall wildlife
By Anna Lavery
4 years ago
It's an early songthaew journey to Thai Mueang National Park at Lampi waterall and YES, it's well worth it. The waterfall itself is beautiful and open to the public, to swim in the plunge pool, but the real excitement for me was to start explore the surrounding rainforest. The trail was steep to start, levelling off into dense forest and I started to feel like I was taking part in a real adventure. The aim of the surveys are to establish a species list for the national park, detailing what animals can be found in their parks. Using GPS to mark where each species are found and noting detailed descriptions and photographs, I hope I can help identify some animal species. Almost immediately after starting the survey we saw new and exciting animals including frogs, snakes, stick insects and spiders. Some were easy to spot, others we stumbled upon. Half way along the trail we faced the challenge of crossing the river. The local guides definitely made it look easier than it was, but in this warm sticky climate it was just what we needed to cool off and relax for a few minutes. The whole trail took around an hour and a half, mainly because we kept stopping to look at all the cool plants and animals. Personally, the most interesting species we have found so far is Tinolius eburneigutaa, a caterpillar which stands out from the crowd with its red feet and the spines along its back.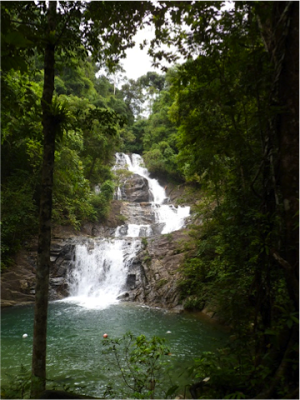 However the day wasn't over yet, the local guides based at the waterfall took us over to a small palm tree and pointed towards the underside of the leaf. I was a bit hesitant to look, but I'm glad I did, because there was the most amazing, cute group of bats, comprising of one adult and four juveniles. This species, Cynopterus brachyotis or more commonly called the Greater Short-nosed Fruit Bat, nibbles around the top of the palm leaf causing it to drop down creating a little shelter for them to roost in, which is pretty clever. Overall the day was brilliant, lots of animals seen, so lots to identify and keep us busy but first of all, lunch.
Anna Lavery – Conservation field staff
Subscribe to our Blog
GVI on Instagram
Sorry:

- Instagram feed not found.
GVI on Facebook