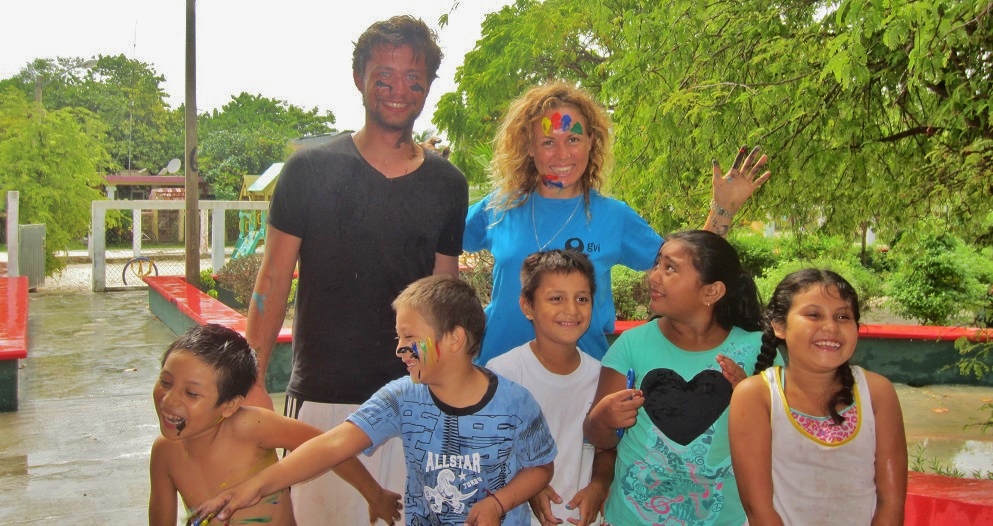 This week we got wet dirty and painted, one of our 8 week volunteers Martin gives us a run down.
This week in Pez Maya: First on Monday I finished up my advanced open water under the wing of the new instructor on base, Eugene, Yaay. I found out I'm not that good at counting my own kick cycles during the navigation dive, considering the square I had to swim was huge.
Tuesday was a day full of coral spots, I got to see a huge Southern ray eating. A Moray eel was pointed out to me, but for some reason I thought a tiny fish was the point of interest and sadly didn't see it. Then some amazing food made by Maj-Britt and Sam .
On Wednesday I got to go to Punta Allen for the first time. First, we played with the kindergarten children, teaching them colors. After that, it was on to the secondary school, where we played the awesome game of Ping Pong Pang. The last stop was the primary school, where a piggy-back ride was a very popular event. After all the teaching, the children needed some fun and we went on to finger paint drawings on recycled cardboard. As all finger paint endeavors should end, we finished it of with a finger paint war (some might say I started it, but it has not been officially confirmed yet).
Thursday was a day with massive waves, which sadly meant we couldn't dive. We made a brave effort and started driving out in the boats, but had to call the dives. We did have an amazing dive closer to shore in calmer water: A whopping 2.1 meters deep and 30 seconds long with a visibility of about half a meter. As there wasn't much more diving that day we had to come up with something else to do. Inspired by the previous day a water bucket war was started. When the buckets were empty, sand proved a valuable substitute, except for the danger of people going blind of course.
Friday was filled with leadership games, carrying a bunch of stuff around to make room for the builders to come and make repairs, and writing a blog post.