On the 13th April we welcomed in the Nepali New Year by celebrating at the local fun fair in Lakeside. We decided that we should try out some of the rides at the fair – I have to say that I must have been the most nervous! We all sat on the ship and it started to swing, it kept going faster and faster until I thought we were nearly horizontal to the ground! This continued for about 10mins and by the end of it I decided not to go on the others! The rest of the volunteers and Lok decided to try a few more out but I was more than happy to sit and watch!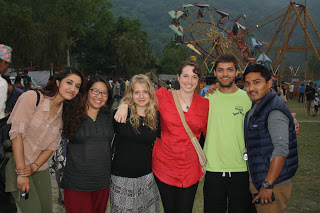 Volunteers Sanju, May, Lovisa, Alison, Hunter, and staff member Lok
Bikram Sambat (BS), the official calendar of Nepal, is approximately 56.7 years ahead of the international Gregorian calendar. The Nepali calendar is a mixture of solar and lunar calendars.

 
Gate (read ga-tey)
or dates are based on solar calendar, whereas festivals are based on lunar cycles –

 
tithi
 

(read tee-'thi).

 
The first month of the year in this calendar is

 
Baisakh
. Beside the first day of Baisakh as the official new year of Nepal, there are several other new years' celebrations at various time of year, celebrated by people of different communities in Nepal.

 
Project Manager Ruth Malthouse