By Julie Hary
3 years ago

Do you know what it's like to adapt to a completely new environment, being used to living in a cold and rainy country and all of a sudden arriving in a tropical, very hot place? Yes, I know it sounds amazing, but it isn't as easy as it may sound. Especially when you're not on holiday but instead working in these muggy and hot conditions; it can get exhausting from time to time. And I can promise you, we have rather a lot of work to do!
I've been here now for exactly 5 days and I have to admit that I still struggle with the heat during our surveys. However, all the effort it takes and the sweating you undergo is immediately forgotten when you look up at the landscape that surrounds you during the walk to the survey location and during the survey itself. You could not imagine a more stunning and awesome view than the one you get after climbing up the mountains on Curieuse. On the top of the hill you can enjoy the view of the endless sea with its purple blue colour i've seen nowhere else in the world. The sea is so clear, you can even look at the sharks and turtles swimming around below. Moreover, you can enjoy the view of the thick lush green forest dispersed over the island, including so many different species of trees offering you an awesome variety of colours. The air, which you really need after the exhausting climb, couldn't smell any better and fresher than it does when you're standing right on the top of the island.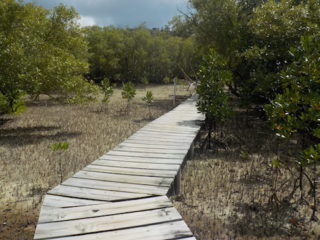 It's not only the view standing on the peak of the hill that is stunning; even the trail leading to the survey can take your breath away. During the hike, you go down paths consisting of big granite stones and twisting tree roots, and there's a beautiful boardwalk through the North mangroves.
As I said before, these surroundings make you forget about the effort required and the sweat produced during the rather long and tiring route to the survey, along with all the worries you may have.
I've realised that not even pictures can really capture nature's beauty, and if I hadn't seen this place for myself yet, I would choose it over and over again.