Wat Pasaviet Library -written by Robyn Monk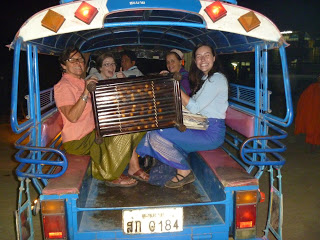 Friday 11th January 2013 was sadly our last day on the gvi Luang Prabang teaching project. My mother (Liz) and I had been teaching for 1 month at both Xayadeth College and Wat Pasaviet. During the last week I had purchased some Laos-English dictionaries for Wat Pasaviet as not all the novices had access to one. Teacher Liz had purchased some books locally, short stories, novels and science books written in English to leave at Wat Pasaviet so the students could practise reading in their spare time. By Wednesday Liz had decided that Wat Pasaviet should have their own library so the students could access books whenever they wanted to. She discussed this with the project manager Tricia who not only supported her idea, she donated many books from the resource center and purchased a bamboo bookcase to hold the books. Teachers Stephanie and Sara got on board purchasing stationary items as well as novels and other reading material to donate to the library.
The gvi staff located appropriate books from the resource center including some English text books, novels and short stories while Teacher Sara and I catalogued the books. The books were marked so they could be easily identified later to be swapped for other books to keep the students interested by providing them new material.
On our last Friday we got in our Tuk Tuk with our bags of books and stationary as well as the new bookcase and headed to Wat Pasaviet. All the volunteer Teachers were excited and Molly and Sai (GVI staff) came along for the unveiling. We gathered all the novice monks into one classroom and Teacher Liz presented them with their new library. Novices Mai, Sing and Jialee assisted Sai with grouping the books and putting them on the bookshelf. Teacher Liz nominated novice Jialee to be the librarian and he chose novice Jasmine to be his assistant.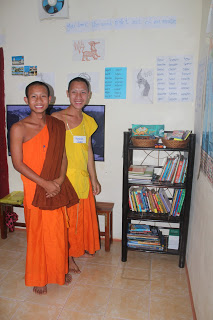 After the unveiling the novices thanked the teachers with a beautiful chant and returned to their normal lesson. Novices Mai, Sing and Jialee of the intermediate class came up with a list of rules for the use of the library which were later displayed for all the students to see.
We hope the library gets plenty of use by the novices at Wat Pasaviet and that all future volunteers bring a new book to swap into the library as the dedicated novices won't take long to read what is currently available.
People involved in the Wat Pasaviet Library project were Elizabeth Philpott, Tricia Feeney, Robyn Monk, Molly Plexico, Sara Freeland, Stephanie Lewis, 

Lao teacher X

ai, Christine Schwugier and Greg Wright