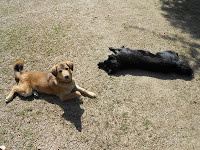 We've been adopted as a volunteer group. Not just by our wonderful host families, not just by the lovely GVI staff, not just by the wonderful Himalayan Encounters (HE) but by the dogs.
Himalayan encounters have two dogs. Kali and Kairi.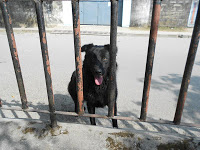 Kali is the sweetest calmest dog alive. She calmly follows you home, to project or to lakeside. She doesn't bat an eyelid when other dogs bark at her safe in the knowledge she is the best dog around. The only time she gets upset is when the cows dare come near us!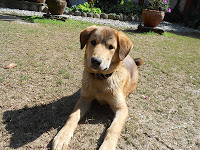 Kairi despite all appearances is still a puppy. He's only 8 months and likes to get into everything. And I mean everything. He always wants to play, always wants to run, always finds trouble.
…And they both got really dirty. The rains have started and there was permanently mud on their coats. They come up to say hi and we got covered in dirt and ick.
So stupidly we decided to wash them.
Tara, from HE, laughed, said he'd help and warned us that although Kali was very calm, Kairi in his previous 3 washes turned into a vicious brute who would bite us.
We were asked to reconsider. We did not.
I did feel guilty when we grabbed kairi first. He was so happy to think we were going to play with him. These dogs never get tied up, so when the chain went on and we dragged him towards the sink he could sense his impending doom.
And surprisingly I didn't lose a finger like I was expecting. Nor did Hunter. Nor did Tara. I did get a mild scratch. Kairi is never going to be a docile creature, but he more or less submitted to the scrubbing. It was the water spraying on him that he didn't like.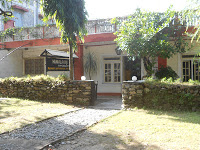 Then we had to find Kali, who having heard her friends barks of indignation, had disappeared. Finally we unearthed her in the corner of the garden. As predicted she was much better. Definitley not happy but her usual calm self!
And then they were clean….
For about 5 minutes before they found some mud again…