Why would you want to pay to grow someone else's rice?
By Thomas Dann
3 years ago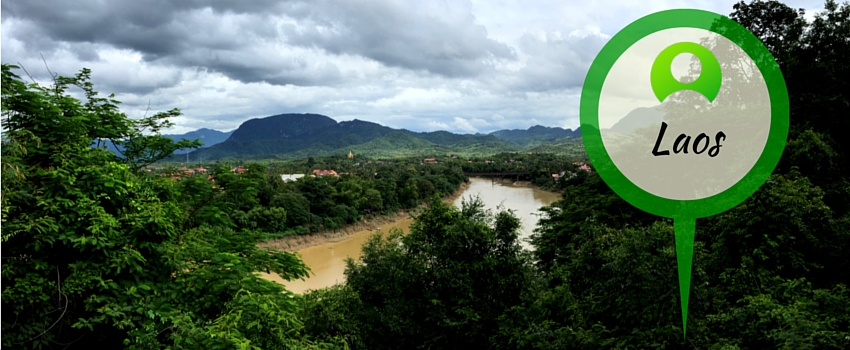 Here in Luang Prabang there is so much for volunteers to do during their time off. Intern Thomas Dann, along with other volunteers, recently visited 'The Living Land' farm, to gain a first hand perspective of the different stages and processes involved in the planting and harvesting of rice in the traditional rice paddy. He has written all about his experience below:
Why would you want to pay to grow someone else's rice?
That was what the other volunteers asked me and I wasn't too sure myself. But I was intrigued by the idea of the Living Land Farm and, considering how much I enjoyed it, perhaps it was a worthwhile payback for all the fantastic sticky rice I've eaten.
Early Sunday morning myself and two other volunteers found ourselves in the quiet, calm (excluding the occasional aeroplane) Living Land Farm, located 15 minutes outside of Luang Prabang city. We were greeted by a smiling agricultural student, who doubled as our guide, before we were handed our own bamboo hats and shown the 14 stages of growing and preparing sticky rice.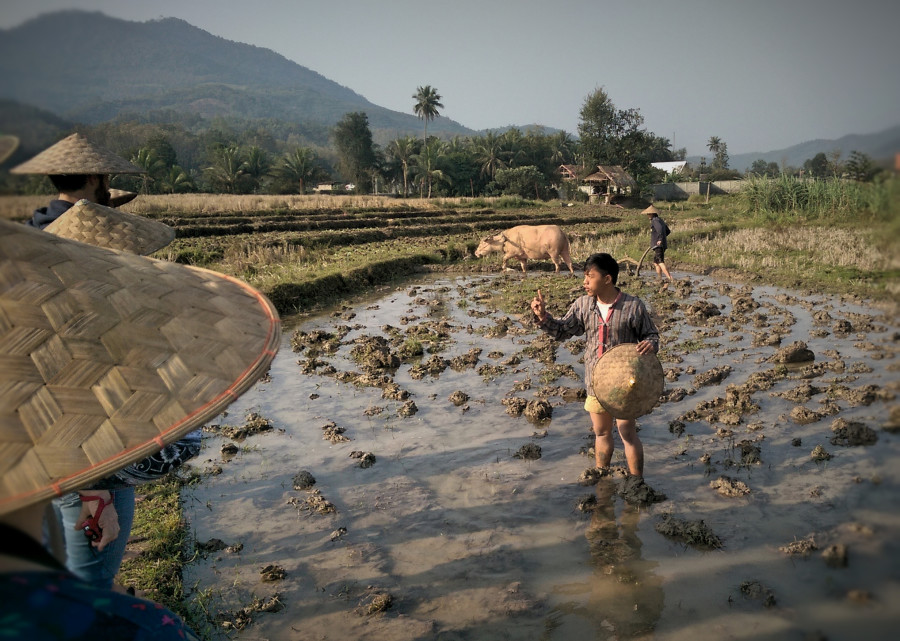 Interesting as it was too see, everyone also had the opportunity to take part in the various stages, literally getting our hands, and more particularly our feet, dirty. We stepped, or rather sunk, into a muddy paddy to drive the water buffalo, aptly named Rudolf, to plough the soil. An experience I would not have wanted to miss, even if it felt more like being pulled in circles by Rudolf while struggling not to slip over. After planting the rice, in a freshly ploughed, wet and muddy paddy, we then took to threshing the rice, to whack the dry stalks against the ground. And after separating the rice from the chaff (and discovering the meaning of the word) we had to de-husk the rice using a huge foot driven mortar and pestle.
When all was done, including the crushing of sugarcane to produce a peculiarly delicious drink, we were greeted with the 14th stage of the rice making and, in my opinion, the best stage, feasting on the fruits of our labour. Unfortunately, I didn't get a picture of our banquet as it didn't last long enough, but we enjoyed sticky rice, rice cakes, rice flowers and washed it all down with a sweet rice wine.
But the Living Land Farm is not just about rice. Our guide told us about the important part the farm plays in the local community. They provide jobs for local people – even retired men come in to make farm tools and enjoy the rice wine – and have recently built a school on the site for the local children.
As everyone here knows, and if you come here you will discover, you can't get away from rice in Laos -breakfast, lunch, dinner or even a night market snack – but seeing the labour that goes into the traditional process of producing the many tons of rice needed every day was eye-opening and truly awe-inspiring. I may grumble over another rice dish (egg fried today) but I will never look at rice the same way again.
Written by Intern Thomas Dann
The Living Land Company Website