Waka Waka (This Time for Kerala)
By Lois Pigneguy
4 years ago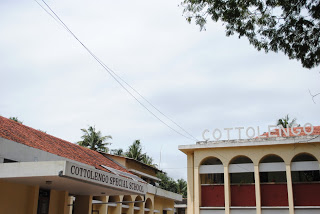 My name is Lois Pigneguy and I am now two weeks into my eight week arts project with GVI. The past two weeks have been spent at Cottolengo Special School, a Catholic institution run by nuns, for intellectually and physically challenged children. As well as providing teaching, the children at the school also have access to speech therapy, yoga therapy, physiotherapy, vocational training and music and dance therapy. Regardless of the language barrier, the children and nuns could not be more warm and welcoming. The mornings at school are spent with different classes; the ability of each child varies greatly and you have to be prepared to adapt, be flexible and change your lesson ideas if it is not working for your specific class. A popular activity I did with the kids was Monster Balloons. Using card, felt tips, tissue paper, pipe cleaners and huge orange balloons, the class created their own monsters which we then attached to the wall. The children are extremely creative and considering a lot of them cannot speak English; their level of understanding is amazing. I spent a few days of last week creating a giant alphabet poster with the class. They decorated each letter and then we collectively stuck down the letters onto the poster. Singing the alphabet as well as identifying different letters on the poster has helped them gain a greater understanding of the alphabet, what the letters look like and being able to recognise them.
Independence Day is on 15th August and I am working with a group to create a singing/dancing performance.  The kids love the music and they are having to engage in ways that are challenging to them; move in time and in sync with each other, as well as listen to me giving instructions in English! We have made slow but significant progress and it is so rewarding to see their smiles of excitement and satisfaction at the end of a rehearsal. At the end of the day we have made time to dance with all the kids in the school. Everyone gathers in the main hall area and it is a time when the kids can jump around, dance and enjoy the music. Waka Waka (This Time for Africa) by Shakira has become a popular favourite with the children and volunteers, even the nuns enjoy a little boogie at the end of school. I can safely say it is the best part of my day!
Subscribe to our Blog
GVI on Instagram
Sorry:

- Instagram feed not found.
GVI on Facebook