Volunteering in Laos with GVI
By Volunteer Sue Stevens
3 years ago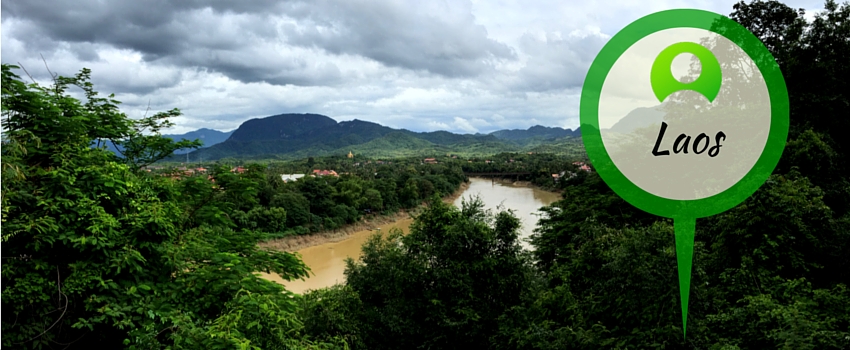 It was with some trepidation that I got on my first flight from Heathrow on the way to spend six weeks volunteering with GVI in Laos. I had chosen the programme to teach English to Novice Monks, something completely different to my day job and something I had no experience of at all. I had done some preparation but was still very nervous at the prospect. Would I remember what an adjective was? Could I remember the difference between a synonym and an antonym?
This was to be my first long haul flight alone and certainly the first time I had had to change planes twice alone! It all went reasonably smoothly. I didn't get a huge amount of sleep but was so excited I do not think it mattered too much. I did manage to spill a glass of red wine over myself which was a pain as I had not packed a change of clothes.
As the small final plane came into land, I could see the many wooded hills and the winding rivers that surround the city of Luang Prabang. On arrival, I was greeted by the wonderful smile of Dora. She welcomed me to Laos and showed me to the taxi which would take me to the accommodation I had booked for the night which was Cold River. Once settled in my room, I set off for a quick investigation. Map reading is not my forte, so I did not realise I had set off in the wrong direction but I found a cash point and soon realised how humid it was. I also realised that zebra crossings are pure road art and are ignored by all drivers. I didn't venture far and returned to the hotel to await my fellow volunteers.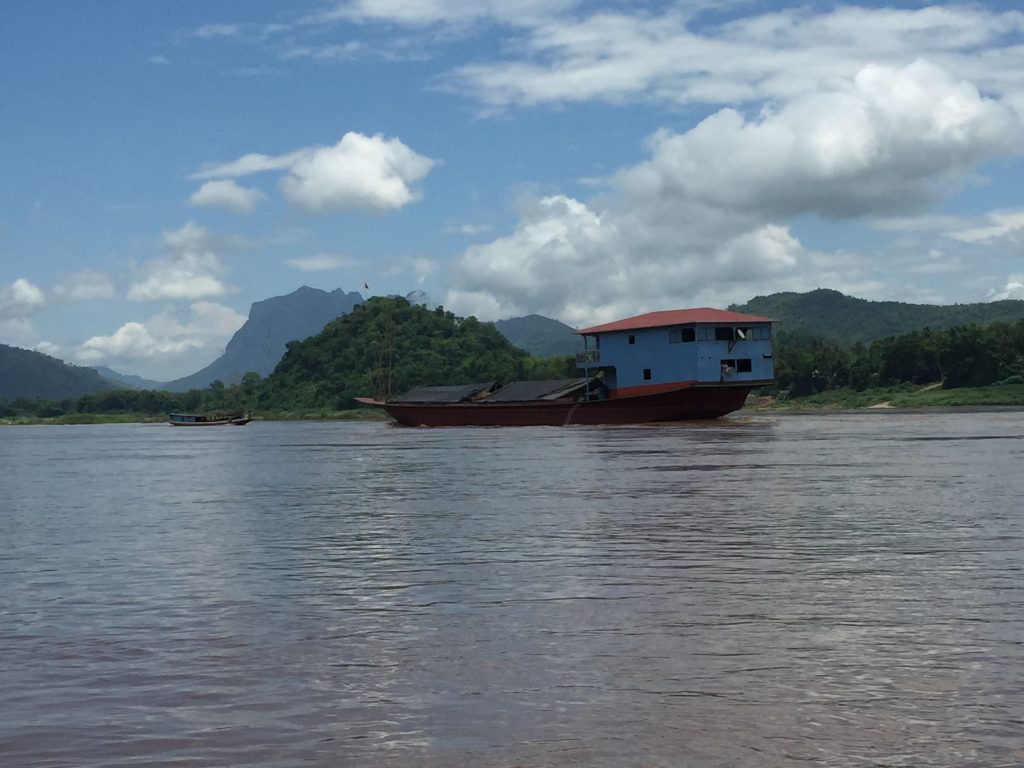 Through the office, I had made contact with some other volunteers who would be there at the same time but they were on different flights. We had arranged to meet up later that evening.
Once we met, we walked along the road to find somewhere to eat. We bumped into a western girl and asked her if she was a volunteer, she was, she was called Tahlia and was from Australia. She suggested a couple of restaurants to us and seemed really friendly. We went to a restaurant very near to the guest house where we would be staying with GVI. The food was delicious and very cheap.
The next day we met the rest of the volunteers. They were all incredibly friendly and seemed really good fun. We were provided with a sinh – the skirts we were to wear as teachers and the sashes to wear later that day when we had the privilege of visiting a monastery to hear chanting.
GVI provide some more training once you are there, which is really good and helps you get to know your fellow volunteers as well as helping prepare you for the forthcoming teaching opportunities. They also provide you with a lesson in Laos so that you know how to say hello and how to thank people. It was great fun.
That evening some of the other volunteers guided us to the night market followed by a trip to one of the local bars. It was so lovely to already feel part of the team.
I was very lucky for one of my first classes I was to teach with one of my fellow new volunteers at a monastery just out of town called Wat Pha-O. You have help with the lesson plans which is brilliant. The building itself is impressive and when you see the orange robes of the Novice Monks as they weave their way to class it is quite breathtaking. The Novice Monks are lovely to teach too. We could not stop smiling as we helped them learn to tell the time and talk about family trees.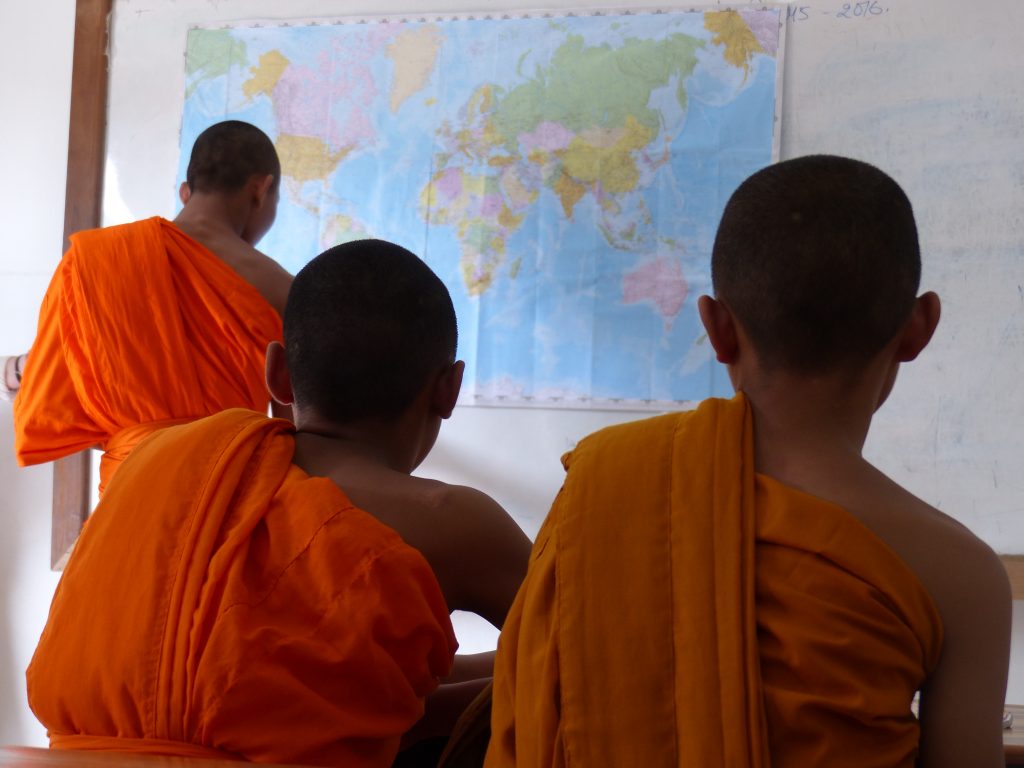 My other class for the first week was to Lao people wanting to better themselves at the local Xayadeth college. They were aged from 18 to about 56. They were so sweet. Their smiling faces are imprinted on my heart as for the next four weeks I worked with my teaching partner, helping them improve their English. They were so keen to learn and so respectful of us as teachers, you cannot help but enjoy the whole experience.
During my spare time, I would walk into and around the city of Luang Prabang. Lao people are so friendly, not once in my six weeks did I hear a raised voice or angry words. I felt totally safe whatever time of the day or night. I would wander down to the cafe where the two rivers meet and sit in total peace enjoying the view and reading my book.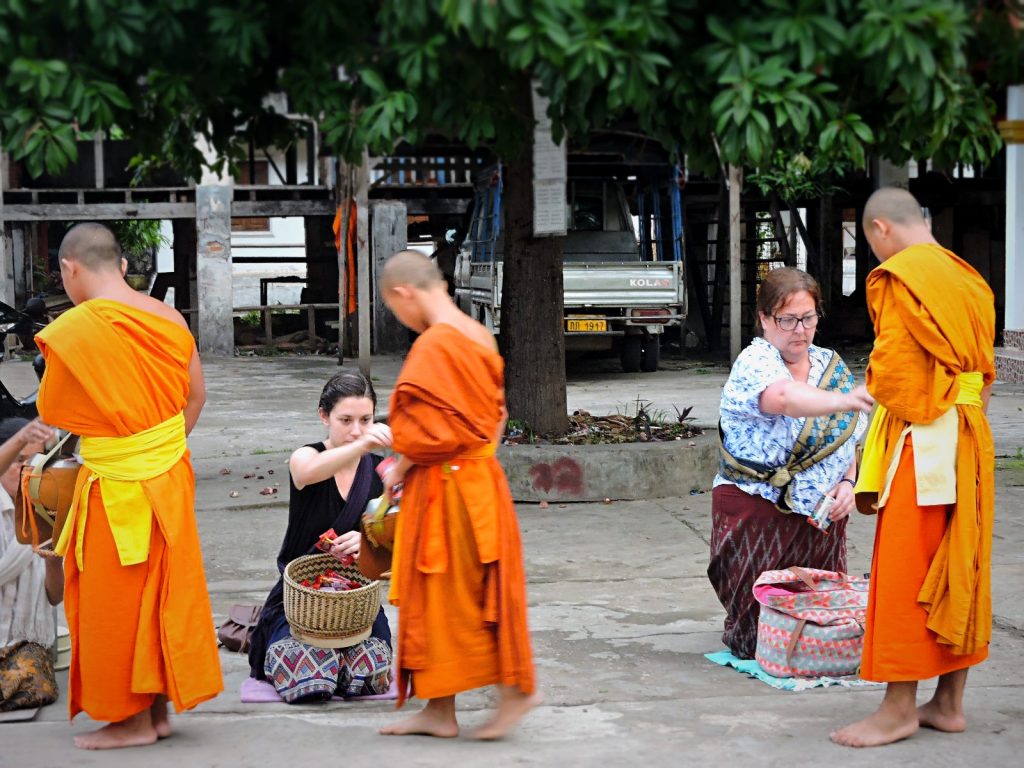 There are so many beautiful monasteries. A walk near them around chanting time (about 5.45pm) is mesmerising. As you walk around the town you look forward to seeing the bright orange gowns of the Novice Monks coming towards you. The opportunity to Give Alms at 5am is a must. All of it contributes to a feeling of contentment and total peace.
Humidity was high. I could not move without sweating profusely so changes of clothes are needed. I was there in May to mid-June so we did have the odd bit of rain. I had invested in an umbrella when I first arrived, this worked very well for sun or rain. When you first get there you may well think I will never walk around with an umbrella as a sun shade, but trust me when the temperature hits 40 degrees you welcome it.
The guest house is a friendly place. I saw many changes of volunteers but all of us are there for the same reason, for the experience. We came from very different countries and walks of life, some young, some a bit older like me, but we all got on. There was always someone sat at the large dining table outside whom you could speak to whatever time of the day or night. In Laos, all guest houses have night guards, the one at Villa Merry 2 during my time there was called Si. He was studying English too so you could also play scrabble with Si or chat with him about his latest project. I have certainly made some life long friends from all corners of the earth.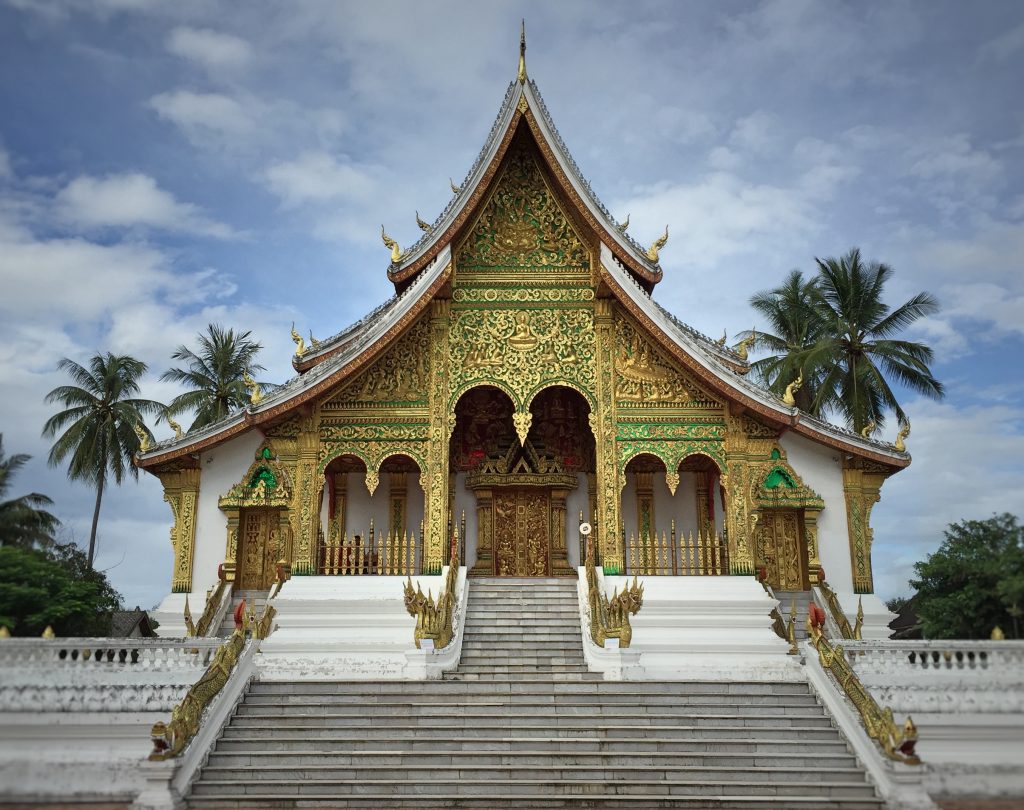 From the guest house, as you sit at the table, you can see the monastery at the top of Mount Phousi. A walk up the 300 odd steps to watch the sunrise/sunset is to be recommended even if you will sweat profusely!
Eating out is cheap in Laos and the food is delicious. There are lots of local restaurants to tempt you. Fruit shakes are available everywhere and taste delicious. At weekends, there is always something to do. The local waterfalls where you can swim in the cool blue waters, the paper village where you can buy goods made locally, a walk by the beautiful rivers, a trip on the river to see the caves or the whisky village. One thing we did was a full day cookery lesson which was amazing. A lot of the restaurants offer these.
The GVI Staff are amazing too, always there with advice and support. Should a visit to the doctor be needed rest assured one of the team will be there holding your hand.
Most of the colleges are in walking distances which is an excellent time to get to know your teaching partners better if you don't already know them. I could not recommend the experience highly enough. Personally, I cannot wait to get back. Laos is a beautiful country full of wonderful people and I will be there again soon.
Written by Volunteer Sue Stevens