Volunteer Voice - Time Flies
Written by Johan Rigner – GVI Manuel Antonio Community Volunteer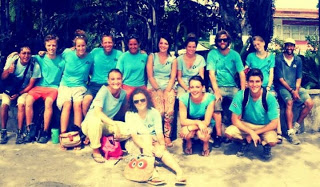 I am so glad I took the chance to work as a volunteer here in Quepos. I have been here for seven wonderful weeks and have another week to go. It hasn't hit me yet that I will soon leave Costa Rica, probably will it come up to me when I am crying on the bus ride back to San José.
When I am gone I will miss so many things but especially the kids at the school and the other volunteers. The kids we work with are poor and to bring enjoy to their life is an amazing feeling. I am so proud to been a part of these kids development and hopefully improved their quality of life.
The time with the other volunteers here has been a memory for life. We spend so much time together and always have fun together. It feels like we have become such a big family. I have had a great time here in Costa Rica and I have met so many amazing people.
Thanks for everything mates!!