Visiting Dao, Blah, and Koh Ra
These past 2 weeks have been exciting as we had the opportunity to start working with 
Phang Nga Coastal Fisheries Research and Development Center.  We visited with the director on Monday and determined that there was plenty of volunteer opportunities at the center. Jax and I then went on a tour of the research buildings.  There were hatcheries and tanks filled with molluscs, fish (Blah in Thai), crabs, a crocodile and hundreds of turtles (Dao in Thai) from babies to injured adults including Greens, Hawksbills and Olive Ridley Sea Turtles.  The following day I returned to help with applying antibiotics, giving vitamins, scrubbing algae from tanks and prepping for English classes for the staff which started that Thursday. There is a great need for English lessons at all of the facilities we are partnering with as the staff encounter tourists visiting and or staying on property.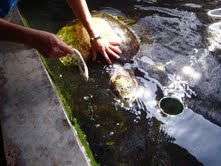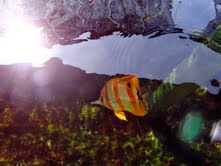 The Fisheries center has a release program with microchipping, will be starting breeding research on sea snails and works with the local National Park in Thai Muang which has the incredible privilege of having a nesting beach that includes Leatherback Sea Turtles.
Jax and I also had the privilege of visiting Koh Ra, an island in the Andaman Sea, this past Thursday.  We went jungle trekking and explored mangrove and coastal environments full of Thailand native wildlife.  We are looking into the possibility of helping to survey and protect this island habitat that is also home to sea gypsies.