Village Project in Khao Phanom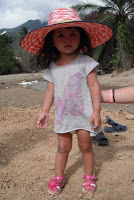 6.45 and there are a few murmurings and rustlings as sleepy volunteers gradually emerge from their bunks to be ready for our day's village project. 6.50 am and Noi has arrived in his trusty Songtheaw to transport us to Khao Phanom. By just gone 7 we are loaded up and ready to leave – usually a logistical nightmare but pretty smoothly done today.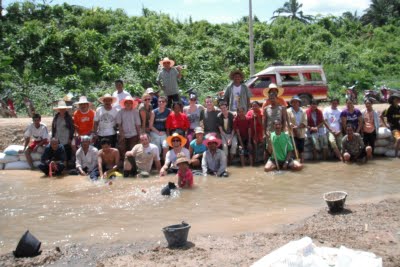 After an hour and a half, semi-dozing, listening to i-pods and generally catching up on more sleep or still trying to wake up, we arrived at the outskirts of Khao Phanom. Immediately we were greeted by the site of the mountain ahead of us covered in scars left by the huge and numerous mudslides that have devastated the nearby village. More and more signs of the flooding and slides became apparent as we neared our destination. Debris, fallen trees and mud covered large tracts of land either side of what had once been a small river. Finally we saw what was left of the houses. Rooftops barely a metre above the mud, crumbled and completely decimated. It's hard to imagine what it must have been like on the night it happened.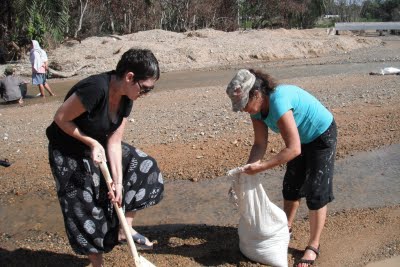 We arrived at the river where there was a pile of brightly coloured sunhats awaiting us. Once donned, into the river we went and immediately set to work with the community members filling sand bags and building a bank to one side of the river. Due to all the mud brought down in the slide, the river had become shallower and wider and was continually eroding the banks which provided necessary access to and from one part of the village. Despite the still visible signs of the devastation the atmosphere was one of laughter and community. The kids played in the river whilst teenagers to elderly mucked in and seemed to just know what needed doing where. Even though there was the language barrier between us we all worked together, everyone just doing whatever needed doing and even managing to have a laugh with each other without words needed.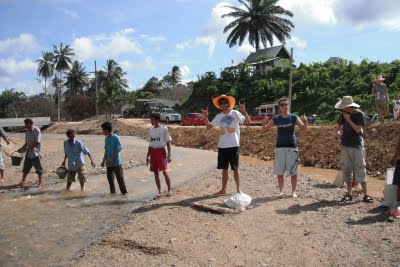 Within 3-4 hours the bank was taking shape and we had made great progress. The heat was becoming more intense so it was decided that it was time to down tools and join everyone in the shade of the trees to have a picnic lunch.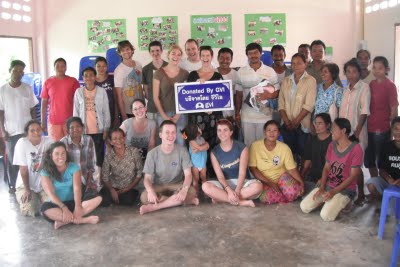 After a rest, rehydration and refuelling we set off to see the new temporary village and to have a presentation. We climbed a dusty dirt track and there appeared the new aluminium houses on stilts, erected by the army. 35 families had been re-housed in these temporary homes until they could rebuild their own places again. A new community center had been built where the villagers could attend meeting and classes. With some of the money raised by GVI "Just Giving" the villagers had bought doors and windows to go in the newly built community center where meetings were held and classes given. GVI also provided whiteboards and stationery supplies. Presentation over, photos taken and refreshments consumed we headed back to base. We were exhausted but everyone really enjoyed themselves and the morning felt like it had been a great success.
Funds used:
– 13, 000 Baht towards doors, windows and large white boards for the community center
– 2,487 Baht- Sign and other various classroom materials
– 2,300 Baht on transportation to Khao Phanom
Subscribe to our Blog
GVI on Instagram
Sorry:

- Instagram feed not found.
GVI on Facebook