Under 18s group get to work!
By GVI Under 18 Volunteers
5 years ago
We're very pleased to welcome our first group of under 18 volunteers to Baan Nam Khem! The 11 intrepid young explorers are working on renovating an abandoned gym in a small local school, to give the students somewhere to gather, particularly during the rainy season. Maddie & Sian discuss their first impressions and the experience so far…
After a grueling journey of discomfort and exhaustion we sat around the table sharing our first meal together in Phuket. Conversation then turned towards our expectations of our next two weeks: humidity, dirt, ants, sweat. We were right…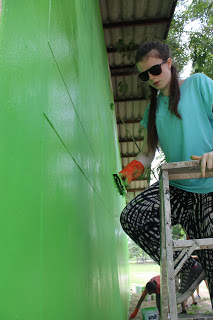 But let's not dwell on the negatives. We were also right about the Thais' ability to always keep a smile on their faces. The past two days in Baan Nam Khem have really shown how us Brits (and a single Canadian) can adapt and welcome other peoples' drastically different cultures. Hard work in the heat has tested everyone's determination, but knowing our end goal of providing these school children with a beautiful functioning gym keeps us motivated. Seeing the kids' appreciation after the crafts and sports afternoon has given us a clear motive to succeed.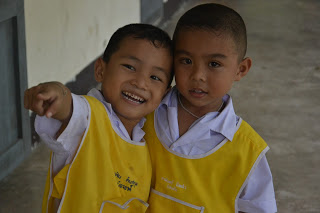 Other aspects of Thai life may not be as easy to adapt to…lunchtime on day one in the school came as a bit of a shock when we were served pretty much rice and fire. It must have been hilarious for the children to see these tourists streaming with tears and gasping for breath as they ate their 'not very spicy' meal. There might have been a bit of a miscommunication when it came to the amount of chili added to the food…