Two weeker Katie shares how our community program welcomes her at Playa del Carmen
Voice from the field,  Jun 15, 2013 – Katie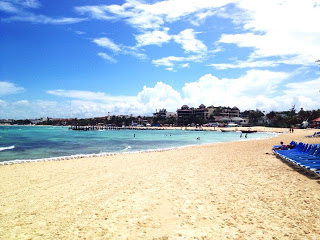 Hello my name is Katie, I have been working on the community project in Playa del Carmen for two weeks. Playa del Carmen is a beautiful town, the people are extremely welcoming and volunteering here has definitely been a huge treat! On starting my first week  the weather was dismal, the beginning of the week bought with it a small 3 days storm. This was definitely an experience I won't forget – the streets were extremely flooded; you had to wade down them! The wind you could hear banging against the windows; however the temperature still remained hot which I found amazing. My first experience out at night in Playa included us nearly swimming to the clubs – turning up drenched to the bone with a poor guy mopping up the puddles that trailed behind us as we danced! On my first weekend I visited a beautiful Muyil's lagoon with two other volunteers! Even though it was raining all day it was an amazing experience – we received a private tour of the lagoon and its Mayan ruin along with being able to float down the lagoon river with our life jackets being worn as nappies- this made us laugh for hours! During my first week on the project I participated in Spanish lessons at the school Solexico. I thoroughly enjoyed these four hours a day as I got to meet people from various countries and improve my Spanish in an enjoyable environment. The teachers and other students were extremely friendly. Due to the weather we were unable to visit the Ludoteca for the first two days; instead I participated in helping the recycling project that is taking place after I leave and finishing off my emergency first responder course- 'hello my name is Katie, I'm an emergency responder may I help you?' – a saying that is ingrained into your head!! By the end of the week the Ludoteca finally opened again. I look forward to going to work and playing with the children every day. They are all adorable and love playing and talking to us! It's a great way of improving your Spanish as they don't speak much English. Last week I was involved in teaching the younger ones colours and animals in an English lesson, this week so far I have been involved in a feisty game of piggy in the middle and helping the older ones with their homework. The experience has been tiring but extremely rewarding and the children seem to love us being there. The weekend just past I went to find whale sharks to swim with, with some other volunteers. It was an interesting experience involving a lot of sea sickness and big waves but definitely an experience worth having! Unfortunately we didn't see any whale sharks so are hopefully going back again this weekend – bring on the waves! Most evenings we all take a trip to Burger King for the infamous wi-fi parties – these are a 'must attend' party where we all sit in silence with an ice-cream in hand contacting the world back home – social event of the season where we must look so odd to outsiders just not talking to each other for an hour! Overall so far I have had an amazing time, met great friends and have had some incredible experiences!
Subscribe to our Blog
GVI on Instagram
Sorry:

- Instagram feed not found.
GVI on Facebook