A Tropical Paradise Home from Home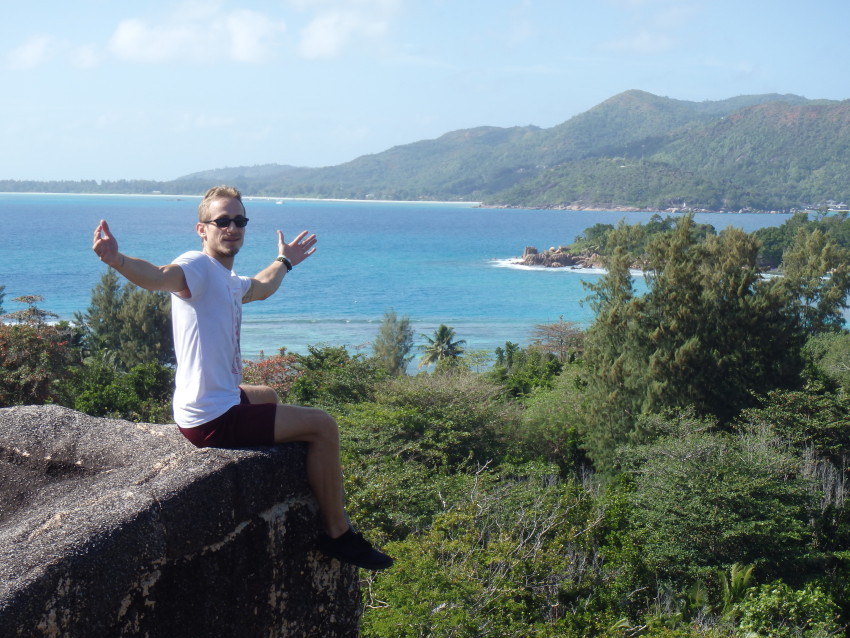 I first came to the Seychelles some 40 years ago. A lot has changed in that time, but I guess that can be said of anywhere. What impresses me still is the level of friendliness shown by the majority of the Seychelloise, and there seems to be a genuine pride in their country. It's lovely to be back in such a friendly and beautiful country again to take part in such interesting research. I digress, as I am to write about the past week's activities chez Curieuse.
The week passed with the allotted tasks being duly performed by those appointed under the guidance of the respective staff member nominated for overseeing the task. These included:
– Giant tortoises were tickled to enable measurements to be taken; assess their sex, etc. at the Ranger's Station, and Grand Anse.
– Long and short tweets were performed to count the birds seen and heard at predetermined points along the coast.
– High tide measurements were taken at the transect points established in the mangrove swamp. This caused some shrieks to be emitted by the more nervous ladies as we waded chest deep with occasional sightings of sting rays and small lemon shark. The swamp nearly claimed several shoes, but all were recovered safely.
– Coco de Mer growth measurements were taken during a notoriously difficult but exhilarating off trail hike.
– The week ended atop Mt. Curieuse after a steep and difficult climb. However, the journey was rewarded and all enjoyed great views at the top.
At the weekend a party of four made the trip to La Digue where they cycled around the Island and explored many of its treats on offer – mainly pearl white beaches and azure waters. Others chose to laze away their days at the favored Paradise Sun hotel, after enjoying a great breakfast. Evening meals were taken in a local restaurant, and the weekend topped off with a movie back on camp on Sunday evening.
Back at base the various duos charged with producing the day's three meals by and large excelled themselves and some exceptional dishes were served up using a limited range of ingredients. Very heavy rain on Sunday and Monday curtailed activities. The din of heavy rain on a corrugated sheet roof has to be experienced (preferably only for a short time). Normal conversation is impossible, and getting to sleep is not easy either. The garden has now numerous tomato plants growing strong while the basil, parsley, celery, peppers and spring onion have all germinated. The invasive giant African snails are being determinedly kept at bay by several means. We are also in the process of clearing space for bananas, pawpaw, and pineapples if they can be obtained as seed.
Curieuse camp life never disappoints, and the volunteers have all settled in so much so that when the 4 weekers leave soon, we will surely all feel the sting of leaving our tropical paradise home from home!