Trekking in Monsoon Season (part 2)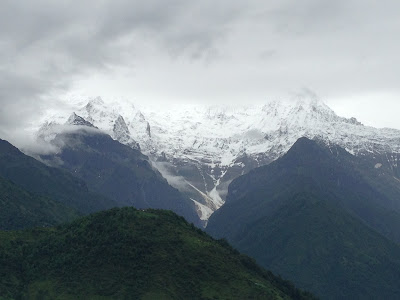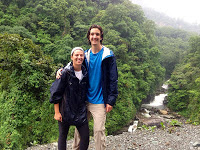 Daniela and Jack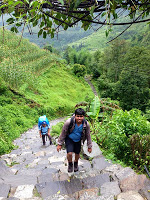 Tara hitting the stairs
We reluctantly stepped back out into the pouring rain, our boots still filled with water, and began the "easy" part of the day.  This part was downhill so it was supposedly easier than the other 5 hours. But, as we discovered, not only is downhill more tiring, especially downhill stairs, but, downhill stairs in the rain are extremely energy consuming. At this point the trails were rivers and the actual rivers had become so high that to cross them we had to fully submerge our legs up to our shins. On the bright side, every now and then we got a good boot cleansing after all the mud we had trekked through. Of course, I fell a few times, 3 times in mud and one time on the stairs. By the time that we were 45 minutes away, I didn't think I could walk any more. My feet were throbbing and my water filled boots were not helping. The last forty five minutes seemed like an eternity as we climbed down more steps, muddy hills, and walked down paths with rocks so slippery I couldn't imagine why they had been placed there. We finally made it to Ghandruk, barely holding on. We stumbled up to the hotel and made it up the very painful stairs to our room. It had an attached bathroom with hot showers which was an excellent surprise. We checked for leeches and I took a very hot shower. We went down for dinner and again, got Pizza but also chilly chips. They were delicious. We then taught our guides how to play "Shit head" (a card game) and we played with them until our bed time. We went to sleep quite early.
At 6 am somebody knocked on our door. A couple we had met the night before had woken us up because the sky had cleared a bit and the mountains were visible. We jumped out of bed and ran to the balcony. We took about 50 pictures each of the same scene. It seemed unreal. It was so beautiful and breathtaking. I had never seen something so incredible in my life. We stayed outside for a long time until we had to get ready for breakfast. We had breakfast and then went to visit the Gurung museum. We then packed our things and set off for Nayapul to then return to Pokhara.
We began the last 5 hours of trekking in the rain again. The path was all downhill, however the steps were very tiring. It was so wet that it took us a very long time to descend to the flatter part of the trek. Our legs were so tyred that we almost succumbed to hiring a jeep. However, even though the day dragged on and on and seemed to never end, we finally made it to Birethanti, where we would have lunch, barely in one piece. Our blisters, joints and muscles all ached. After lunch we resumed our last 30 minutes of trekking to get to Nayapul. We walked so quickly, eager to finally get off our feet, out of the rain, and load into the car awaiting to take us back to Pokhara.
When we finally reached the car and I couldn't wait to sit down. We were all soaking wet and covered in mud, just as we had been for the past 96 hours. Despite the wetness of the rain, the weather had made the trip quite a different adventure than we had expected. We endured so much harsh weather and still were able to finish our trek on schedule and without any injuries! We had an amazing time and one heck of a unique experience! Although, I don't think our guides will ever agree to go trekking in monsoon season again. After 96 hours of rain, of course, the next day was clear and we finally got to see a great view of all the mountains, even if it was just from our bus stop in Pokhara.