Thinking of becoming a staff member?
By Adele Weatherley
4 years ago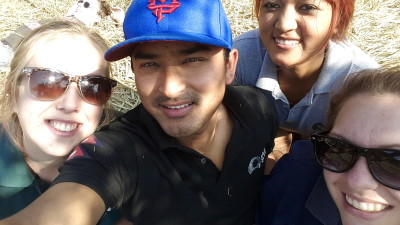 Here is my story…..On the 8th of February 2013 I stepped off the plane into Nepal ready and raring for my volunteering placement with GVI. Greeted by spectacular mountains and the glorious sunshine I thought I might like this place. How wrong I was, I completely fell in love with it.
Let me introduce myself. Namaste, my name is Adele and I am writing this whilst sitting on the floor of Kathmandu International Airport, waiting for my flight back to the UK. I've been working for GVI Nepal for 8 months but today is the day I must say goodbye. As I said, I first came to Nepal in February 2013. I was a health volunteer for one month under the helpful guidance of Ruth, Lok and Jo. My volunteering stint included teaching a girl with spina bifida as well as playing a bit of football (quite poorly!) with some street children and helping local children with conversational English. And what an amazing month I had!
When I left Nepal, I knew I just had to come back and become a permanent part of the team out here. I felt I had so much more to give the projects and I wanted a job within GVI to be my future. In September 2013, my wish came true! The posting, for what was to become my new job, came up on Facebook and I applied for it in a heartbeat. One interview later and I was officially part of the GVI Nepal team. I was so excited to come out to Nepal that 3 weeks later I hopped, skipped and jumped off the plane into Kathmandu!
I won't lie to you, being a staff member is a lot different from being a volunteer. Your day doesn't finish when you collapse into bed after a long day at project, 9 times out of 10, you have still got half your task list to complete that usually carries over to the weekend. But it is so worth all the hard work! Being here for the long haul allows you to see so many more changes and developments of our partners and projects and every time you notice a change, whether it be a child's eyes light up when they learn to tell the time or when we can tick a long term goal off our list, you get the most incredible feeling, it's so uplifting!
As a staff member, you see a different side to the projects that volunteers may not see, you appreciate the huge amount of work it takes to make our projects run so efficiently and you fully understand just how important it is for volunteers to come out and help us make it happen. Over the past 8 months I have experienced many weird and wonderful things, from being stampeded by a rogue cow, to hearing a disabled boy learning to speak; not forgetting having to re home a chicken when a volunteer thought it would be a good pet! I have de-fleed puppies, harvested 12 fields of rice and managed to transport 5 extremely large sets of shelves in one tiny taxi. Each memory I have made during my time as a staff member will be treasured forever and I hope that the skills I have acquired and developed will stay with me as I progress through my career.
GVI is not just an organisation, it is a family. A family who cares so deeply for its projects, partners, staff and volunteers to always ensure all the work they are doing is done to the highest of standards and is helping in the most needed places; it has been my pleasure to work amongst them for the past 8 months. However, it is not all sad! In 9 days time I will be hopping, skipping and jumping on to another plane taking me straight to GVI India! My new job with them starts on the 9th of June and I couldn't be more excited!
So if you are thinking of joining the wonderful GVI family, do it! I could not recommend it any higher, you'll make many friends, have many laughs and change many more lives for the better.
Adele Weatherley
GVI Nepal Field Staff
October 2013 – May 2014