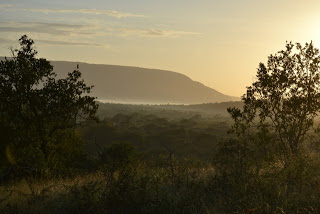 Those of you reasonably familiar with pop culture of recent years will remember the world famous M
TV
reality soap "THE HILLS" its affluent beauties captivating audiences from around the world daily.
Week after week viewers tuned into the ''Hollywood Hills'' based show to be bedazzled and left with bottom jaws weathering holes in their mother's expensive carpet at the lavish lives of these budding stars.
Now standing atop of our very own Hill looking out over the rolling bush scape of KZN Bush veld, GVI's newest Wildlife Conservation Project on Hlmanbanyathi Game Reserve is entering its second four week expedition and so far what a few weeks they have been.
This Reserve, in the shadow of the GhostMountains, boast its own cast of budding stars that have kept the first of 2012's volunteers rooted firmly to the seats of their game drive vehicles. Committing their time, effort and enthusiasm to establish the GVI conservation status in the area
Now you might seem confused about the minor similarities that I am draw here and don't get me wrong I am not comparing this project with a bunch of spoiled over privileged banshees. The only similarities that I AM drawing are that of the shows title, our beautiful hills and that we spend our days in the presence of real life celebrities.
Daily episodes include 'The Hunt' airing at 4 am chasing Wild Dog their stunning marbled coats shinning in dawns light. Tracking the spots of Cheetah in the afternoon haze that seem to merge seamlessly with the Savannah. And when sad eyes glow in the warm night the secretive business of Mfula and Safari Hlambanyathi big Leopards is spotlighted briefly before disappearing again into the night's dark grasp.
Hlmanbanyathi is the home away from home that's this years volunteers won't expect but are sure to agree that life in our Hills is as real as it gets, no frills or

 

illusions but I'll tell you this much 'the view is better! '. If bright lights and glamour are not for you there is a place in ''The Hills'' for everyone….
But if your not familiar with the M
TV
show. Good for you. It only really compared to sticking your head in a blender for 40 Min's a days anyway!
"The Hlmanbanyathi Hills" airing with GVI all season.
Subscribe to our Blog
GVI on Instagram
Sorry:

- Instagram feed not found.
GVI on Facebook