The Happiest Place on Earth...
By Kavita Chopra
5 years ago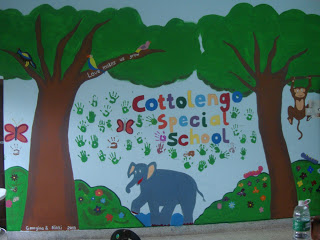 One of the project sites at the Kerala base of GVI is Cottolengo Special School – to me it's known as The Happiest Place on Earth.
I spend my days there with 'kids' ranging in age from 3years to 63years old where their disabilities include Down's Syndrome, Cerebral Palsy, Autism, Attention Deficit Hyperactivity Disorder and a range of intellectual, physical and behavioural problems as well as problems not fully diagnosed. Before working there I'd never had a chance to interact with a disabled person – which is weird now that I think about it – and also I had no experience in school or in my family or in my career with people of special needs – which is why, when I walked into Cottolengo Special School it hit my heart hard. But then very quickly I saw the love showered onto the kids and the amazing nuns who run the school and how unadulterated the joy that was in everything they do there made me spontaneously feel at home.
In Fort Kochi, Kerala GVI runs the health program in the regular schools and more with the special schools. Arts in various forms like drawing, painting, different crafts, dance, music, yoga etc. are a massive part of the curriculum at Cottolengo special school.
GVI volunteers do amazing art projects with the special children in Cottolengo Special School and we need more passionate Arts and Childcare volunteers to work with these specially talented kids to keep these projects go for a long term. I wish I should be going there every day – because right now I feel there is no place in the world I'd rather be!!