Thailand Teaching Internship Ao Luk
It has been five years since GVI first came to Ao Luk and in that time many friendships have been formed and many links between GVI and the local community. However, the time has come and GVI has left Ao Luk, leaving behind myself and Lee to continue on their good work in the community.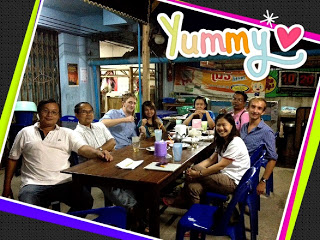 We have just finished the fourteenth week of our internship, and third of our teaching placement in Ao Luk. Although it is only three weeks since we started our placement, it feels like months since we were left here by ourselves. Our students have taken it upon themselves to make sure that our stay in Ao Luk is the best it can possibly be. Plus with the amount of food they are feeding us I reckon they are trying to fatten us up. But I definitely won't be complaining about that as the verity of food we get to eat is incredible, plus it means I get to eat more than chicken fried rice and pork noodles which are the only two things I have mastered how to order in Thai. Apart from feeding us on a near nightly basis the students very kindly have taken to showing us around Ao Luk, showing us places to swim which are completely off the beaten track and if you are fit enough one of the students may even show you the way to the top of one or two of the limestone mountains that are dotted around Ao Luk. Once up there one has an incredible view of the surrounding area and can look right down onto Ao Luk. 
                All that aside there is a serious element to the work that we do here. We maintain the day to day running of the NFE center where we teach four nights a week from five until half eight. Although there is nothing officially organized to fill our mornings we have been teaching children during the week in one of the local schools. This has provided us with a great experience teaching children between the ages of three and seven. Although school officially goes on holiday for a month from the tenth of October there is still plenty of work that can be done in the community if you just look for it. As such we will be teaching at an English school, which is being set up and run by a few of our students for a week, which will be incredible as it shows how far our students have come since joining GVI.
                Although we are less than half way through our placement so much has happened already and it is hard to put it all into words. Suffice to say that so far it has been incredible staying here and I don't think I could have asked for a better selection of students if I could
have picked them myself. The warmth and patience (when dealing with my very limited Thai) is amazing and without them I doubt the placement would be as rewarding as it currently is. The warmth from the students will make life a lot easier for whomever remains here for the final term of the year, and it is that knowledge which makes both of us happy to stay here if needs be.
James Leonard, Teaching English Internship, 
Thailand
Subscribe to our Blog
GVI on Instagram
Sorry:

- Instagram feed not found.
GVI on Facebook