By Katy Cogswell
3 years ago
Terrified. The idea of leaving home for 3 months to go to India terrified me. So much so that the night before I came here, I had to have an emergency cartoon watching and tea drinking session. But that all seems a bit ridiculous now. If I'd known that night that the next day, after travelling half way across the world, I'd be met by some of the most genuine and caring people I would have saved myself a lot of worry. After being in Kochi for only a couple of hours, I already felt completely at home. The GVI staff are so lovely that it's hard not to. I was shown my room, asked if I wanted a drink or anything and met my first roomie! India, a bubbly, chatty girl here for four weeks and clearly keen to get stuck in.     My second roommate then arrived, Dayna,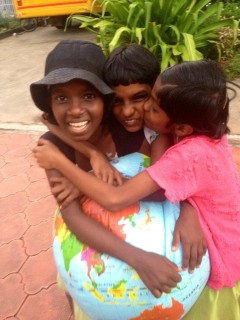 who I now know to be an absolutely hilarious girl from Glasgow. After a tour of Fort Kochi and a little briefing, we went to a farewell dinner for another volunteer, meaning our welcome meal would be the next day. When it rolled around I felt a bit odd going for a 'welcome' meal after I had already felt so welcomed! The GVI team certainly make it their priority to put you at ease and fuel your excitement to start work on the projects. They're an inspiring group of people and it makes me proud to be a part of something so special.
Subscribe to our Blog
GVI on Instagram
Sorry:

- Instagram feed not found.
GVI on Facebook