Temple Hunt Charitable Trust Challenge
By Victoria Scott
2 years ago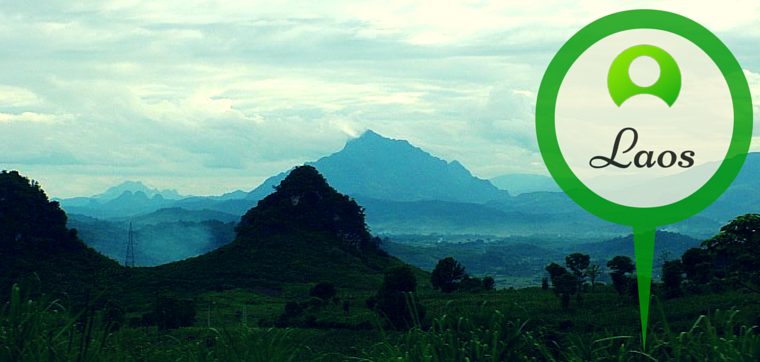 7.30am. Tension and anticipation hung in the air as the competitors awoke with coffee and high energy breakfasts, each eyeing each other for the best team mates for the challenge ahead. Who went out last night? Who was early to bed? Who is looking fresh for the race? Whispered conversations were taking place and agreements being made.
I opted for three rounds of coffee and a home baked muffin with a thick mango jam for extra glucose boost, for others the excitement was too much to stomach breakfast (at least they claimed that was the reason). I felt fully charged and quietly confident.
I had found the perfect team mates in Sue and Rosi. Sue, a British 6 month volunteer with GVI and an experienced traveler, would be our dark horse. Where she would not excel in speed and competitive edge, she would thrash the competition with local area knowledge and remain calm under pressure. Meanwhile Rosi, an Australian teacher with GVI for 3 weeks and the brains of the operation, would stay back at the starting point and snatch extra valuable points completing the Laos knowledge quiz. I knew Rosi's determined nature would not let us down (and I knew she would have good access to Google on her laptop as opposed to a mobile phone;). Team Wurzel Radishes was set for victory!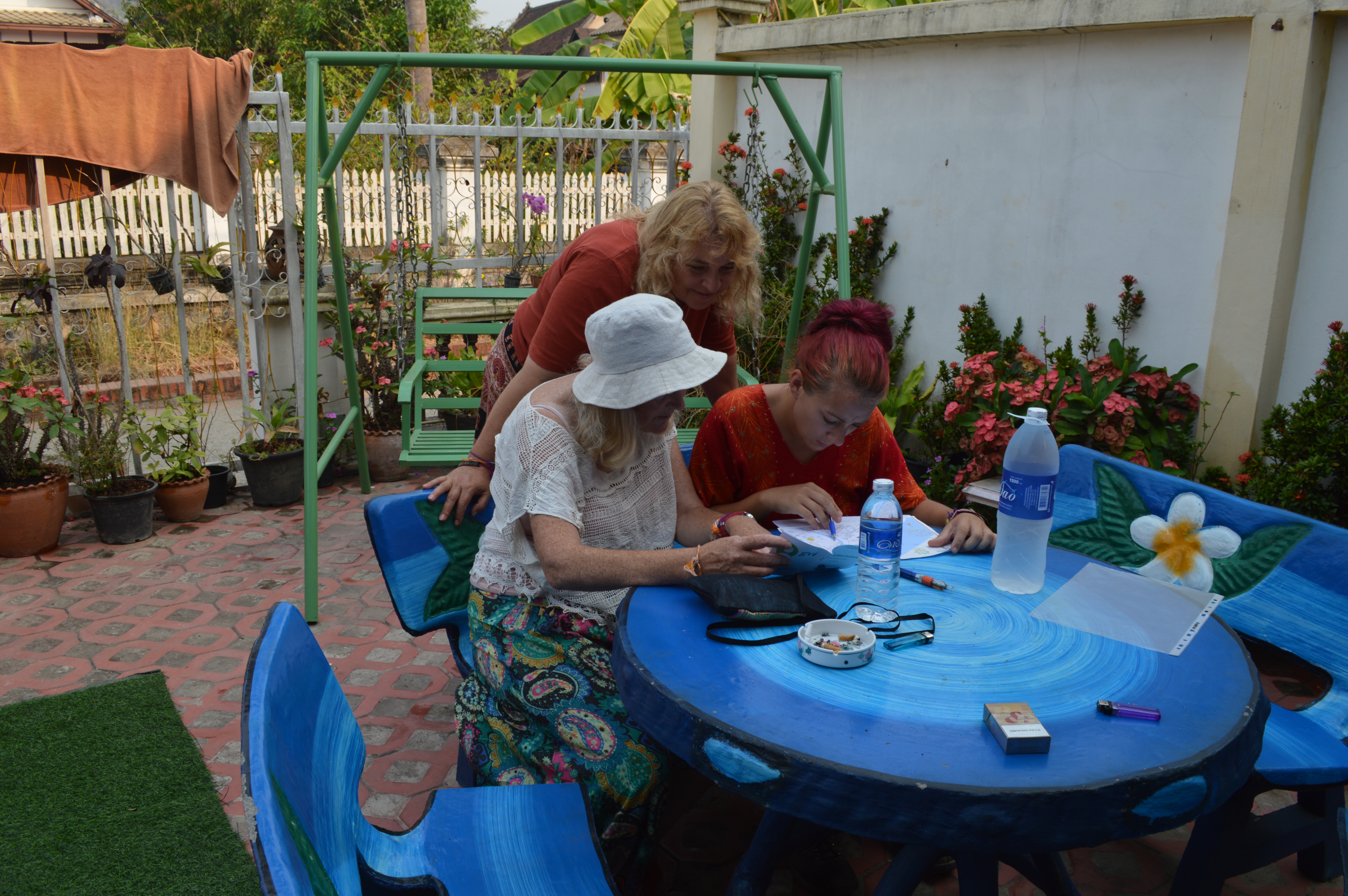 08.45am Following a debrief from GVI staff Monica, Jema and Lindsey the battle rules were clear;
*All team mates must be back before 12.10
*Photographic evidence of all team mates at each temple must be provided
*Sabotage of any kind would not be tolerated*
We would have to re-think our cunning plan……
The teams strategised. There was much hushed conversation and pen scratching across maps. The temples further out of town were worth more points but there were bonuses to be won at the temples closer to home. We set off at 09.12am.
By 11.00am the heat was pounding down, we had ticked off 7 temples, a meditation exhibition and a quick stroll round the day market – well it seemed a waste not to visit whilst we were passing 🙂 I was ready to pause for a cold drink but Sue kept me on track and her map reading skills took us South for the final leg.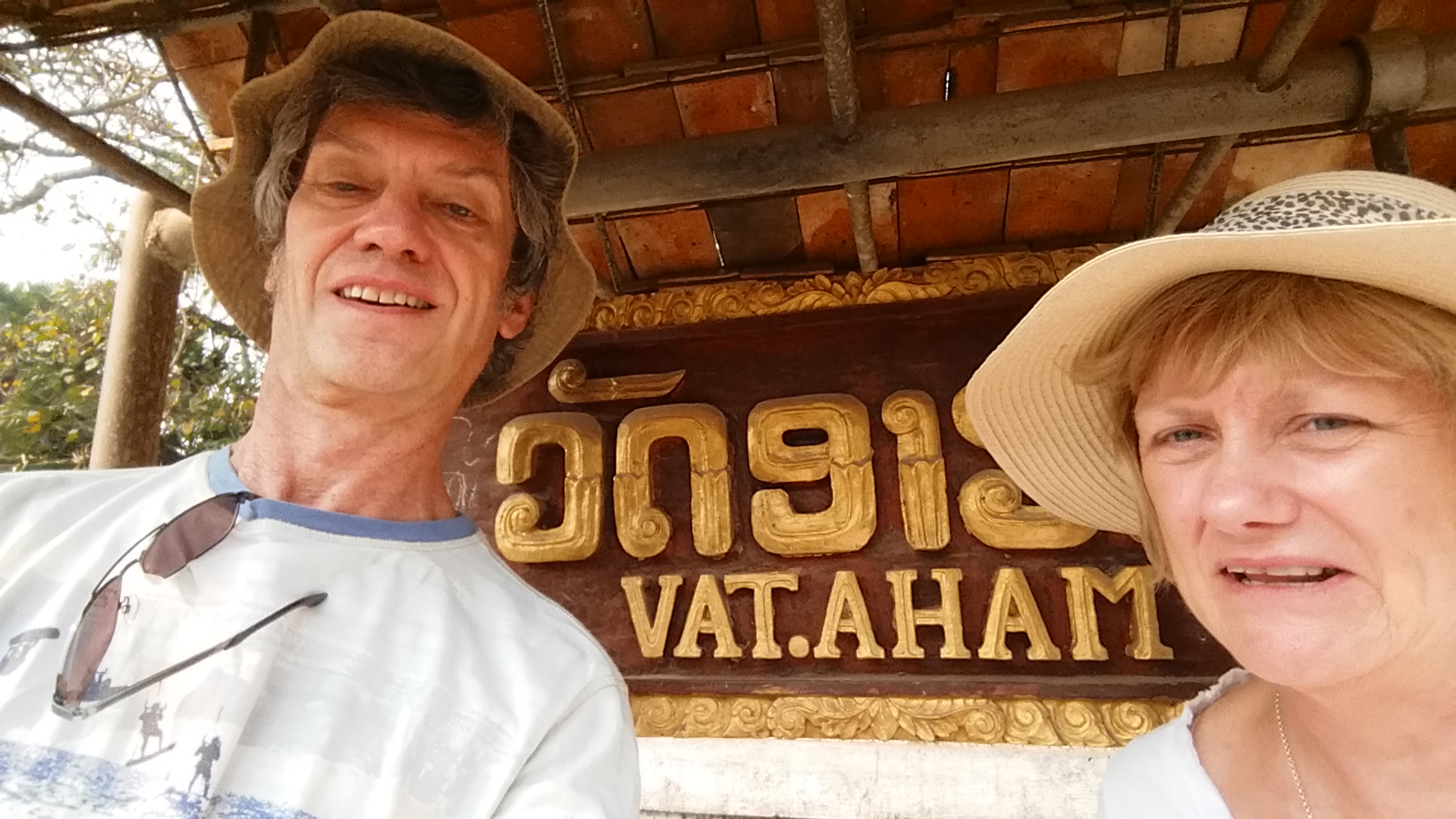 As we approached Wat Tat Luang we collided with Team Zen Hunters just leaving on bicycles. Less Zen and more marathon madness as Danish Line powered ahead cracking the whip as Maren and Dan pedalled behind eyeing up the nearby cafe. We knew there would be points deducted for assisted travel but the usually quiet Line had clearly come out of her shell and was a force to be reckoned with today. It suddenly occurred to us that we had not seen Team The Clarks all morning. A British husband and wife team with GVI for a few weeks, I wondered if their close relationship would give them the winning edge. We checked our watches and pressed on the Wat Mano and the home run / jog / walk / stroll.

It was a happy arrival back at Merry 2 to claim 2nd place, a cold drink and a bonus prize for best team name. Medals were handed out, photos shared and the smell of KK's delicious pizza bread wafted across the finish line. It was a great event for a well deserving cause and a few last minute and very generous donations from family and previous volunteers had ensured that we met our $1200 target to purchase new textbooks for the students of Xayadeth College and pay for the costs of photocopying numerous copies so that they could continue to support future years too.
Next time I will carry a pin for teams clever enough to jump on bicycles…..
Written by 4 week Volunteer Victoria
GVI on Instagram
Sorry:

- Instagram feed not found.