Teaching Standard 1 & Standard 2
After seven weeks of teaching Creative Arts to standards one and two I also got the chance to teach them P.E.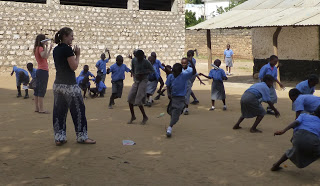 Olives Standard 2 Creative Arts lesson – Making paperplanes and flying them
Supporting me through the lessons at various times were volunteers and teachers. The first lesson on Tuesday was a little bit mad, as the children are not used to having volunteers working alongside their teachers, but today was amazing.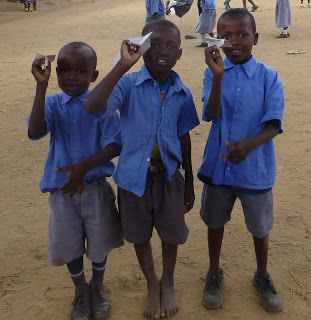 Students from Std 2
 It feels so good to walk into either one of the classrooms and have about 20 kids run up to hug you because they can't hide how excited they are to go to the field. James, our P.E. volunteer, three other volunteers and myself got all the kids to line up and had them march on the way to the field while they sang a song in Swahili. Once we were at the field we started by playing "What Time is it Mr. Wolf?" which had me laughing for a long time. They grasped the concept but instead of running away from the wolf they all preferred being the wolf. After a while we started doing a running game which left me completely exhausted but the kids weren't even sweating. To finish the lesson we played "Stuck in the Mud" which they did not understand but they were all laughing.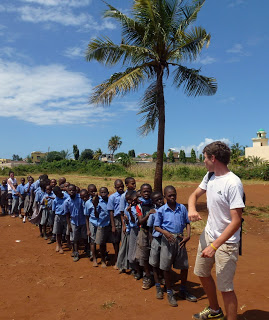 On the way back from the field with Volunteer James leading the students
It still amazes me how happy all the kids are with so little, they are so grateful with all the volunteers because we are here to help and play with them. As my time here in Mombasa is coming to an end I can say my stay here in Mombasa has been the happiest I have ever been. The progress the kids make and how eager they are to learn and better themselves gives you a reason to wake up with a smile on your face every day.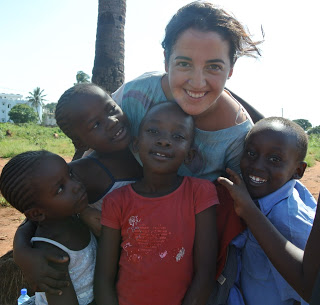 Madam Carla with students from Standard 1 and 2
Carla Fabre Vega, Staff member