By Cape Town staff
2 years ago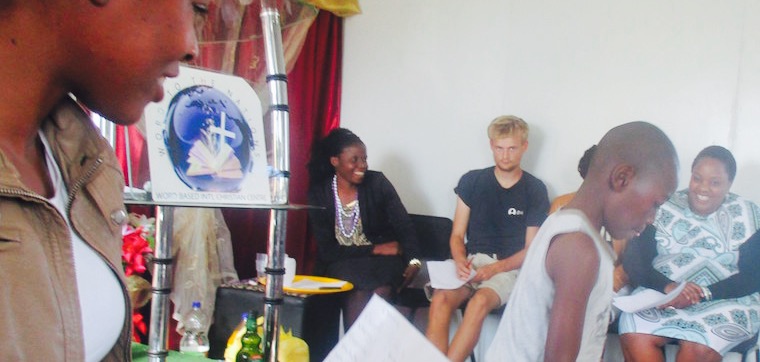 In the most fun of fun Fridays here with the childcare program in Cape Town, the morning was spent packed into a small church hall and cheering on the children as they competed against each other in debates, singing, dancing, drinking, eating, puzzles, and modelling. The week previous had been abuzz with excitement, nerves, practice, and anticipation; as the volunteers arrived on that Friday morning and greeted the children, it was plain to all that normal service was not going to be possible.
Even before the program could begin, the tone for the day was set by a spontaneous dance-off to the tune of Justin Bieber's 'Sorry'. High-energy and frantic, breath-taking in their complete absence of method and yet brilliance in co-ordination, the surreal aspect of the day reared itself not for the first time that day in the seemingly effortless transition to earnest concentration and listening for the beginning of what would be a long array of talent exhibited by the children, a debate in regards to the merits of computers and how they positively or negatively affect our lives. Computers won out, as they will do now and likely in the battle for world domination, but both sides battled admirably.
Next came the singing portion of the program. Yours truly was selected as a judge and as more and more children wrestled through the crowd to stand at the front and belt out a different song, it became obvious that this new task would not be easy one.
A truly great blog demands honesty and honestly, the dancing portion was bemusing. No blame lies with the children, their dancing was joyful and infectious. The problem was that in the interest of fair competition, each child performed their dance to the same song. I'm not really sure how it goes, it's not sad or sweet but I know it complete and if I ever hear it again I'll spontaneously combust.
Onwards and upwards, and a break from the usual traditions of school talent shows towards the sort of endeavour popular in rural American fairgrounds or Japanese game shows. Drinking and eating competition between 6 children that lasts half an hour is as much a spectacle as you can imagine. Spare a thought for our gladiator children who, tasked with eating half a loaf of bread each, were subjected to strict orders that they were not to be given water to help them swallow. After a gruelling but ultimately enthralling half an hour of watching child struggle with chewing and swallowing, a winner was announced and much kudos to him.
Puzzles and Drawing sound like quiet, likely solitary pursuits, far from competition or spectatorship at least? Not in this instance. If you've never seen half a dozen children concentrating painfully hard on word-searches and drawing, with Rhianna's modern classic 'Work' blaring at full volume, coupled with a stuffed room full of screaming children each chanting the name of their favourite competitor' have you really gone anywhere in life?
The spectacle closed with a fashion show, by then the atmosphere had reached maximum excitement and the children selected to walk and model their favourite clothes had to squeeze to be able to be noticed amongst the swollen crowd.
All is well that ends well, and after much deliberation the winners were announced for each category. The winners were awarded with stationary and bragging rights and I went home with a thumping headache and massive grin plastered on my face.