Taking a dip in the Emerald Pool
22nd October 2011
Last Saturday six long term interns went on the side trip to the Emerald Pool and the hot springs, both located in the Klong Thom district of Krabi, a mere 1.5 hour drive from Ao Luk.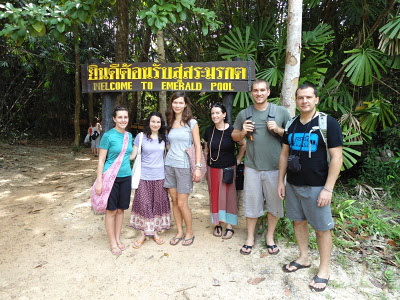 After being half-unknowingly snapped by the Emerald Pool photographer, we embarked on a 15 minute stroll through the national park, down a path with tall trees. Emerald coloured water then appeared on either side of the wooden walkway, and soon we were faced by the clear pool of, yes you guessed it, emerald water, located deep in a native forest.
The pool was beautiful and crystal clear, with big, delicate butterflies swooping through the trees. Everyone enjoyed the tranquil atmosphere, and after a long dip we walked back to the entrance where we collected plaques with our surprised faces on them, and had some tasty snacks; bananas and sweet potatoes fried in sesame seed batter, as well as an assortment of meatballs with sweet chilli sauce.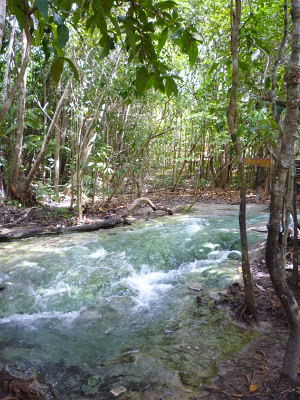 The Hot Springs were just a short drive away, and after another stroll we reached the wooden plaque at the springs, and I quote,
'Bang Kram of Krabi houses the last lower plain land that provides water source and wildlife's habitation. Its ecology system maintains natural fertility. The hot spring also available in the area that flows along the mountain line cascading through the land like a waterfall. The temperature of the hot spring is around 40-42 degrees Celcius that is good for health.'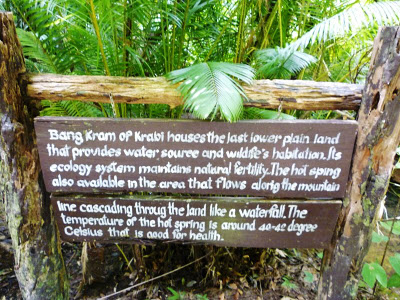 We climbed into one of the numerous pools nestled in the trees and it felt much like sitting in a naturally formed hot tub. The water bubbled down into a cool river at the bottom; perfect for a refreshing (if not a little murky) dip!
Subscribe to our Blog
GVI on Instagram
Sorry:

- Instagram feed not found.
GVI on Facebook