Surfing, more surfing and sports with the kids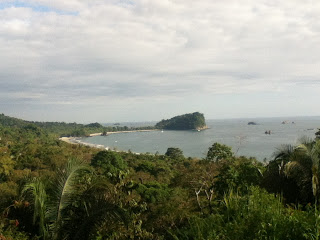 Another week has passed, it seems as though each week goes by faster. Last weekend, my first long weekend and the first one spent away from Manuel Antonio, I went with David and Chris to Jacó where we spent most of our time at Playa Hermosa which, as the name says, is a beautiful beach. I bought a surf board a couple of weeks ago from a local surfer in Manuel Antonio, and use it at the local beach and brought it to Playa Hermosa but my level wasn't good enough to enter the surf contest which is held at Playa Hermosa every Saturday. The surf contest was a great way to end our second day in Jacó: watching some local surfers with the sun setting in the background while listening to some good music and a commentator who was convinced we were all his best friends. We also had time to explore the surfer town that is Jacó and it was nice to switch the setting for a night out while meeting a some interesting characters.
After our long awaited weekend, it was time to return to Manuel Antonio and the community of El Cocal. Chris and I are responsible for the sports at the school and at the community center, so we usually play basketball with the kids or invent games using the things we find, whether it's coconuts to make a "jeu de boules", a ten pin bowling set using old bottles, or an improvised volleyball net using a piece of string. While most of the kids join in basketball, it's usually a gamble whether or not a new game will attract many kids or not, but we always find a way to include everybody there. While it's a lot of fun playing sports with children all day long, it has taken its toll on the GVI T-shirt that I wear everyday and I'm totally exhausted after only a half day of such activities. Luckily the beautiful Costa Rican sunsets are the most beautiful I have seen in a long time and are perfect endings to my days in Manuel Antonio.
Seb- Quepos Sports Volunteer