Stunning scenery in Munnar! by Ian
Well, I have been here for two weeks and apart from a short dose of Delhi belly and the sweaty heat, things are going pretty well. I am enjoying the work, although it has proved a little daunting, the children are very enthusiastic for learning but there exists communication difficulties as their language skills in English are limited and mine in Malayalam are very limited!
Cochin or Kochi as the Indians now call it, is right on the sea, and a potentially pretty town, spoilt by the Indian ability to make everything look as though it is nearly falling down, and their ability to throw more rubbish every day than we throw out in a week. But if you can see through that then the buildings are lovely, Kochi is quiet and there are nice lanes to stroll around and do some shopping in local craft stores.
I have just returned from a fantastic weekend break up to the hills on a visit to a tea plantation area in the Karen Devan hills. I would rank it as one of the most beautiful places I have visited. This was the view from my bedroom window, so cool in comparison, but of course the comparison is with Kochi, a daily temperature of about 25C with humidity of 20% compared to Kochi of about 40C with 90% humidity. I even had to put a blanket over my toes in the middle of the night as I was feeling a little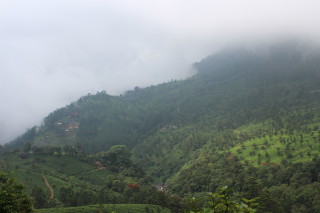 more cool than I wanted to! We left Kochi through the rambling ribbon developments of East Kochi, gradually seeing more and more green fields as we started to go up the rise that continued for about 120 kilometres as we drove due east. The developments must have extended for about 30 kilometres but when the farmland started to be visible, it was gorgeous. Lush green fields of vegetables, rice, bananas, coconuts, pineapples and any other warm country cultivated plants you can imagine.
This was when I realised that I was involved in the game that exemplifies so much of what this mad, crazy country is all about. This is the great game of Indian driving. I was able to observe during the 4 hours that it took to drive the 120 kilometres to Munnar, a wide range of the features that make this such an interesting game. The roads are very busy as we travel along: bicycles are all old, black and ridden by elderly men wearing towels rapped round their lower parts, and then tied up at the waist to reveal larges expanses of brown legs and feet that stick out at 90 degrees. Tuc tucs are little three wheeled vehicles driven by a 50 cc motorbike engine. They have three seats in the back and one in front for the driver, although they are clearly designed for families in excess of 17 people! Motorbikes are another form of player. Helmets are a requirement and must be strapped to the fuel tank unless you have a family of five travelling in comfort on one bike, a sari clad lady sitting side saddle on the back with a small child between her and the man who is driving. In front of the man sits a slightly larger child, and then of him stands another larger child. At this point health and safety rules apply, and the man must wear a helmet. Cars navigate this field of play, but there is a further player, perhaps sometimes considered to be the place where the game takes place. This is the road, but it is clearly a player in this game, as it is constantly twisting and turning, sometimes going up and the dropping immediately before it crosses a ditch some two feet deep.
Traffic policemen are very smartly turned out in kaki uniforms with shoulder epaulets, smart caps with yellow bands, white gloves and whistles. In the case of traffic flowing smoothly, the job of the traffic policeman is to step into the road, waving his arms, blowing his whistle loudly and stop the flow. Traffic is then called forward in order until it is impossible for any vehicle to exit without the capacity for three dimensional driving, ie upwards. Any further vehicles coming along, must find a possible exit point for the traffic in the jam and to block this by getting themselves into a position of no return. If traffic is managing to flow at its customary maximum of 20 kilometres per hour, vehicles are permitted to overtake. Meanwhile back to Munnar. This is an old British tea plantation up in the mountains. The Rough Guide describes it as a collection of old tin shacks, which the town is, but the area is stunningly beautiful….more to follow in my next bog next week! Ian
Subscribe to our Blog
GVI on Instagram
Sorry:

- Instagram feed not found.
GVI on Facebook