Hi my name is Lisa and I am 25 years old, I am from Dublin, Ireland and my work background is youth work & outdoor education and I have a degree in social care work. I have been on the GVI elephant  
Apart from working with the elephants I have also been teaching English at the local school. This is where the base manager AKA Somerset and I came up with the idea to run a fun sports day with the local kids. I made plans for the day in which I used games and activities I had learnt from where I work as a youth worker at the Cavan center, so I was very happy to bring a bit of the BIG CC style to Chiang Mai. The games were about team work, fun and some were competitive.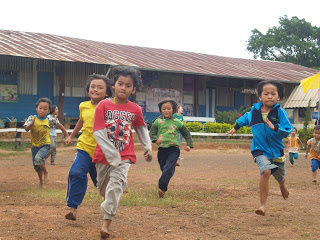 About 25-30 kids turned up which is excellent as the kids from the village work in the corn fields on the weekend. We started of the day with a few games to get the energy levels up such as the fastest run and the egg & spoon race which the volunteers also got involved in. The day went as planned; we stopped half way through to have drinks and sweets which the kids loved.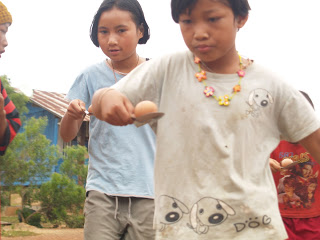 We continued with the ski and relay balloon race, the kids had a great time because the volunteers and kids were falling and giggling around the place, it was really a funny time. The last game we played was catch the 'gola' (Pakinyaw for foreigner) where two very good and helpful volunteers (Thom and Ian ha-ha) stood in a set of goal posts and all the kids were given water balloons and we let the kids loose on the two volunteers… best game of the day the kids loved it.  After all the games were over we gave all the kids goody bags for taking part.
The feedback from the kids and the volunteers was great and they had lots of fun, I had a great time planning and using games I learnt from home. The base manager is going to make the fun day a monthly event so I feel that says it all about the fun day and how beneficial it is running such activities with the community.