By Rachael Fleary
5 years ago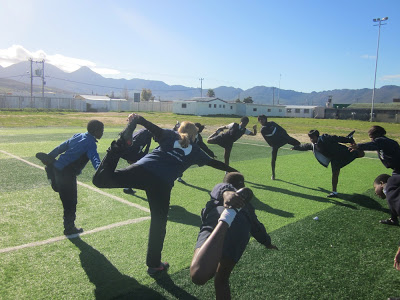 Last week's volunteer intake saw the arrival of 4 new sports volunteers. This is great news for the sports program, as more people bring new energy, ideas and personalities to the Cape Town base.
ACJ Phakade Primary School children absolutely love their sports lessons and are very excited with the new soccer drills and skills they have been learning this past week. Also, this group of volunteers have all been keen to put on their wet suits and re-start our surfing incentive program which lulled over Cape Town's winter months. The surfing kids have really missed heading down to Son surf at Strand beach for their surf lesson but are ecstatic at being back on their boards.
One of our new volunteers is a bit of a pro when it comes to soccer skills, competing professionally against females from around the world. The children and teachers watch in awe as she performs her tricks with a soccer ball. It's especially good for the young girls of Nomzamo to see a female breaking some gender stereotypes and teaching them some skills too. We have plans to run a soccer clinic every Monday for girls and boys from ACJ along with the input of a local soccer team, The Strand Hotspurs. These are exciting times for the sports program and we all look forward to developing the program further and strengthening our links with the community.
Rachael Fleary