Spending time at the Al-hanan orphanage
Thursday evenings give the members of the community project in Mkwiro a rare opportunity to spend some time outside of the school, with a visit to the Al-Hanan Orphanage for Boys. The orphanage itself is set in an idyllic location, on the opposite side of Mkwiro village to the school, situated just before the coral pathway which leads to Bogowa (the beach on the south side of Wasini Island). The time spent in the orphanage gives us a great opportunity to spend time with some of our students outside of school hours, (seeing as all the orphans attend Mkwiro Primary, as well as making time for their Islamic studies within the orphanage itself). We usually spend the hour talking with the boys, answering a multitude of questions about our own lives and homes, as well as playing games and reading books. I have just returned from an enjoyable 45 minutes which was spent looking through an atlas, studying the various islands of the Caribbean and the continent of South America. One boy, on viewing a map of Chile, commented enthusiastically: "Ah! This island is very good…"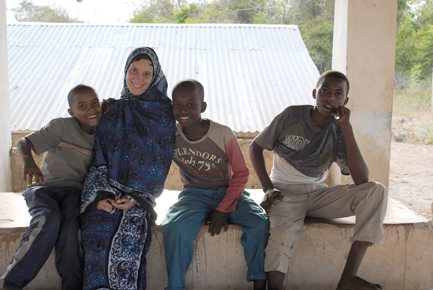 Dana gets acquainted and makes friends
Although the orphanage visits make up a very small part of our week here on Mkwiro, they are one of my favourite times of the week. Spending time with students that you teach in school is sometimes difficult, with all the duties on base, daily debriefs and other planning efforts to take care of. We visit the orphanage at the close of our busiest day, after over three and a half hours in class, as well as painting, open library and adult English classes. It is a marvellous way to not only reflect on the day and the week's events, but also to get to make some proper friendships with some of the children and learn a bit more about their lives. 
Luke Guinness
Community Field Officer
Subscribe to our Blog
GVI on Instagram
Sorry:

- Instagram feed not found.
GVI on Facebook