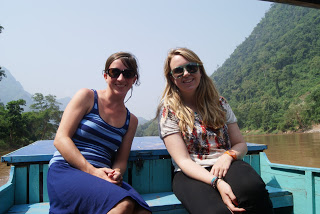 Imagine you have been teaching all week and a fellow volunteer has jut asked if you want to join a group of them on a two day trekking and kayaking trip. If you were sensible and thought about the fact that Laos is a tropical country, mountains are bound to be involved and you haven't done any exercise in far too long, you would probably have politely declined. Apparently I'm not that sensible.
Twenty four hours later our guides and Kristen were skipping away up the mountain whilst the rest of us tried not to melt in the midday sun. Arriving at Mokjong village was a moment that at one point I thought would never come. The views were spectacular; mountains, farmland and grass houses framed by a clear blue sky. We spent the evening learning key differences between Hmong and Kamu villages, watching a game of throw the flip flop and eating some delicious home cooked food. I'd say we woke up the next morning feeling very content but that would be a lie. Achey, tyred and mildly hysterical is closer to the truth! After a much easier trip back down the mountain our four hour kayak trip was underway. We were splashed and serenaded by the guide, crossed the river to let a monkey pull our hair, investigated Pak Ou caves and snuck in a quick tasting session at the whiskey village. The trip was tiring, challenging and generally uncomfortable but it was also brilliant fun. Now I just have to summon the energy to teach 20 six year olds…
Written by volunteer Hayley who is from England and on the project for 6 weeks
Subscribe to our Blog
GVI on Instagram
Sorry:

- Instagram feed not found.
GVI on Facebook