Shimoni Primary School's intensive week of Health Club lessons
By Jackson Vukovic – Health Project Volunteer
5 years ago
It was a quiet and calm Wednesday afternoon at the Shimoni GVI Volunteer house.  All volunteers from the Health and Forest Conservation projects were finished for the day and about to have the daily 6pm group debrief.  But then…..Sophie (GVI Community and Health Officer) came racing into the house looking as though she had a bundle of information the size of Mt. Kenya to share! And so, she shared what was to be a shock of excitement for the Health Project team; an injection of adrenalin to their lesson planning spirit; a shot of vitamin C to their health educating life-force. We had been asked to go and teach.
A weeks worth of intensive health classes for the health club at Shimoni Primary School!
To some of you reading this blog, this may seem like a fairly average thing to be doing…teaching…at a school. BUT WAIT! There is more to come! Our lessons were not only going to be teaching the Health Club on health-related topics….we were going to be helping them prepare, practise and present two health poems and a drama skit based on the content we were going to teach them! WOW! Now this week was truly going to be intensive!
What is the Health Club?
Some of you may be wondering….."What is the health club?" Ok so, Shimoni Primary School has selected a group of dedicated students from a range of grades/years to do some extracurricular learning and be part of a club that learns about health topics. They have requested that the GVI Health Project come in and run lessons filled with interesting content, interactive activities and to help the students prepare for their presentations.
The purpose of these intensive lessons…
When GVI was asked to come into the school and teach the lessons we were also informed that on the Friday of the 'health intensive week', Kenyan government officials were also going to be visiting Shimoni Primary School. The Headmaster of the school requested we help the students practise and perform two poems and a drama skit for the officials when they visit, we kindly replied with a……. "WHEN CAN WE START?!"
Health Project is our name and health awareness and education is our game!………. So Kopa (Health Project Staff) and Jackson (me, Health Project Volunteer) set off bright and early Thursday morning with planning our rigorous yet exciting lessons! We were going to be covering topics including: Sexually Transmitted Infections (scary stuff to watch out for!); Hygiene and Sanitation and (remember to always wash your hands…we are watching!); Early Sex, Marriage & Pregnancy! (a serious topic full of great awareness)
All of the students in the Shimoni Primary Health Club did amazingly well and a HUGE "Congratulations" goes out to them from the GVI Health Project for all their hard work and interest in health education. It was a pleasure teaching this club for the intensive week and we very much look forward to going back in the future for another intensive 'health-filled' round of educational lessons and activities!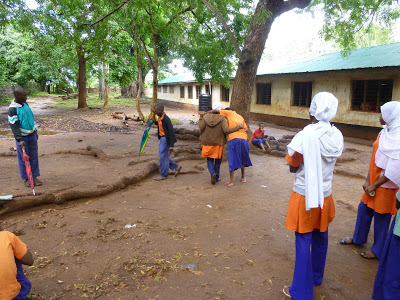 Jackson Vukovic – Health Project Volunteer