Your whole family will thrive when you embark on a volunteer abroad program together.
The family that travels together stays together. Family holidays are a chance to spend meaningful time together and build precious memories. For an experience that your whole family will cherish, consider swapping out your typical vacation for a volunteer abroad project.
Volunteering as a family is a way to learn something new together, connect over an important cause, and see beyond the resorts and beaches of your holiday destination. As a family, you'll have the satisfaction of using your holiday time to do something positive in the world. By introducing your teenagers to volunteering early you'll teach them how to grow into conscientious adults with a greater awareness of global issues and efforts to solve them.
However, there are many question marks hovering over volunteer tourism, or 'voluntourism', and a growing distaste for this form of travel. While GVI offers programs that are suitable for volunteer holidays, we are careful to make sure these projects are both sustainable and impactful. All GVI programs are designed in collaboration with local partners, and are focused around one or more of the United Nations Sustainable Development Goals (UN SDGs).
These seven volunteer programs all accept families. Learn more about the objectives of each program and get some inspiration for a family holiday with a difference.
1) Give loggerhead turtles a safe place to nest in Greece
Greece is more than just an idyllic tourist destination – it's an important nesting site for loggerhead turtles. Your family could volunteer in Greece to help provide a safe nesting environment for the turtles, by protecting hatchlings from predators and educating the wider community on threats facing the sea creatures.
As well as assisting in vital conservation efforts, you'll be able to enjoy a beach holiday as a family. While volunteering with turtles in Greece, you'll have plenty of time to explore the coastline in the Bay of Kyparissia, and delve into the history and cuisine in the area.
2) Help elephants return to their natural habitat in Thailand
You don't need to ride elephants to get up close to the gentle giants. On the contrary, visiting elephant camps and riding or interacting closely with them is damaging for the animals.
A more sustainable approach is to volunteer with GVI's elephant project in Chiang Mai. The goal of this project is to rehabilitate rescued elephants and make sure they are living in an environment that resembles their natural habitat. To ensure this is a sustainable and long-term project, GVI works closely with mahouts and the community of Chiang Mai. Not only does the project provide an alternative source of income for the local community, it raises awareness of the harm caused to elephants in the tourism industry.
This is a pioneering project and while there is little hands-on contact, it's a much more rewarding experience for tourists. Contributing to an ethical elephant program, that positively benefits the local community, will be a strong learning experience for your whole family.
3) Lend a hand with construction projects in Nepal
Use your children's school holidays to help build schools in Nepal. School facilities in Nepal are basic, so this project works to make learning environments more effective through upgrades to the infrastructure.
You could help to paint classrooms, build new facilities, or develop educational resources. Having fewer resources on hand will encourage your children to be creative while they volunteer in Nepal and think differently about what is really needed for an effective education.
Nepal isn't so much landlocked as it is mountain locked. High in the peaks of the Himalayas, you and your family can embark on a journey of cultural discovery and intrepid adventure. You'll all take home new perspectives on both the incredible landscapes and the realities of life in a developing country.
4) Build healthy futures in Mexico
Your family could spend a few weeks in tropical paradise and enjoy your lush surroundings even more knowing you are making an impact in the community.
This volunteer abroad project in Mexico works to empower children through teaching better hygiene habits. It involves participating in health workshops and classes to raise awareness, preparing learning material, or helping to maintain the school.
The project is based in the sundrenched resort town of Playa del Carmen. When you have finished your daily tasks you can bask in the sun, take Spanish lessons, or cool off in nearby cenotes.
5) Help out furred friends in Mexico
Combine typical holiday activities such as swimming and snorkeling with meaningful veterinary work in Playa del Carmen. If you have animal lovers in your family, this project will suit your tribe like spots on a Dalmatian. Caring for cats and dogs at a local veterinary clinic is a chance to care for stray animals and empower disadvantaged communities to learn about animal care practices and population control.
Devoting time to animal welfare will bring depth to your time in this lively Caribbean resort town. You'll be able to get off the tourist trail and make connections in the local community, while still enjoying the glorious attractions in and around Playa del Carmen.
6) Provide educational opportunities in the Himalayas
Nepal's towering mountains beckon visitors with the promise of white water rafting adventures, and some of the best trekking in the world.
Alongside the lure of adventure in the Himalayas is the opportunity to offer educational support to children in Pokhara. This program is laden with opportunities to explore the local area, learn basic Nepalese, and be immersed in a culture defined by centuries-old traditions.
While on the project you will help to provide an effective learning environment for local children, and add capacity, news ideas and resources to the project. Taking part in educational activities also helps the younger members of your family take on responsibility and keeps their own schooling fresh in their minds while on holiday.
7) Volunteer with children in Mexico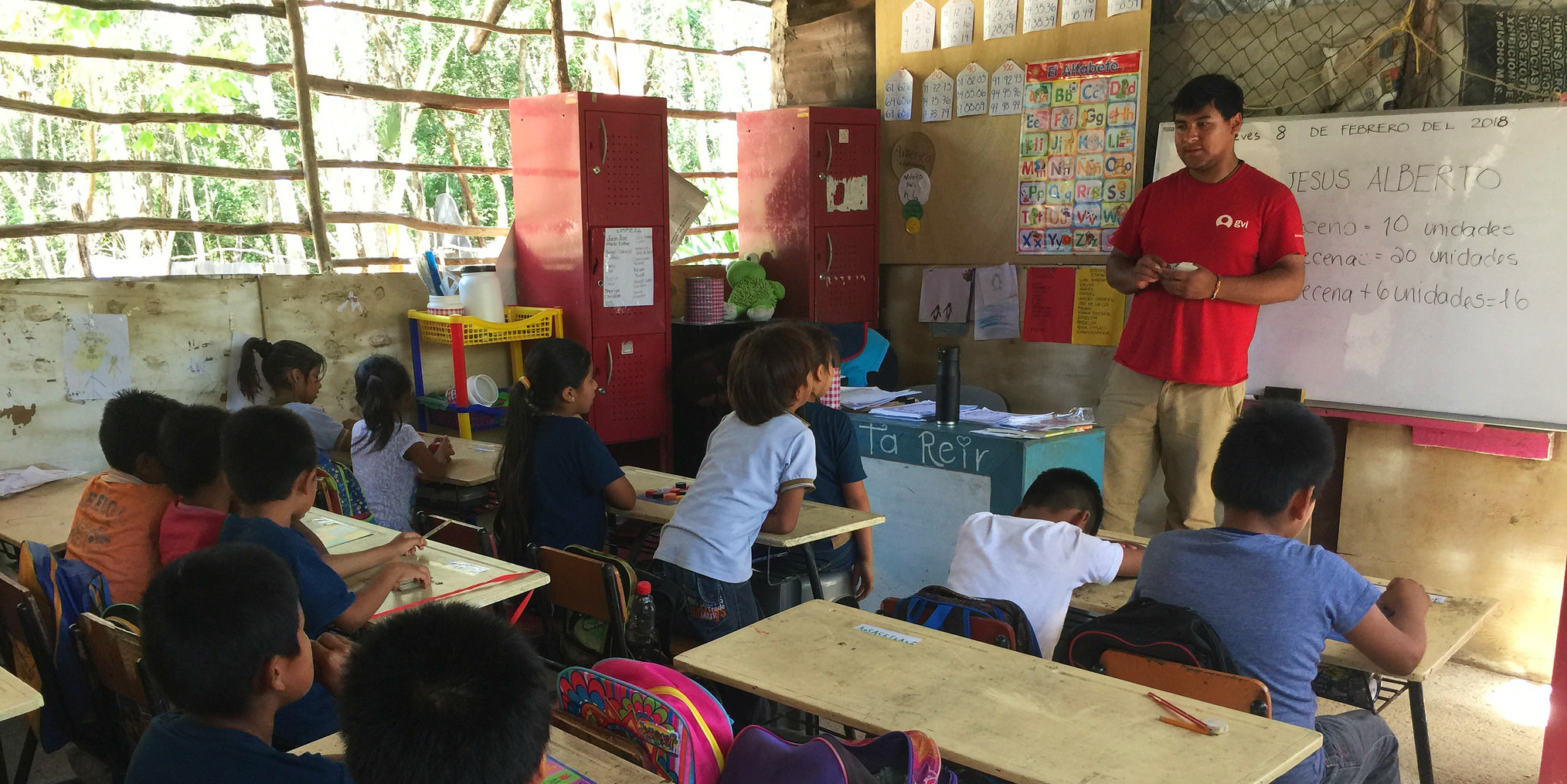 Volunteering with children in Mexico's Yucatan Peninsula is a chance to work with children and develop your Spanish at the same time. All members of your family will be able to provide support for the children, through lessons, play, and helping out with general maintenance.
Dense jungles, miles of beaches, and the mysterious Mayan ruins are all readily accessible in your free time. As a family volunteering holiday, this project presents the perfect blend of excitement and altruism.
With GVI, you can be confident that you are choosing ethical and sustainable volunteer abroad programs. Browse more volunteer holidays or get in touch with us to find out more about our opportunities and impact.