By Adele Weatherley
4 years ago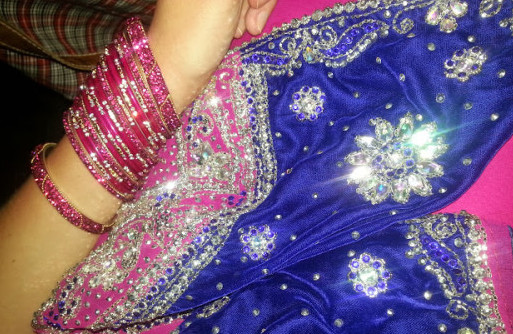 When you are in Nepal, you will see many women (both young and old) wearing the traditional Indian dress –  a sari! They come in hundreds and hundreds of different shapes, colours and detail, each one being unique and beautiful in its own right.
When a special occasions arises (or just because they are so damn pretty!), volunteers and staff like to dress in up in these stunning garments and immerse themselves further in to the culture of this amazing country. Of course, this means sari shopping! With hundreds and hundreds of different saris comes hundreds and hundreds of sari shops, stocking many different types of saris; from lower priced every day saris to the heavily embellished bright red saris traditionally worn by brides on their wedding day. It has to be said, there is just too much choice!
From experience, it usually takes at least 10 shops before you find your sari (with the exception of myself, my first sari was purchased within 5 minutes of walking in to the first shop!). You will also have had several very helpful Nepali ladies wrap countless saris around you in record time, making the whole 'putting a sari on' process look like a piece of cake (it's definitely not!).  Once you find your sari, you then have to get some extra material to make your blouse and petticoat (no one likes a see-through sari). This is probably the easiest part of getting your sari, the next task comes when you have to get it made.
Taking your blouse and petticoat material to the tailor for her to turn you bag of material into a complete sari is the final part of the sari shopping experience. The tradition is to have an extremely short and tight blouse in order to show as much belly as you can, not the most appealing aspect of the sari to us westerners; you will definitely have a fight with the tailor as she tries to cut a few extra inches of the length of your blouse.  After a few days wait your sari will be hemmed, your petticoat will be assembled and your blouse will be as tight as possible (the tailor always wins) – you're ready to be transformed into a gorgeous Nepali girl.
Written by Adele Weatherley (Field Staff)
GVI Nepal Pokhara