Sarah's success so far: the rise of women's education in Mkwiro
One of the main aims for this quarter in Mkwiro was to start up Adult English classes. The local woman's group had specifically asked to learn English as the majority of the women speak very little or no English. As with most community activities, it started off slowly. We spoke to the school about using their classrooms and they were glad to help. The first week no one showed, but I didn't give up. The following week we put up posters in the village in Kiswahili (thanks to our NSPs) to advertise the classes. We offered three classes a week and the first two in the week were no-shows but during the class on the Thursday afternoon scheduled specifically for the Women's group we had people turn up! They were forty-five minutes late, but at least it was progress. The only problem was two of the woman that turned up did not want English lessons, but French and German. Luckily we had a French volunteer who gave them a French lesson, which they thoroughly enjoyed. Out of the other three women, one fell a sleep but the other two were very eager to learning. I carried going along on the Thursday afternoon to teach the woman from the woman's group, and as the weeks progressed we've increased in numbers. Each week they come earlier and earlier, although they are yet to arrive on time, but yesterday they arrived before me!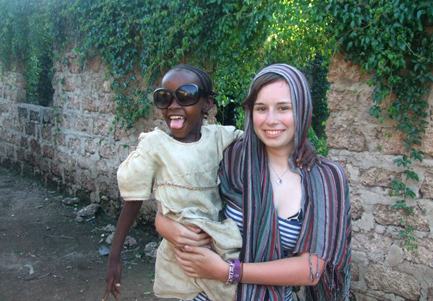 Three of the women come every week, along with one of the women's four-month-old daughter who they thrust at me when they arrive so they can concentrate on learning! But she's very well behaved and never cries! Sofia came along with me yesterday and as she walked in the door they gave her the baby and that was that. We have another three students; one who just joined yesterday. The word seems to be spreading round the village! I've given each of the students a jotter and they are very particular about keeping it neat and always bring it to every lesson, which is great. They told me I must have a register and they love calling out "present Madame!" They even asked last week to have a test this week; I think they're the only class in history to ask for a test! It's fantastic to see members of this small community wanting to progress in their education – we're even starting maths classes for them.

Sarah Cryer
Community Field Staff – Mkwiro
Subscribe to our Blog
GVI on Instagram
Sorry:

- Instagram feed not found.
GVI on Facebook