Singing is a daily part of the routine at Nceduluntu and the children are developing quite a repertoire of songs that they know in both Xhosa and English.

Any new song that is introduced to the children is accepted with great enthusiasm. Especially if it comes with lots of actions.  It's always great when even the babies and toddlers start joining in with the songs and actions. 

Singing is a good social activity but is also a great way for the children to be learning English at a young age. The repetition in songs helps the children to learn new words and songs with actions help to reinforce the meanings of words.  For the children who are not so confident with singing at this stage, by joining in with the actions they are being part of the activity too.

Of course dance is another favourite part of the day and when it's about 3pm the children start asking asking Play Jambo?  They are wanting to hear one of their favourite dance songs which is Jambo Bwana.  They all eagerly share their dance moves as do the volunteers and carers, or they enjoy standing around the CD player singing and moving along.

It's a fun way to finish off each day.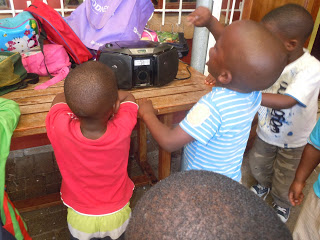 Cheryl Martin
Project Manager