Rose's take on UKG Madness
I've been teaching the UKG (Upper Kindergarten, ages 4-5) class at theAuxilium School for almost four weeks, and cannot believe how quicklythe time has flown by! There are 57 children in the class, and I havejust about learnt all of their names!! I have loved getting to knoweach and every one of their unique personalities, as well as theirstrengths and weaknesses in the classroom. As a group, the childrenare so full of life and energy! They can definitely be a handful attimes (especially during P.T. class outside, when I have to try andstop some of the naughtier ones throwing rocks at each other andpouring sand down each others shirts!), but they're extremely eager tolearn, and their laughter and smiles are so contagious.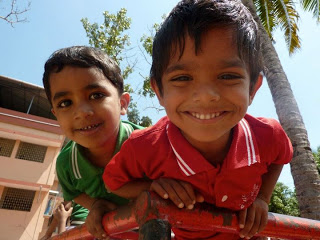 The children have eight lessons a day, including English, Maths,
Malayalam, E.V.S., General Knowledge, P.T. (P.E./Sport) and Music. Atthe moment in English the children are learning lots of differentwords with vowel sounds, as well as a story and some rhymes by heart.This has involved making some colourful posters to illustrate thewords and to help the children understand their meaning, as theirfirst language is Malayalam and not English. However, their spokenEnglish is improving day by day, and it is great to see theirconfidence growing. I have also discovered that there are some quitetalented artists among them, as they're all always eager to learn howto draw any picture I do on the board! We also have a few buddingdancers who are always ready to bust a move at any time of the day,often accompanied by a rendition of 'Chamak Chalo' or 'Why ThisKolaveri Di'!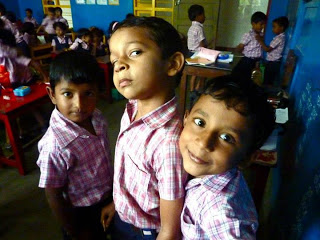 By far the most rewarding aspect of being a volunteer at GVI is seeing
a child make progress and master a concept they've struggled withbecause of the little time and help you've given them. I just hopethat I've been able to make half as much of a difference to theirlives in the short time that I've been here as they have to mine!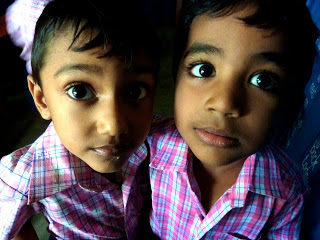 Outside of school, the volunteers have been keeping very busy at theweekends. Two weeks ago, ten volunteers and two GVI staff members wenton a 24km trek through the mountains of Munnar to raise money to paythe tuition fees for some of the children at the school whose parentswill struggle to afford them. We were so lucky to have perfect trekking weather (the rain held off until the day we travell\ed home!),and got to see some breathtaking views, although not until we'd done the hard slog up all the hills!! The following weekend, five of ustook a trip on a houseboat down the backwaters for some much-neededrest and relaxation. Kerala is beautiful and we're all having lots offun seeing (and eating!!!) everything it has to offer. I've had anincredible time in India and will be returning home (after some tearygoodbyes with my class!) with some wonderful new friends and lifelong memories!
Subscribe to our Blog
GVI on Instagram
Sorry:

- Instagram feed not found.
GVI on Facebook